The Homer Laughlin China Co.: Toilet Ware
---
Most of the potteries in the area which made dinnerware also made toilet ware. Such potteries include but are not limited to: Knowles, Taylor & Knowles, Homer Laughlin, Edwin M. Knowles, and Taylor, Smith & Taylor. Sets were made for the home as well as for use in hospitals and hotels.

A standard set for the home was made up of: a chamber pot - usually a one handled bowl with a lid, a slop jar - larger than a chamber pot with handles on either side, a combinet - similar to a slop jar, but with a wire handle, a covered soap dish - often with a circular insert, shaving mug, brush jar, two sizes of ewers, and a basin.

By the early 1920s, most toilet ware was phased out and today it is not easily found. It's not uncommon to find dealers misidentifying brush jar as a flower vase, a shaving mug as a regular drinking mug, a soap dish as a covered sugar, and a chamber pot as a covered casserole.

Below are just a few examples made by the Homer Laughlin China Company.
---
| | | | | | | | |
| --- | --- | --- | --- | --- | --- | --- | --- |
| | Ewer/Basin | | Slop Jar | | Ewer/Basin | | Ewer |
---
Standard Toilet set from 1914: HLC's "Bridal" shape.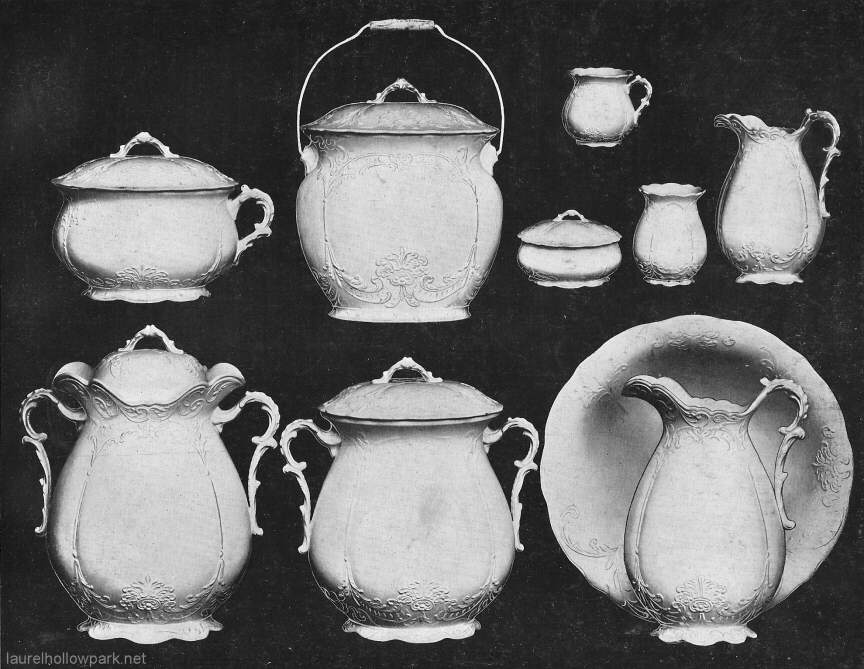 Top Row: Chamber Pot, Combinet, Shaving Mug, Covered Soap Dish, Brush Jar, Mouth Ewer.
Bottom Row: Slop Jar, Slop Pail, Ewer and Basin.
---
Other Toilet Wares made by Homer Laughlin, circa 1903.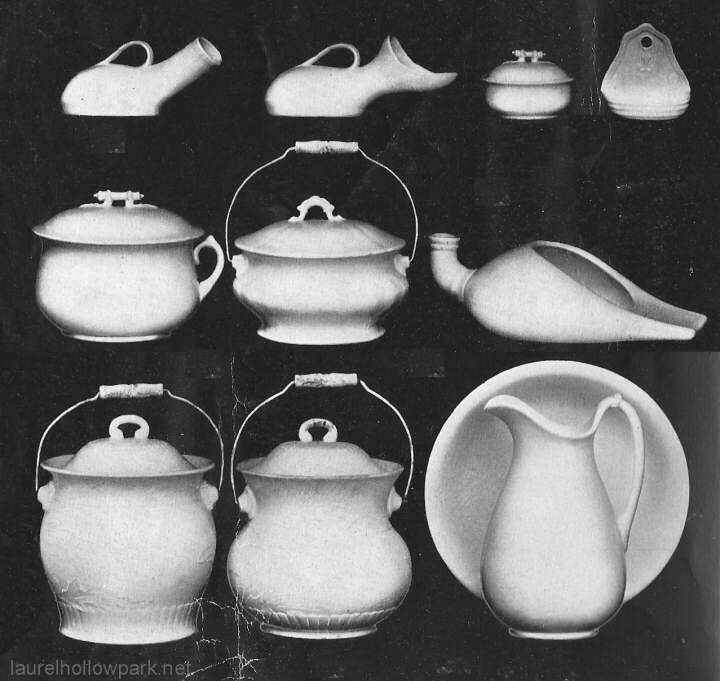 Top row: Male Urinal, Female Urnial, Soap Dish, Hanging Soap
Middle row: Chamber Pot, Chamberette, Bed Pan
Bottom row: Combinet (Lenox shape), Combinet (Monterey Shape), Ewer and Basin.