Handy Andy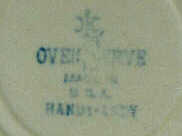 The Handy Andy casserole comes in three parts; a ceramic bowl made by Homer Laughlin, a metal lid, and a metal base - both of which were made by an outside company (possibly Royal Metal.) The bowl was made in June of 1936 and would have to be adjusted for a better fit to the base. A new backstamp was made with "HANDY ANDY" added to the regular OvenServe backstamp. On the 24th of June, the bowl was approved and put into production.
About a dozen or so decals and special trim decorations have been found on Handy Andy bowls. Many times the bowl is found alone without the metal lid and base. Almost every example will be marked with the special Handy Andy backstamp. The bowl has an opening diameter of 8" and it stands 3" tall.
| | |
| --- | --- |
| Handy Andy casserole, complete | Handy Andy casserole bowl |
---
Daisy Chain
There are only two pieces made with Daisy Chain embossing - the pie plate and the covered casserole. Many popular decals such as Deco Leaf, Mexicana, and others have been found on both pieces. According to Homer Laughlin's modeling log, they were crafted in May and June of 1935 with the notation they were to be made with metal frames. Both were produced until the very early 1940s and were marked with the standard OvenServe backstamp. Once in a while a Daisy Chain casserole lid can be found on a Handy Andy base.
| | |
| --- | --- |
| Daisy Chain pie plate | Daisy Chain embossing detail and mark |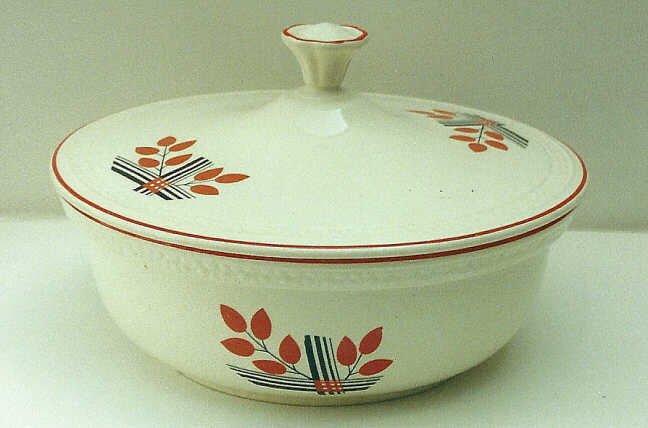 "Deco Leaf" Daisy Chain casserole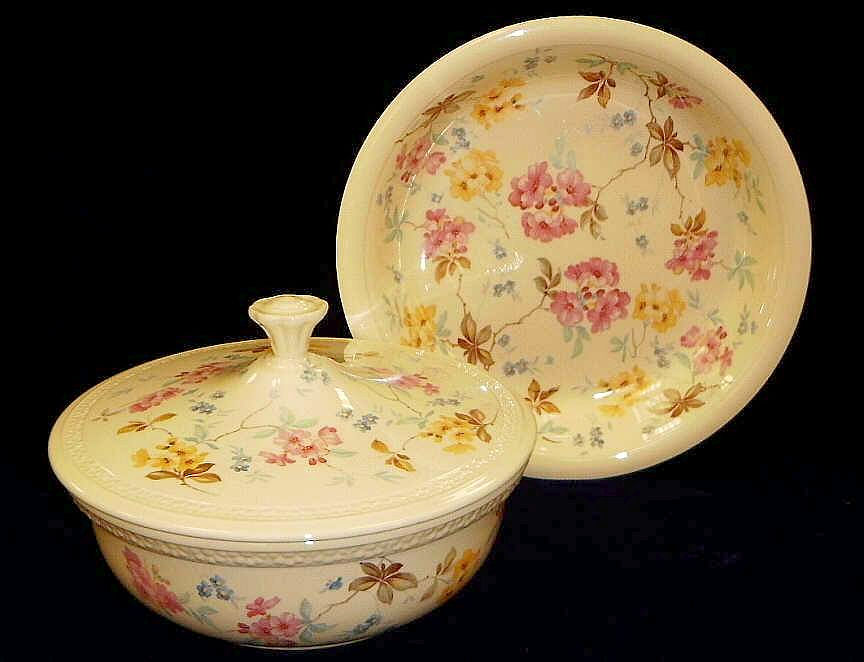 Daisy Chain OvenServe casserole and pie plate with treatment number DC-716. This decal originated on the Georgian shape as G-12 in 1933. It was also used on Virginia Rose as VR-246, Coronet as CO-544, embossed OvenServe as OS-127, and Eggshell Nautilus as N-1490. The decal was retired in 1941.
---
Georgian Kitchenware
Georgian kitchenware is rather difficult to find. According to HLC's modeling log there were only a few pieces made for this line starting in May of 1934; casserole, divided baker, pie plates (10 3/4" and 9 3/4" diameters), the 10" dish (platter) and a French casserole.
Each piece has the familiar Georgian type dot-dash rim embossing also found on Georgian/Crafstman dinnerware. Most pieces will be marked with a generic HLC backstamp or OvenServe marking, but some can be found with a special Georgian stamp. So far, examples have been found in plain ivory and with decals.
| | |
| --- | --- |
| Georgian OvenServe casserole | The casserole lid doubles as a bowl |
| Georgian OvenServe bowl | Special Georgian stamp marking |
---
Libby Pig Bean Pot

Stuck in designer Frederick Rhead's journals was this sketch of a pig bean pot along with a note dated May 24, 1934 (not in Rhead's handwriting): Bean pot individual or Family size. Design copyrighted - not to be copied, manufactured or used unless permission given by Libby, McNeil & Libby. Apparently Libby approached HLC on making the special item in the then new oven proof body.
For the next two months, work proceeded on developing the pig bean pot. The first pot, a round version, was modeled in the beginning of June. After samples were made and reviewed, the following specifications were recommended for a second model on June 20, 1934:
More oval in shape
Same height as now
About same capacity, slightly larger OK
More pronounced legs and features
Libby's OvenServe HLC [marking]
Two orange, three ivory
Outline in black. Features - legs and tail are orange and ivory
Outline in red and ivory
On the 21st, Rhead notes: Oval not right. Capacity too small. Have increased height and width to 4 1/4" x 3 5/8". Finally, on July 7, the new oval Libby pig bean pot samples were made with the decorative trims listed above and in OvenServe glazes; ivory, melon yellow, and orange.
Rhead never mentioned any more revisions to the pig bean pot and made no notes about it being released into production. To date, no example has been found.
---
Mixed Kitchenware
It should be pointed out that the divisions between the various shapes in HLC's kitchenware are not as clear as with the dinnerware lines. For example, a retailer would never offer a single decaled line with shapes from Virginia Rose, Marigold, and Republic, even though all three shapes have similar features. Dinnerware offerings were much more consistent with regards to shape, save a few pick-up pieces. However, it was common for the kitchenware shapes to be mixed and brought together with a specific decal treatment or other decoration. The ad below comes from a late 1930s wholesale catalog and offers the Deco Leaf decal on a Daisy Chain casserole and pie plate, a Royal Metal straight sided casserole, embossed OvenServe mixing bowl, casserole with under plate, and Kitchen Kraft under plate (used with the Royal Metal casserole), cake plate, and covered jar. The three utensils belong to both embossed OvenServe and Kitchen Kraft.