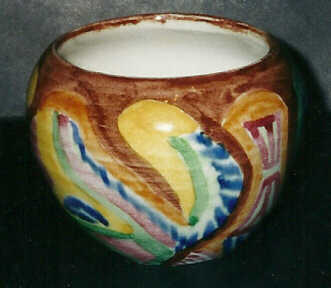 Newell Art Classes was part of the "Newell Ceramic Art and Science School" -- a series of courses offered by the Homer Laughlin China Company along with WVU's extension classes. They were held at Wells High and at the art department at HLC. According to Homer Laughlin, A Giant Among Dishes by Jo Cunningham, Dr. A. V. Bleininger was dean, Harry Thiemecke taught Chemistry, M.H. King taught Physics, Walter Emerson - Mathematics, and Frederick Rhead (in charge of the art department at HLC from 1927 until 1942) was in charge of all the pottery classes. Courses were offered from 1938 until at least 1942.

The pieces shown here were made by Margaret Price at Homer Laughlin during the pottery classes. Besides hand thrown pieces, some undecorated blanks made by HLC were decorated by students. The vase to the right is a thrown piece and the 9-inch plates below are blanks made by the pottery. The first is a Nautilus shape plate glazed in the same turquoise color used in the Fiesta line. Price decorated the piece in cobalt. The last two HLC plates were also decorated by Price.

Such pieces are rare and can command high prices with collectors -- even more so if Fiesta was used as blanks.