Royal Cuisine and Dutch Ovenware by Cameron Clay Products
This page was posted on February 11, 2015.
---
In the 1950s and early 1960s, Cameron Clay Products of Cameron West Virginia produced several lines of kitchenware. The first, "Royal Cuisine", was made up of simple round shapes and glazed in various two-tone colors. Royal Cuisine was sold primarily in department stores across the country. Just some of the many two-color combinations include; black/pink, turquoise/coral, burgundy/gray, green/pumpkin, green/yellow, and turquoise/black. Of these, the most common colors found on the collector market today are black/pink and green/yellow. Pieces that didn't get a lid such as the ball pitcher, 10 and 20 ounce jugs, carafe, and the creamer were glazed in a single color.
---
| | |
| --- | --- |
| 1954 advertisement | 1957 advertisement |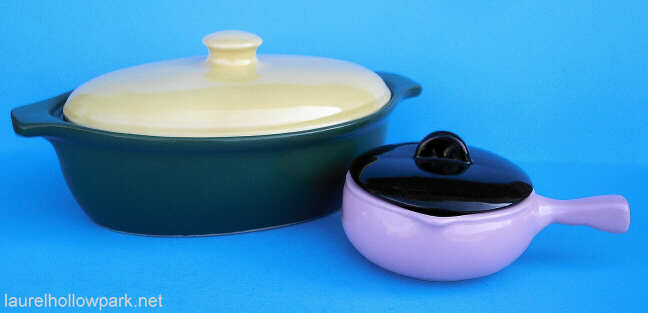 "Royal Cuisine" oval baking dish (green/yellow) and French casserole (pink/black)
---
The second line is Dutch Ovenware which came in at least four variations; turquoise with blue tulips, yellow with brown tulips, yellow with blue tulips, and pink with blue tulips. Turquoise with blue tulips is by far the most common. For many years it has been called "Blue Tulip" which was coined by pottery author Harvey Duke, however, the proper name for this particular line is "Dutch Blue." As for the yellow and pink versions, I've not been able to find an official name so for convenience, I will refer to them as Dutch Yellow, and Dutch Pink. Whereas Royal Cuisine was sold in department stores, Dutch Ovenware was sold in supermarkets. Two of the largest carriers were A&P and Acme Markets.

A third less common line is made up of slightly flared conical shapes with bases in solid colored glazes and lids in contrasting white. It is usually found in yellow, turquoise, and pumpkin.

Most Cameron kitchenware will be found with a USA marking in the mold -- either raised or impressed. Some pieces can be found with a "BAKE OVEN" mark which has caused great confusion since the Cronin China Company also used a very similar Bake Oven marking. Avid Cameron pottery collectors (see their facebook page here) have found molds and shards near the old pottery confirming Cameron was in fact the maker of this kitchenware as well as other lines. If vintage advertisements are any indication, Royal Cuisine was made from 1954 until 1959, and Dutch Ovenware from 1958 until 1961. The Cronin China Company closed in 1956 when it was sold to a tile manufacture. Given the archeological evidence and the ad's dates, it is unlikely the Cronin China Company had any involvement in either Royal Cuisine or Dutch Ovenware. However, the two did have close ties when it came to Sevilla. See this page on Sevilla kitchenware and art pottery for more.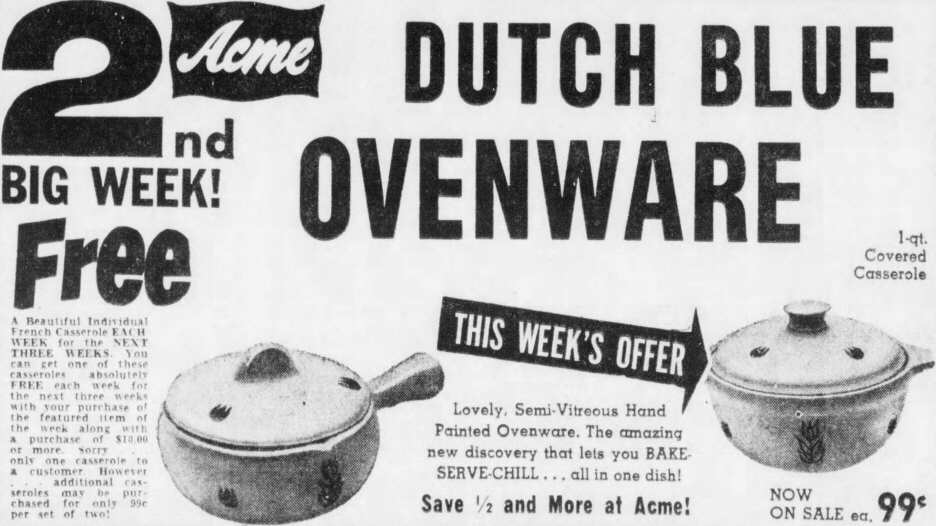 1960 advertisement for Dutch Blue
| | |
| --- | --- |
| "Dutch Blue" Teapot and ball Jug | "Dutch Pink" French casserole |
| | |
| --- | --- |
| Typical USA marking | "Dutch Yellow" Casserole |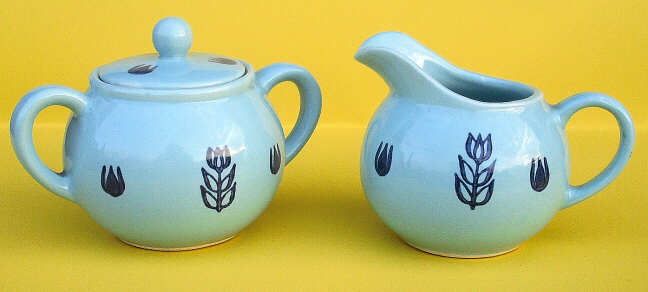 "Dutch Blue" Sugar and Creamer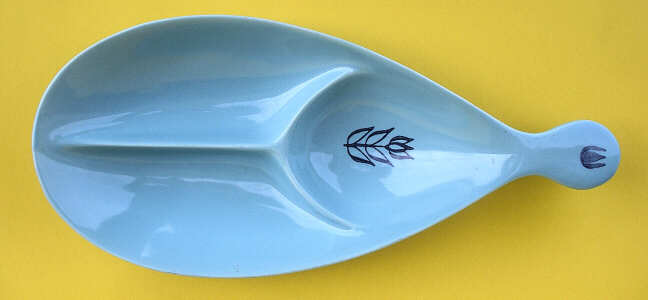 "Dutch Blue" 3-part relish, 13" long.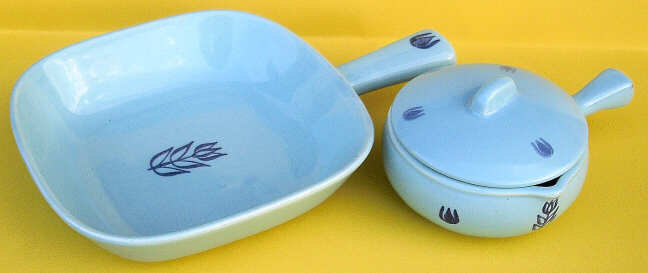 "Dutch Blue" Skillet and French casserole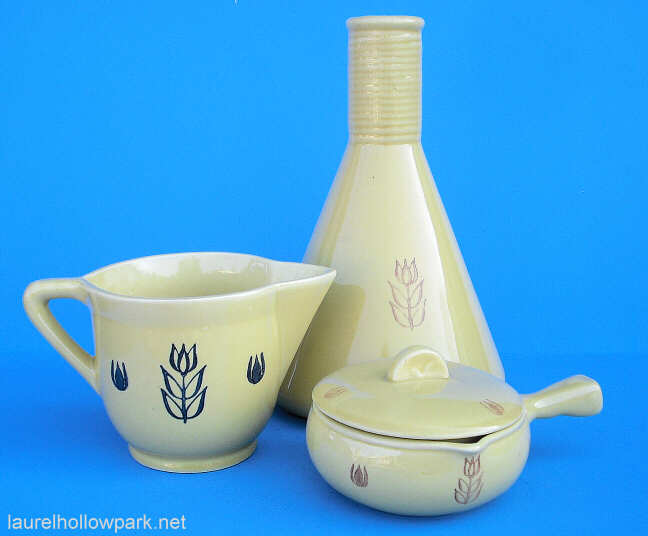 "Dutch Yellow" jug (with blue tulips), carafe, and French casserole (with brown tulips).
---
A line of cast iron cookware with colored enamel was imported to the United States from the Royal DRU-Iron company out of Holland. This kitchenware was decorated with either hand-painted windmills or tulips and was clearly the inspiration for Cameron Clay Products' line of Dutch ovenware. There are multiple DRU-Iron advertisements and other ephemera that predate Cameron's version by several years. DRU-Iron pieces can be found in blue, green, and yellow. They generally are more expensive than their Cameron counterparts.
1957 Advertisement for Royal DRU-Iron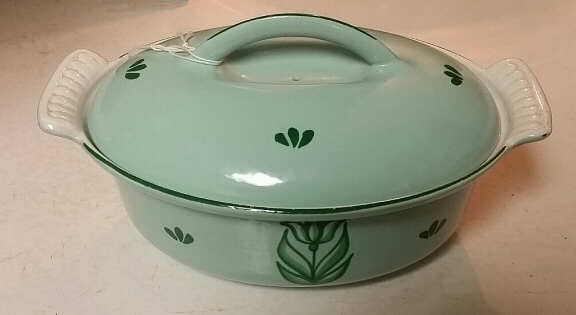 Royal DRU-Iron casserole in green.