Made by Taylor Smith and Taylor
Round shape:

Flatware: comes directly from the pre-existing line, Laurel
Hollowware: handles have slight ornamentation at the top; finials are bud-like

Produced from late 30s to very early 60s
Made with decal treatments, various forms of colored trim
Empire is the basis for Lu-Ray Pastels
Assortment consists of approx. 40+ items
Virtually all items are marked with TST in wreath backstamp
Lu-Ray pieces have a special mark
Empire hollow pieces were also used with Versatile flatware in the 1950s,
but these pieces are usually unmarked.
"Blue Wheat" Empire sugar & Vintage Ad

Variations of treatment include
"Green Wheat" and "Red Wheat"

Vintage ad for "Green Wheat"
Left: Empire shakers from the Sugar and Spice line, Empire creamer from Lu-Ray
Right: Empire shape auceboat from Lu-Ray, Empire jug with the "Dutch Tulip" treatment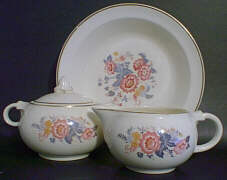 Soup, sugar and creamer with floral decals.
---
Vintage ads courtesy: Fran & Carl Stone