Made by Taylor Smith and Taylor
Designed by John Gilkes
Pebbleford is basically the Versatile shape with solid colored speckled glazes.
The Classic shape coffee pot can be found in turquoise, pink, sunburst, and lime
The Ever Yours shape was used with the Pebbleford glazes for a breif period of time.
Empire shapes were also used as a special "Spice" line.
Produced from the early 1950s to very early 60s.
Colors include:

Turquoise
Pink
Sunburst
Mint Green
Granite (grey)
Sand
Teal
Honey (used mainly with Reveille, a rooster decaled line)
Marble (white)
Burnt Orange
Lime Green (previously called "unknown" green)

Most items are marked with a Pebbleford backstamp
---
Left: Ever Yours shape creamer and sugar in Sunburst yellow, pink covered butter, covered casserole in Granite, creamer in Teal.
Center: Sauceboat in Burnt Orange
Right: Very rare mixing bowls in Sunburst, Sand, Granite and Teal.

Pebbleford Coffeepots, water pitcher, syrups, lug soups with lids and cigarette box
Courtesy: Eric Uecker
---
To the right is an image from a vintage ad of a line offered by Montgomery Wards in the late 1950s. The line is called, "Spice" and has a mixture of Taylor Smith and Taylor shapes in Pebbleford glazes.

The ad reads:

Refreshing colors on interesting modern shapes make an exceptionally attractive table setting. Four colors in each set: Turquoise, Pink, Gray [Granite] and Yellow [Sunburst], each spiced with brown flecks. Colors always stay bright and clear because they're under the glaze.

This line could be ordered in sets for 4, 6 or 8.
Individual items could be ordered from open stock.

The flat ware is Versatile, but the hollowware is a combination of Versatile and Empire
The following pieces were available in any color (from the "open stock" listing):

Versatile Flatware:

10" plates
6" plates
saucers
coupe soup
fruit cup
small platter
medium platter

Versatile Hollowware:

Coffeepot
Salt and Pepper shakers

Empire Hollowware:

Creamer
Covered (handleless) sugar
Restyled Empire cup

The Versatile hollowware and flatware are part of the standard Pebbleford line.
However, the three Empire pieces were not offered with Pebbleford and are very hard to find in the speckled glazes.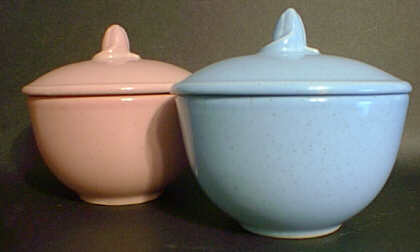 Empire handleless sugars in the speckled Pebbleford glazes of Turquoise and Pink.
---
Pebbleford Examples

Background: Turquoise 6" plate, Teal dinner plate, Classic coffeepot in lime green.

Foreground: Sand cup and saucer, unknown lid, Shell plate with Castillian/Ever Yours shape cup in pink, sunburst coupe soup

Background: Versatile and Classic coffeepots, (l-r)sunburst, lime green, sand, turquoise.

Foreground: Granite teapot, Honey bowl, granite egg cup, pink shakers, mint saucebaot

Background: Sunburst coffeepots and casserole with warmer.

Foreground: Lime green fruit cup, teal covered sugar, pink lug soup.
---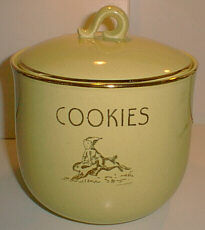 Rare cookie jar
Covered Cheese Dish & Covered Butter
Courtesy: Fran & Carl Stone

Decaled sunburst sugar and creamer
Left: Ever Yours shape carafe in Pebbleford's turquoise glaze
Right: Lu-Ray shape mixing bowl in sunburst with decal
---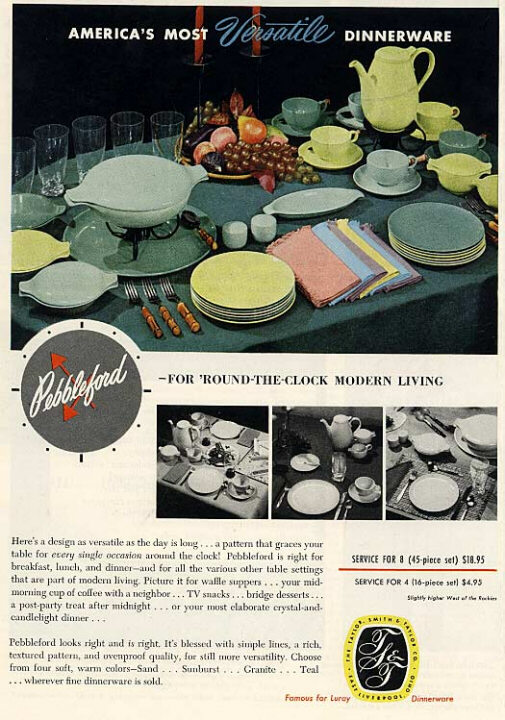 Vintage Pebbleford Ad
Courtesy: Eric Uecker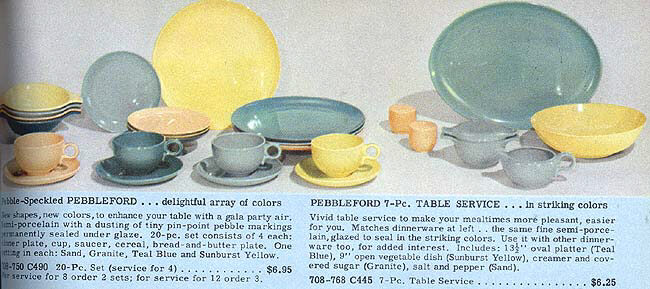 1955 Pebbleford Ad
Courtesy: Candy Fagerlin
---
"Mardi Gras" was a special line of dinnerware made by Taylor Smith and Taylor. It used Pebbelford pieces (mainly turquoise, pink and yellow) with a colorful decal on flatware. The bases of hollowware were given black exterior glazes and the insides and lids were left alone. Shown is an 8" Mardi Gras decaled plate in turquoise and a Mardi Gras casserole in the standard pink Pebbleford glaze with the black base.
| | |
| --- | --- |
| | |
| Mardi Gras 8" Plate and casserole | Mardi Grass casserole interior |