Made by Taylor Smith and Taylor
Flatware and bowls: round coupe shape
Hollow pieces come in three major forms:

Classic shape - Flared shapes with pedestal feet and pronounced finials

Classic versions include various two-tone lines with decal treatments as well as Dwarf Pine

Standard Versatile shape - simple design without pedestal feet; lids have tab handles

These shapes were the basis for Pebbleford line as well as others

Empire shape - Lu-Ray shapes which are generally in a Lu-Ray pastel glaze with some type of decal treatment
or trim work. The Empire/Lu-Ray shapes used include the following:

handleless sugar
creamer
teacups in two forms:

Empire shape cup without turned foot
Empire shape cup without turned foot and with restyled handle

sauceboat
casserole
shakers
curved spout teapot

The Versatile bowls and plates would later be used as part of the Ever Yours line
Produced primairly in the mid 1950s and into the 1960s
Assortment varies from one form to the next
Some treatments mix the various forms -- for example: In a particular set, shakers may be the standard shape
whereas the sugar and creamer may be from the Classic shape.
Virtually all flatware items are marked "Versatile" with a date code.
---
Various examples of Versatile Flatware
Classic casserole in pink

Regular Versatile shakers and teacup
in the Pebbleford turquoise glaze

Empire Sugar and creamer
---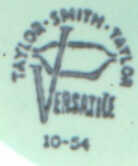 The Versatile backstamp is
found mainly on large plates.
| | |
| --- | --- |
| | |
| Classic sugar and creamer in turquosie/white | Versatile fruit cups in the Lu-Ray glazes |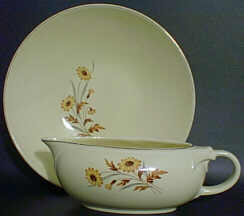 "Blackeyed Susan" on yellow Versatile
---
These two Versatile lines, which use Empire style hollowware, are in the Lu-Ray glaze, Surf Green.
"Mint and Spice" has decorative bronze trim on the rim of flatware and hollowware. "Cinnamon Stick"
on the right has the same style of trim on its hollowware, but on flat pieces, the bronze is
in an off center plaid configuration.

The yellow equivalent of "Mint and Spice" is called, "Cinnamon and Honey".
To the left is the Versatile (again with Empire hollowware), in Persian Cream.
The plaid treatment here is called, "Appalachian Plaid."

The image on the right shows both Versatile plaid treatments.
---
"Dwarf Pine" was made on the Formal Versatile shape from the mid to late 1950s.
The teacup, shown below, is a restyled Empire shape.

The dinnerware is in a pink color with a pine cone decal and platinum trim. The decal can also
be found on Lu-Ray and Verstaile platters in different colors with advertisements

The two different types of marks shown are courtesy Eric Uecker.
Far left: 10" plate, cup and saucer
The marking in the middle is the more common of the two.
---
1959 Ads for treatments on Versatile.
Coutesy: Candy Fagerlin
The three ads above show a mixture of TS&T shapes. The first, Dawn, has Classic (round rim shape) flatware with Classic Versatile sugar and creamer and regular Versatile teacups. In the middle is Golden Wheat with Versatile flatware, regular Versatile teacup and creamer and a handleless Empire covered sugar. The last ad, Silver Mist, has Versatile flatware and Classic Versatile sugar, creamer and teacup.
---
Shown is just one of several "Golden Wheat" lines produced by Taylor Smith & Taylor in the mid 1950s. It is on the Versatile shape and uses Informal style hollowware and Empire shape cups. The set has a solid green band, but cobalt and coral bands are also found. Also shown is a gold Laurel shape teapot (made by TS&T) as well as go-along glassware.
---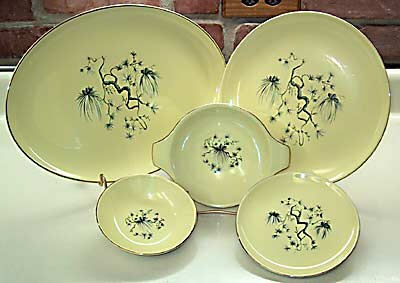 This line of Taylor Smith and Taylor dinnerware is a combination of yellow
glazed Versatile with the same pine cone spray decal used on Dwarf Pine.
This yellow version was originally sold as, "Ming" in the 1950s.

Courtesy: Eric Uecker
---
Four TST Versatile patterns from the 1950s