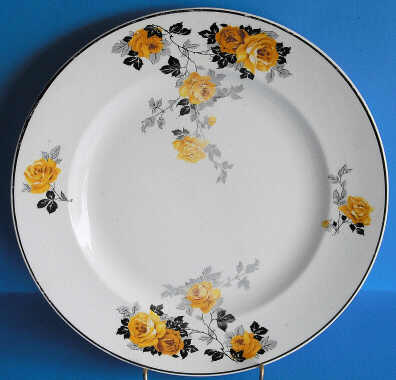 The plate shown to the right was made by Taylor, Smith & Taylor in 1927. It is from Iona - a plain round rim shape. TS&T's official treatment number for the yellow rose decal was #79. It was named "Westbrook" and sold though Larkin Co., Inc. a mail-order merchant.

TST offered the Iona shape all through the 1920s. The three advertisements below show more of "Westbrook" on Iona and all date from 1927. Though there is no mention of Taylor, Smith & Taylor in any of the ads, the pattern and shape is unmistakable.

Other potteries used yellow and black rose decals around the same time. The Homer Laughlin China Company had several similar to TS&T's Westbrook and used them on several shapes, namely Yellowstone.