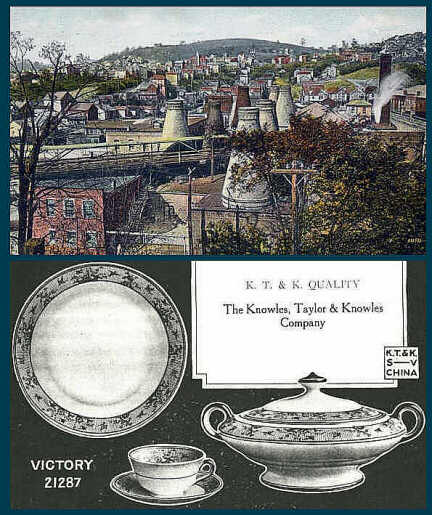 Knowles, Taylor & Knowles (KT&K) was a pottery company in East Liverpool, Ohio from 1854 to 1931. The original owners were: Issac Knowles, John Taylor, (Issac's son-in-law) and Homer Knowles (Issac's son). The pottery produced all types of wares from yellow ware, ironstone, and semi-vitreous dinnerware, but it is best known for the light-weight, translucent Lotus Ware. Produced mainly in the 1890s, Lotus was meant to compete with the successfull Belleek porcelain made in Ireland. High cost and breakage forced K&TK to halt production of Lotus.

KT&K is not to be confused with Knowles China of Newell, WV. Even though Edwin M. Knowles of Knowles China was the son of Issac, the two companies operated independently of each other.

In 1929, KT&K merged with several other potteries to form the American China Corporation, but the company folded due to the Great Depression.

Top right: KT&K in East Liverpool, Ohio.
Bottom right: KT&K advertisement from 1921.