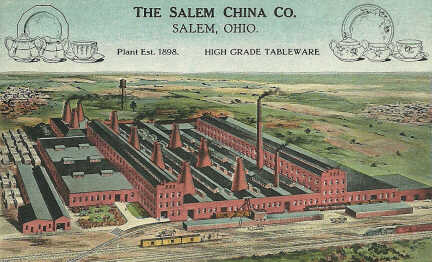 The Salem China Company was located in Salem, Ohio in Columbian County, northwest of East Liverpool.

It was founded by Patrick and John McNicol, Daniel Cronin, and William Smith in 1898 with production beginning a year later.[1] (It should be noted some sources claim it was Thomas McNicol who partnered with Smith and Cronin.) In 1918, the pottery was purchased by F. A. Sebring and Floyd W. McKee was put in charge until he retired in 1950. Charles F. Fox served as assistant secretary and treasurer, and J. A. Armstrong was sales manager for many years.

By 1930, the pottery was firing 25,000 pieces per day and at the height of production employed over 500 people.

Salem China stopped manufacturing wares in 1967 and was reorganized into a sales and service company.[2]

Many of the distinctive shapes from the 1930s and 1940s were created by designer Vicktor Schreckengost. Some of the more collectible lines today are Tricorne -- an art deco, triangle shape from the 1930s, and Free Form -- a modern design from the late 1940s. Other popular lines include Symphony, New Yorker, Heirloom, and Century.

On Wednesday, July 23, 2003, the southernmost portion of the factory was destroyed by fire.[3]
---
References:
[1] Duke, Harvey. The Official Price Guide to Pottery and Porcelian, 8th Edition. New York, NY: House of Collectibles, 1995
[2] Lehner, Lois. Lehner's Encyclopedia of U.S. Marks on Pottery, Porcelain & Clay. Paducah, KY: Collector Books, 1988
[3] Shields, Larry. Fire destroys old Salem China factory. The East Liverpool Review, July 24, 2003
---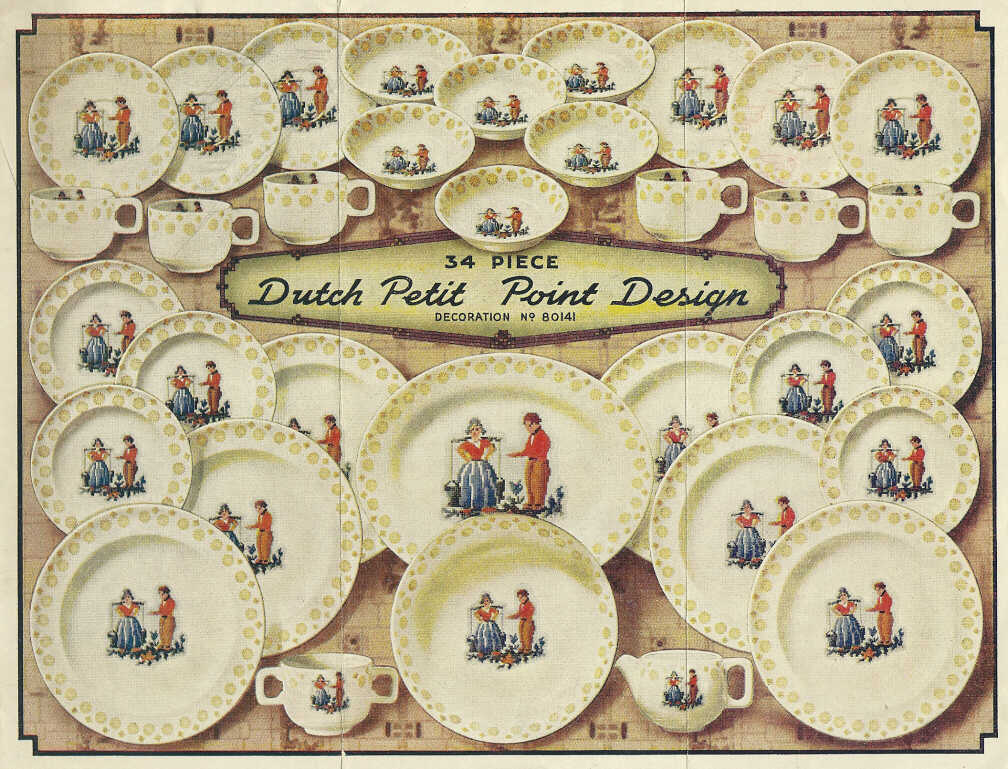 "Dutch Petit Point" on the Bonjour shape, 1936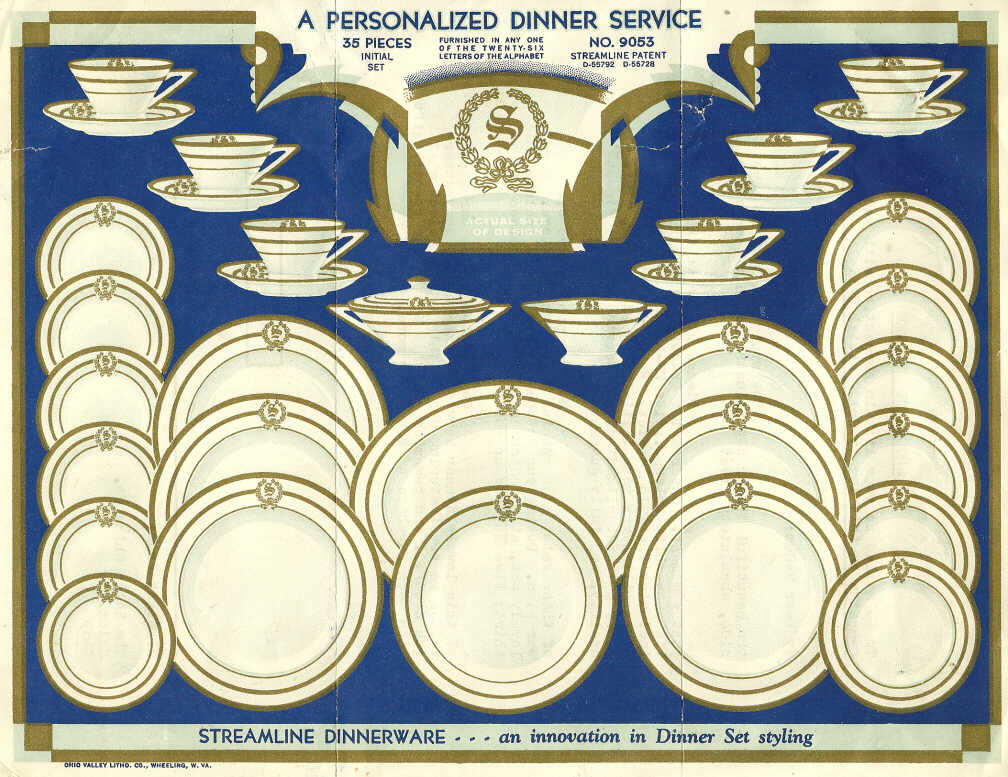 Streamline dinnerware -- late 1930s.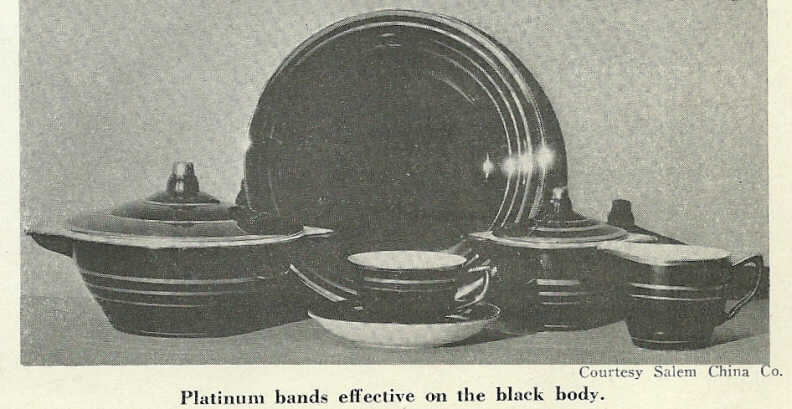 The Century shape, late 1930s
| | |
| --- | --- |
| Tricorne, 1934 | Promotional ad from 1932 |
---
• Biscayne
Biscayne is a specific treatment by Salem China & Paden City
Flatware: round rimless shape
Hollowware: round, slightly flared
Produced in the late 50s and very early 60s
Assortment consists of approx. 20 items
Larger pieces are backstamped
Salem's Biscayne sugar, creamer and sauceboat
Courtesy: Judith Stout
---
Salem China's "Christmas Eve" punch bowl and mugs,
designed by Viktor Shreckengost. To the right is a special
double backstamp

Courtesy: Fran and Carl Stone
| | |
| --- | --- |
| | |
| Punch Bowl | Mugs -- front and back views |
---
• Free Form
Round Coupe shape; footed hollowware
Made with abstract decals
Produced in the 1950s
Assortment consists of approx. 30 items
Marked with Main Free Form/Salem backstamp
| | |
| --- | --- |
| Free Form Sugar and Creamer | Free Form Dish |
---
"Grantcrest" is a trade name used by the W. T. Grant Compnay. They had several lines of dinnerware (as well as Melmac) produced for their stores by various potteries both in the U.S. and overseas. Below is "Tempo" as made by Salem China.
Salem's Tempo place setting and backstamp
Courtesy: Becky Turner
---
• Main Street
Made by Salem China
Square coupe shape
Known solid colors:

Chartreuse
Mint Green
Jubilee Peach
Prachment Brown

Produced in the 1950s
Made for Sears & Roebuck (Harmony House)
Marked with Main Street/Harmony House backstamp
Main Street images courtesy: Amy Tressler
| | | | |
| --- | --- | --- | --- |
| Mint Green | Chartreuse | Parchment Brown | Jubilee Peach |
| | |
| --- | --- |
| Creamers and Sugar | Serving Bowl |
---
• Ranchstyle

Plain round coupe shape
Produced in four colors:

Cedar Coral (unusual light red/brown glaze)
Birch Grey
Lime Yellow
Pine Green

Produced primairly in the 1950s
Assortment consists of approx. 25 items
Most of the flat pieces are marked with a "Ranchstyle" backstamp
| | |
| --- | --- |
| | |
| Set of Ranchstyle with its original box | Tab handled platter in "Lime Yellow" |
Promotional material for Ranchstyle
Below is a Ranchstyle dinnerplate in chartreuse with a decal. It is marked on the reverse with, "Fruit Wood" over the regular Ranchstyle backstamp. The bottom of the decal is signed, VIKTOR SCHRECKENGOST. Schreckengost designed many of Salem's shapes.
| | |
| --- | --- |
| | |
| "Fruit Wood" Plate | Double Marking |
Schreckengost's signature at the base of the decal
---
• Tricorne

Hollow pieces are conical with angular handles; flatware is triangluar
The flat pieces were later replaced with round shapes and the line
was renamed, "Streamline"
Produced in the mid 30s
Made with decal treatments and various trim work
Assortment consists of approx. 20 items
Most items are marked with an inkstamp
Left: Tricorne dinner plate with red trim
Right: Cup and saucer with decal treatments and silver trim
Tricorne with Dutch Petit-Point decals
---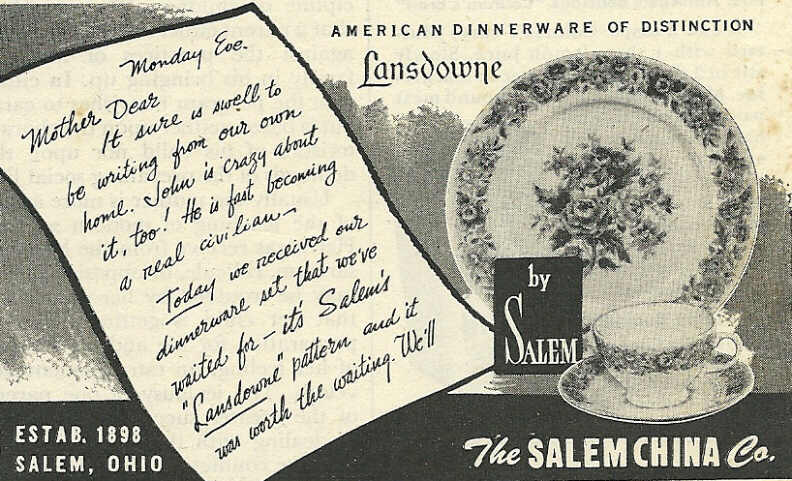 Salem's Lansdowne. Sept. 1945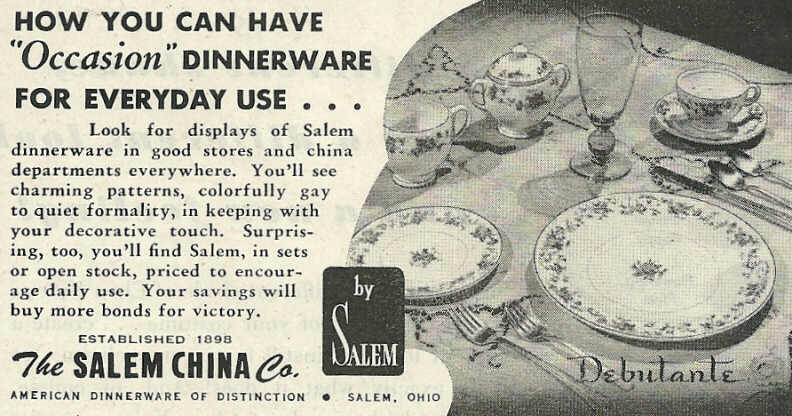 Salem's Debutante. April 1945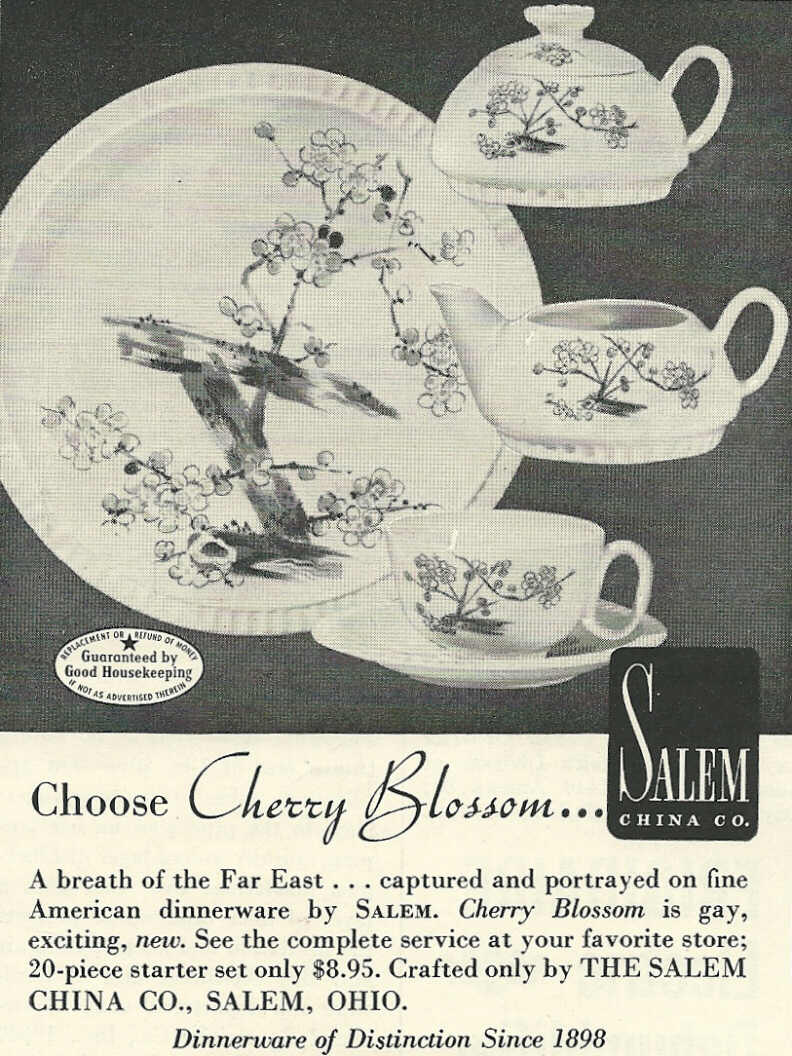 Salem's Cherry Blossom. 1950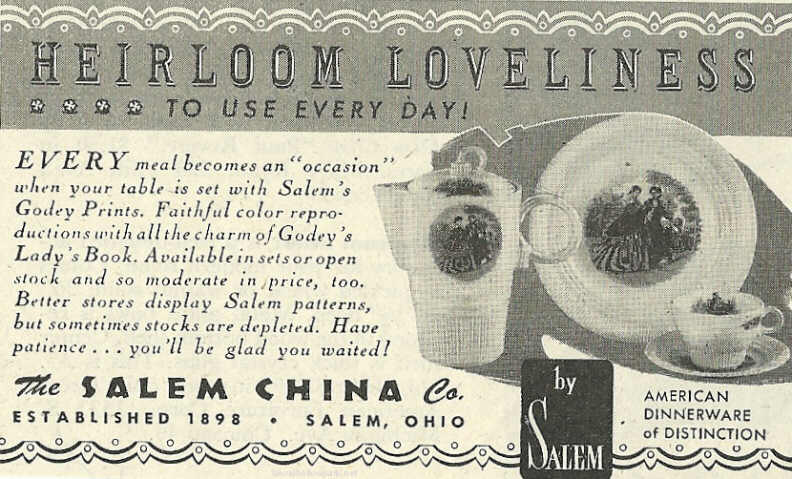 Salem's Godey Prints. June 1945
---
Imperial Service Plates were made by the Salem China Company of Salem, Ohio. They measure 10 5/8" in diameter and were decorated with a wide array of decals. The wide rims were often given elaborate gold stampings over various colors such as green, maroon, cobalt blue, yellow, pink, brown, and light blue. In some cases the rims were not colored.

Service plates were made primarily in the 1940s. One advertisement dated 1948 describes the plates as, "Moderately-priced, yet richly beautiful. Genuine 23 karat gold filigree over colorful rims. Used in sets to enhance formal dinners, they are also lovely decorations for wall and china cabinets. Unusual servers for cake, candy and pastries. Select one or a dozen. Available now at gift and department stores."

Service Plates by Salem China with Colonial couple decals.
| | |
| --- | --- |
| 1947 Advertisement | Typical Service Plate marking |