Creme Flute is a round shape with fluted rims and bodies. There are two styles of sugars and creamers. It's most often found in ivory with decals, but also made in pastel glazes.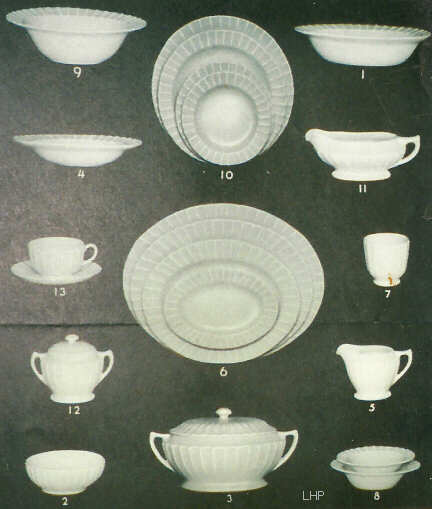 Baker
36s Bowl
Casserole
Coupe Soup
Creamer
9", 11", 13", and 15" Platters
Egg Cup
4" and 5" Fruit Cup
Nappy
6", 7", 9", and 10" Plates
Sauceboat
Covered Sugar
Teacup and Saucer
---
Creme Flute 11" platter from 1949 with green trim.
Decaled Creme Flute Examples
Courtesy: Shipman's Jewelry of Fairbury, Nebraska
Late 1940s ad for "Piccardy" on the Creme Flute shape