Charm House was created from March 1949 to October 1950. It is one of the most complicated lines to discuss since it was used in so many different ways. It was made with two new types of decorations from the 1950s; Applique and Dura-Print, as well as with decal treatments.

Charm House hollowware was almost always mixed with already existing shapes such as Rhythm, Nautilus, or Brittany. The original Charm House flatware was a rim shape very similar to Brittany, but the Charm House rim is wider and not as flat. Also, true Charm House flatware was only used in one instance - for CG Distributors. Here are a few uses of the Charm House hollowware:
With decals for China and Glass Distributors - this is the only line that uses original Charm House flatware.
Decaled for Lady Stratford and Lady Greenbrier Lines - flatware from Nautilus.
Solid Colors for Dura-Print - flatware from Rhythm (some Dura-Print patterns have been found on Liberty).
Applique - flatware comes from Brittany.
With other underglaze and decaled lines - flatware varies, but usually Rhythm.
There are a few items listed in the modeling log that are of importance: the gravy fast-stand, demitasse cup, demitasse saucer, and cream soup cup. A few gravy fast-stands have been found with decals and in white. As for the other three pieces, none have been found so far.
Charm House hollowware is very distinctive. It has mushroom-like bodies with dome type lids. Casserole and sugar bases are handleless. Those items with handles and finials are very simple with no ornamentation which was typical for the casual shapes of the 1950s.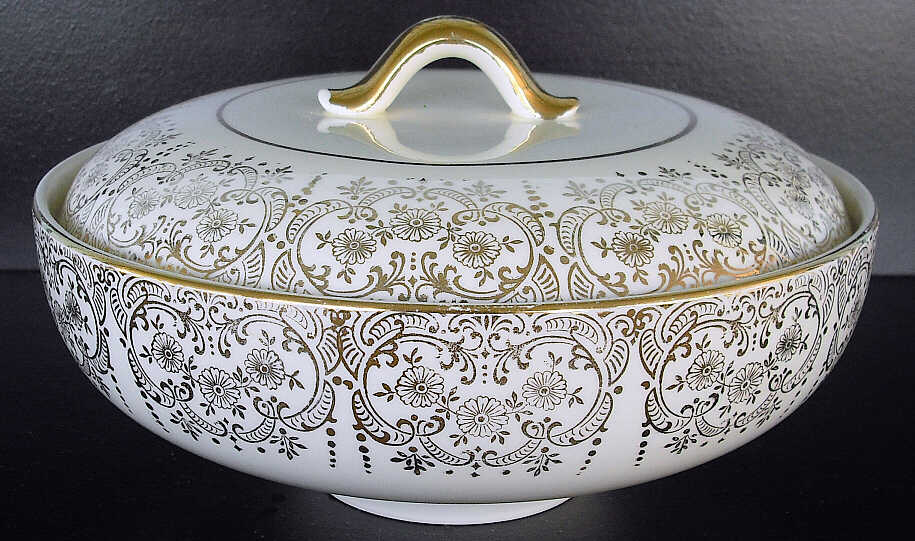 Charm House casserole with gold stamps, dated 1952.
---
China & Glass Distributors
The first use of Charm House is the decaled version for China & Glass Distributors, Inc. According to Lehner's Encyclopedia of U. S. Marks on Pottery, Porcelain & Clay, by Lois Lehner, C.G used several types of markings including, "The Pantry Parade" by Cronin China and HLC's "Charm House." It is reasonable to conclude that this is where the Charm House name originates.
There were several treatments sold by C.G. on the Charm House shape such as Lotus Hai (shown at right), Magnolia, and Apple Blossom. It is with these lines collectors can find the gravy fast-stand. In all other instances, the Rhythm sauceboat was used instead.
C.G Charm House marks make no mention of Homer Laughlin. Other companies made wares for C.G., but HLC's Charm House hollowware should be unmistakable.

| | |
| --- | --- |
| Lotus Hai on the Charm House sugar and creamer | Lotus Hai on a Charm House fast-stand |
---
Lady Stafford & Lady Greenbriar
Another use of Charm House occurs with two popular treatments, Lady Stafford and Lady Greenbriar. Both are combination lines using shapes from several sources. Flatware comes from Nautilus, the teapot from Eggshell Nautilus, the sauceboat from Rhythm, and all other pieces - sugar, creamer, teacup, and casserole - come from Charm House.
Lady Stafford is decorated with a thick maroon band, gold filigree and a rose decal. With Lady Greenbriar, the band is dark green and the decal is of a yellow rose.
Of the Charm House hollowware, only the casserole has the decal with the band and gold stampings. The other pieces of hollowware will have the filigree and colored band only. Both lines were offered in the early 1950s and have a general HLC backstamp.

Lady Greenbriar creamer.
---
Dura-Print
Dura-Print is a line that makes use of a special decoration technique from the 1950s. Colors were applied to a pieces of flatware from a bladder that would expand with air. The decoration was "stamped" onto the flatware and given a clear glaze. Rhythm flatware was best suited for this technique. Hollowware was primarily solid color Charm House.
Treatments consist of either one color or a combination of two. The plaid treatments are plentiful followed by the brown rooster design. One problem in collecting Dura-Print is the flatware often gets separated from the hollowware. It is not uncommon to find stacks of plates and saucers, but without the corresponding cups, sugar and creamer.
Colors used for the Charm House hollowware include: turquoise, chartreuse, brown, forest green, Harlequin yellow, cobalt, pink, burgundy, and black. The most often found examples of hollowware are cups, sugars, and creamers followed by shakers and Rhythm sauce boats. Teapots and casseroles in colors other than yellow and forest green are hard to find.
Promotional material for three Dura-Print lines.
Courtesy The Homer Laughlin China Company.
Something Blue, Desert Lily, and Highland Plaid ads courtesy: Candy Fagerlin

Burgundy Charm House sugar with
a Rhythm creamer in nonstandard rose.


Black plaid treatment. The plaids
were usually made in two color combos.

Charm House creamer in yellow and Rhythm sauceboats in turquoise and brown.
The Rhythm sauceboats were used with Charm House for the Dura-Print lines.

A late 1950s Dura-Print
line using Studio hollowware.


Montgomery Wards ad for three Dura-Print lines.
Calypso is shown with a Rhythm shape teacup.
| | |
| --- | --- |
| "Wheat Americana" RU-21 | "Something Blue" |
| | |
| --- | --- |
| "Homemaker" pattern for Woolworth | Forest Green Charm House casserole |
| | |
| --- | --- |
| Confetti, RU-25-B | Trellis |
| Tulip | Star-Brite, RU-42 |
| Cinderella, RU-46 | Highland Plaid platter |
---
Applique
The majority of Applique lines consist of flatware from Brittany and hollowware (except for the Rhythm sauceboat) from Charm House. However, there are a few treatments that made use of Brittany's flatware and hollowware.
When Applique was released in the 1953, it was described as, "Homer Laughlin's new, exclusive decorating technique, perfected after years of research to develop designs resistant to acids and dishwashing detergents." This new technique was listed as resulting in a "colorful raised enamel effect." In fact, the design does fell raised as opposed to pieces with decals or underglaze treatments.
Applique treatments are usually made up combinations of red, yellow, chartreuse, dark green, and brown colors.
Pieces are usually marked with a generic HLC backstamp and date codes which indicate production primarily from 1953-1955.