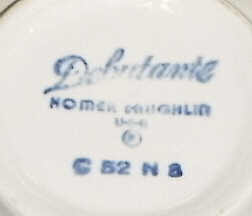 Debutante was a decal shape first offered by Homer Laughlin in January of 1950. They had used shapes from the already existing Jubilee line which had been introduced in 1948. It wasn't uncommon for HLC and other potteries to use a shape for both solid colors and decals. HLC had done it before with Wells, Century, Nautilus, OvenServe, Orleans, and Kitchen Kraft.

Trade advertisements from 1950 say this about the new line:
Homer Laughlin presents its newest, smartly styled line of exciting dinnerware, created to meet the demand of modern America. The subtle beauty of graceful shape and a new "Snow White" glaze combine with fresh, new, colorful, decorative treatments to bring charm to the table of the most discriminating hostess. Available in many patterns. Moderately priced.
Debutante wasn't widely used. Rhythm, Cavalier, and the Dura-Print lines would become more successful. As a result, Debutante was only offered for a few years and the number of patterns available ranged somewhere between 25-30.
Debutante was usually marked with the shape name. In most cases, there is a date code.
For more, see the sections on Jubilee and Skytone & Suntone.