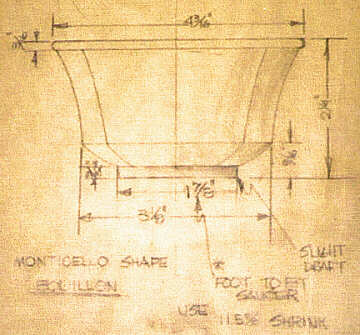 Dover is known by several names; Colonial White, White Dover, Monticello. The first pieces were modeled in 1965 with each having sixteen panels. When Dover is found in a plain white glaze, it is called, "Colonial White" and has the treatment number CW-100. Consequently, all treatments which appear on the Dover shape will begin with "CW".

Some of the original drawings at HLC (see image to the right) show pieces labeled as "Monticello" and a few can be found with the name in a backstamp. However, most Dover dinner plates and platters will be found with a general Homer Laughlin backstamp.

Dover was produced until the early 1980s. It can be found with underglaze decorations, decals, and solid colors. The most common solid colors are yellow and green (the same yellow and green used with the Harlequin reissue line of the late 1970s) and a rich brown called Amberstone (not to be confused with "Fiesta Amberstone" of the same time period.)

Items found in dark green and gold glazes almost always have corresponding plates with an underglaze decoration in the same manner as the Hearthside and Granada shapes.