Rose Ebony
Rose Ebony is a rich, dark glaze from the very early stages of Fiesta's development. Frederick Rhead mentions the glaze on several occasions in his 1935 journal. It must have received serious consideration since a wide range of test pieces have been found. Besides those shown here, a covered sugar (with flat bottom), stick handled creamer and an early size 10" comport have been found.
The following comes from an article by Rhead from the 1937 Pottery and Glass Journal and talks about the fifth Fiesta color. It was reprinted in The Collector's Encyclopedia of Fiesta by Sharon and Bob Huxford, 8th Edition, ©1998, page 9 and reads in part:
"The fifth color was the hardest nut to crack. Black was too heavy, although this may have been used if we could have had six or more colors. We had no browns, purples, or grays which would tune in. We eliminated all except two colors: a rich turquoise and a lovely color we called rose ebony. But there seemed to demand a quieting influence; so we tried an ivory vellum textured glaze which seemed to fit halfway between the yellow and the regular semi-vitreous wares and which cliqued when placed against any of the four colors selected."

Rose ebony Fiesta demitasse cup and saucer


Underside of demitasse cup and saucer


Rose ebony Fiesta demitasse coffee pot


Demitasse coffee pot marking


Rose ebony Fiesta carafe in rose ebony


Fiesta carafe marking
| | |
| --- | --- |
| Rose ebony Fiesta tripod candlesticks | The earliest versions of Fiesta tripods were made with dry feet |
| Rose ebony Fiesta cream soup cup | Underside of the cream soup cup |
---
Ski Mugs
In mid-1938, HLC worked on several versions of handled mugs in various shapes. There were several styles of bodies: cylindrical (model 1111), conical (model 1112), barrel (model 1118) , as well as shorter, more traditional looking mugs. The handles varied on these basic forms to create different mugs. For example, the conical shape, model 1112, was given five different handles - three of which came from the Swing Eggshell dinnerware line. The cylindrical mug, model number 1111, was given five different handles. Records indicated they had very similar capacities averaging 9 ½ fluid ounces.
Each started out as being called simply "mug" in the modeling log with no reference as to a retailer or decoration so the intent for these mugs is unclear. Later versions are referred to as "Ski" mugs.
In late 1938, two more Ski mugs were made, this time holding 11 ounces each. Fifteen distinct mugs in all were created, but there was no indication any of them went into production.










Model 1111 mug
with Model 1115 handle in red


Model 1112 with Swing
coffeepot handle


Model 1033 in old ivory,
later revised to become model 1111







Model 1112 mug
with model 1020 handle


Model 1111 mug
with model 1116 handle
---
Vinegar Jug
This cruet, or vinegar jug as it is called in the log, was modeled in September 1938. It was made with a cork seal - very similar to the Fiesta carafe lid. This particular example was glazed in Fiesta dark blue and was marked with its model number, 1135.
---
Experimental Teapot
Modeled by Al Kraft, this 6-cup medium teapot was also called a "Hot Water Pot." Listed as model number 545, it was created in February of 1936. In late February and early March, Rhead mentions samples of "percolators" as well as Fiesta teapot stands. It is possible this piece was meant to be a percolator or a "Drip-o-lator" which was a popular piece by other companies at the time.

Experimental teapot in red


Lid detail


Underside of teapot
---
Tongue Twister Tableware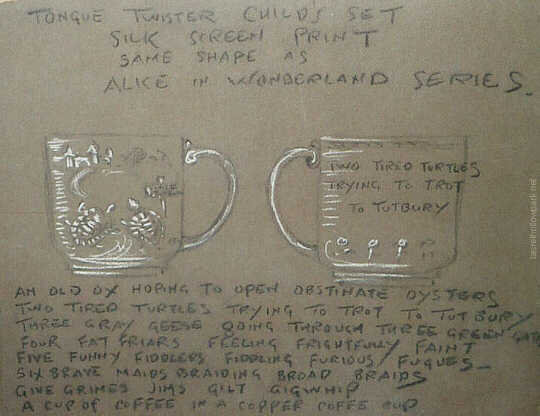 The Tongue Twister Tableware series comes from 1941. The shapes were originally created for an Alice in Wonderland series and were modeled in January and February of 1941. The drawings for the Tongue Twister underglaze prints were made from February until April.
Most, if not all, of Charles William's drawings for this series are featured in Jo Cunningham's book, Homer Laughlin China 1940s & 1950s, © 2000, pages 150 to 156. To the right is Tongue Twister concept art drawn by Frederick Rhead.
The plates probably were picked up from an existing line, most likely Brittany. The shapes made especially for Alice in Wonderland and Tongue Twister include:
bowl
soup with one lug
jug (small milk pitcher)
tray (with several revisions)
compartment plate
pitcher, 4"
tumbler
handled mug
There is no evidence this line went into production. Shown are sample pieces made in underglaze colors of red, blue, green, and brown.




Tongue Twister Tableware grouping


Tongue Twister plate


Special turtle marking for the Tongue Twister series


Tongue Twister tray with indention for the cup. Also called a "mug and bowl unit."


Humpty Dumpty mug


Humpty Dumpty mug, reverse


Four Fat Friars mug


Four Fat Friars, reverse

Three Gray Geese Going
Through Three Green Gates


She Sells Sea Shells
By The Sea Shore


Two Tired Turtles Trying
to Trot To Tutbury
---
Shell Plates
Shell plates were made for Proctor & Gamble. Four versions of Shell plates were modeled from August 1938 until February 1939. Rhead mentioned the plates in his journal on February 10, 1939: model shell plate - actual aver all 10 ½" samples in all four colors. Green, turquoise, yellow and red. He was referring to model number 1203 which actually went into production, however, they are very hard to find. If your lucky enough to find a P&G Shell Plate, expect it to be unmarked.

Shell plates in light green, turquoise (smaller size, probably model number 1128), and Fiesta red


Back of the green shell plate


Back of the turquoise shell plate


Bak of the Fiesta red shell plate
---
Experimental Fiesta
The top two photos are of an onion soup base prototype. This version was made in March 1935, but it was replaced by the standard covered onion soup in August 1935 which itself underwent subtle revisions. Besides the red base shown here, a complete unit has been found in green.
The bottom photos show what looks like a regular Kitchen Kraft jug, but this is actually a smaller version. It is model number 833 and like its larger counterpart, it was made with a cover. The small jug is one of the few pieces of Kitchen Kraft not to go into production. This unmarked version was glazed in Fiesta red.
| | |
| --- | --- |
| Prototype onion soup base in Fiesta red | Prototype onion soup marking |
| Experimental small Kitchen Kraft jug | Underside of small Kitchen Kraft jug |