In 1984, the Homer Laughlin China Company began planning to produce the American Modern line of dinnerware for Bloomingdales. Designed by Russel Wright, the line was originally made by the Steubenville Pottery Company of Steubenville, Ohio from 1939 to 1959.

Five pieces were modeled in October of 1984: the teacup, saucer, dinner plate, salad plate, and lug soup. In January 1985, a sixth item was made; the chop plate. Samples were made in black, white, and several gray glazes, but the line never went into production. It was decided that HLC would reintroduce Fiesta® instead.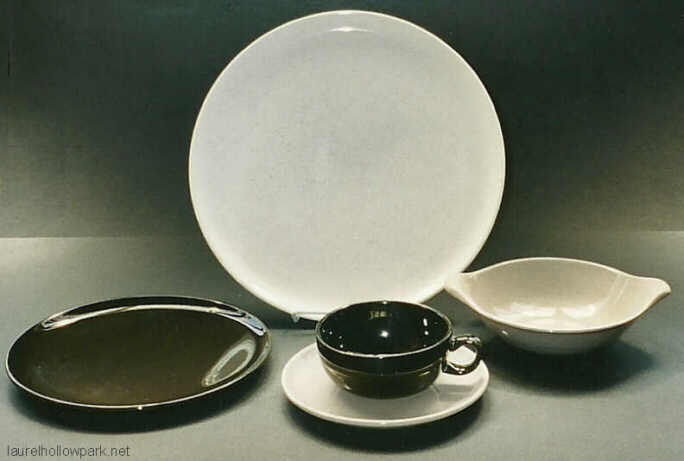 HLC's version of American Modern. Courtesy The Homer Laughlin China Co.
Several of the old shapes from the original line as well as restyled pieces from the late 1960s were used. Initially, there was no need to model any new pieces although the place setting salad bowl and mug were made larger than their older counterparts in August 1985. Fiesta® was reintroduced in 1986 in five colors; rose, apricot, cobalt, black, and white.
There were problems with the casserole, coffeepot, and sugar which caused them to be restyled early in production due to lids not fitting bases properly. The bochure put out in 1986 shows these pieces as they were originally intended. A second, smaller brochure was printed the same year with the modified shapes.