Ohio and Virginia Jugs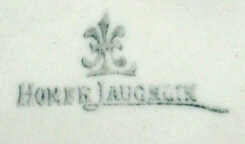 The Ohio and Virginia shape jugs were part of Homer Laughlin's White Granite Staples and were first made in the early 1900s. The Ohio jug has a low, rounded body while the Virginia jug has straight sides. Each was made in six different sizes. Company catalogs and literature lists them in the following trade sizes; 12s, 24s, 30s, 36s, 42s, 48s. The 42s and 48s were rather small. A 42s would be about the size of a regular creamer and the 48s the size of a demitasse creamer. The 12s was the largest size, but it was the 24s that was most often used. A 24s Ohio jug is roughly 5" tall. The a 24s Virginia jug is slightly taller at 5 1/2".
The Ohio jug was no longer listed in company catalogs by 1910. The Virginia jug was listed in the 1914 HLC catalog, but it was discontinued shortly thereafter. As a result, Virginia jugs may be a little easier to find than their Ohio counterparts. Expect to find both styles of jugs with a wide assortment of treatments and marked as shown.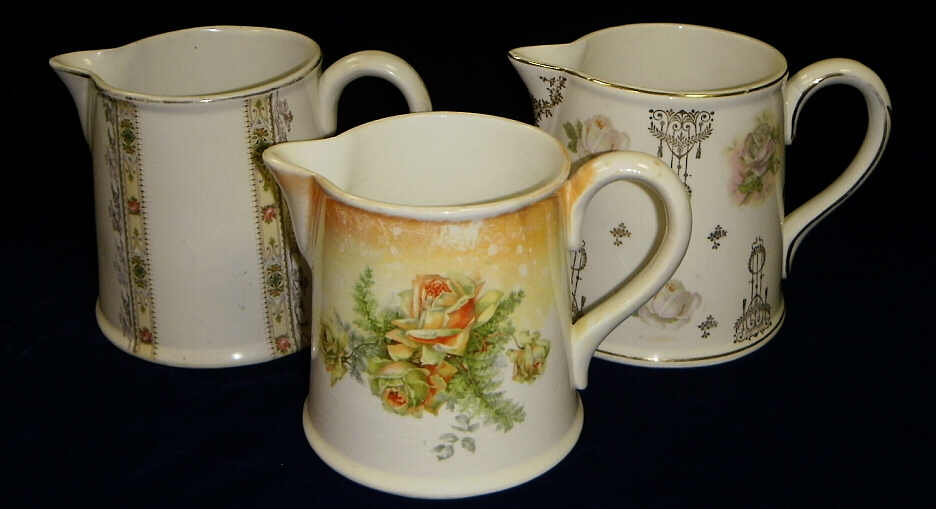 24s Virginia jugs (back) and a 30s Virginia jug (front).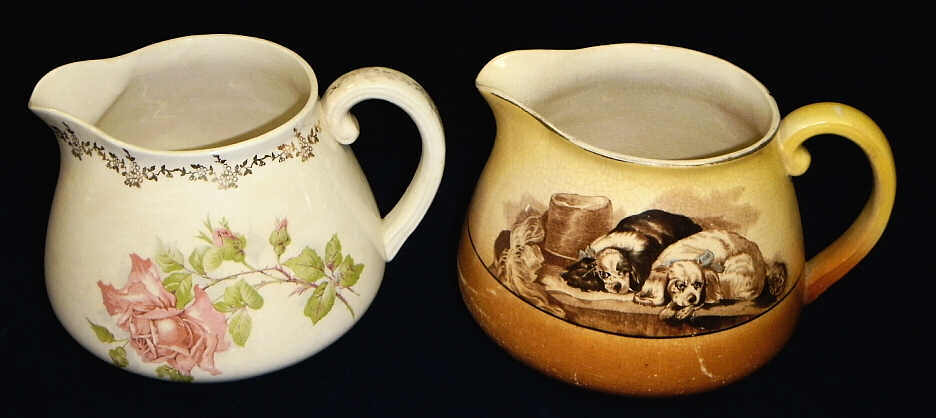 24s Ohio jugs. The example with the dogs on the right comes from the "Caledon" line.
---
Frog Subjects
One of the more popular treatments found on the Virginia and Ohio jugs (as well as the Hudson 24s jug) is the set of six frog subjects. HLC also used these decals on plain, coupe shape plates, but they are very hard to find. The decals were also used by European potteries in Germany and Austria. Interestingly, Both HLC and the European potteries offered the frog decorated ware during the same time period from 1906 to about 1909. Frog plates made in Europe are rather common. More often than not, they were produced using translucent china.
HLC mainly used the 24s jugs with the frog subjects, but other sizes can be found. The Virginia and Ohio frog jugs will have the same general HLC backstamp shown at the top of the page. Hudson frog jugs will have the regular Hudson backstamp.
---
| | |
| --- | --- |
| Frog patterns (D) from a 1909 Pound Sterling Catalog | Copy of HLC records - frog decals with 1906 and 1907 noations. |
---
The six frog subjects


Riding the bicycle


Smoking after dinner


Reading the paper


Smoking in the tree


Playing the violin


Singing at the pond
---

Frog subjects on Ohio (left) and Virginia (right) shape jugs circa 1906 - 1909.
Note the different trim; this Ohio has gold stamps, Virginia has a green edge line.


Hudson example
Courtesy: David Schaefer