Hearthside by Homer Laughlin
The following originally appeared on pages 97-100 of An Overview of Homer Laughlin Dinnerware ©2002,
and is being posted on www.laurelhollowpark.net with permission along with corrections and updates.

---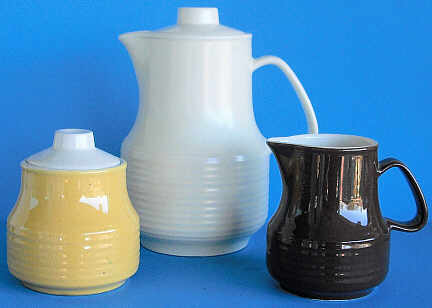 First made in 1971, Hearthside is a ringed shape. On flatware the rings are confined to the rim, and on hollowware they can be found towards the base. This is a typical line of 70s dinnewrae with golds, greens, and browns as the primary colors. In one advertisement, color was the pitch for Hearthside:
The popularity of color was never greater than it is today, as shown by the desire of a large majority of the tableware buying public. Seven original contemporary [treatments] in green and gold glazes that are certain to attaract customers. all patterns sealed under the glaze for lasting beauty.
Many treatments will involve some sort of black stamp decoration in the same spirit as White Dover and Granada. Once in a while, a line will offer the lids of hollowware in contrasting colors. Since flat pieces were the only items to receive decorations, hollowware can be interchaged between lines of the same basic color.

To the right is the Hearthside sugar in yellow, creamer in brown and a beverage server.

Official deocrations numbers for the Hearthside shape are prefixed by HS, and the plates are often marked with the general HLC backstamp with date. The Hearthside shape was no longer used by the early 1980s.
---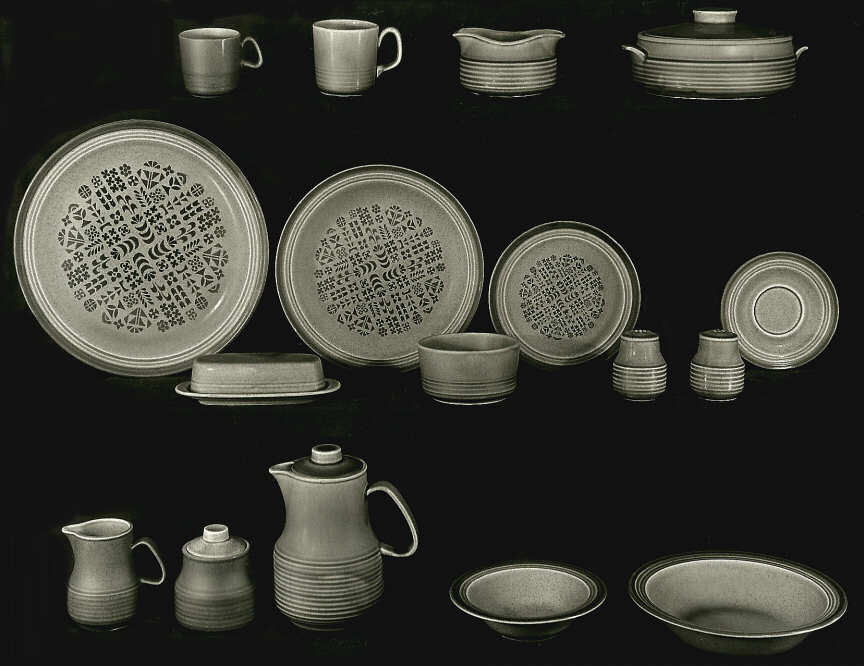 Original Hearthside assortment. Pattern on the flatware is "Kaleidoscope" HS-231.
| | |
| --- | --- |
| HS-209, Jubilee and HS-203, Sun Gold | HS-207, Pimlico and Hs-202, Surfside |
| HS-208, Concept and HS-203, Sun Gold | Hearthside cereal bowl and cup |
---
Hearthside Examples


"Garden Song" HS-261


"Raindrops" HS-215


Shakers
| | |
| --- | --- |
| "Concept" HS-208 and "New Fiesta" HS-286 | "Glade" |
---
| | | |
| --- | --- | --- |
| | | |

HLC lines from 1977: (left to right) "Earth" on the Challenger shape, "Colonial" a.k.a. Dover, and "Rock Garden" on Hearthside
---
| | | |
| --- | --- | --- |
| "Butterscotch" HS-232 | 1981 calendar plate | "Wheat" HU-303 |
---

"Waves" HS-237


"Barcellona" HS-221


"Country Road" HS-234
---
| | | |
| --- | --- | --- |
| "Petals" HS-240 | "Grass Green" HS-265 | "Nutmeg" HS-276 |
---

Sugar and creamer


Gravy


Shakers


Covered butter


Top: Barcelona, bottom left: Palma, and bottom right: Navajo on the Hearthside shape. Advertisement is from 1973.
---

1973 advertisement. Palma, Banded Cortez, and Apollo use Hearthside. Sunflower and Floral Garden use Bristol.
| | |
| --- | --- |
| "Cortez" HS-218 | "Apollo" HS-219 |
---
Assortment of Items:

Chop plate
Dinner plate
7" plate
6" plate
Cup
Saucer
Mug
Shakers
Covered casserole

Gravy
Covered butter dish
Deep bowl
Creamer
Covered sugar
Beverage server
Serving bowl
Small soup/cereal
Large soup/cereal