Orleans and Ravenna are being presented together since they are very similar in design and were developed at the same time. The general description for the flatware is the same: round scalloped shapes with heavily embossed floral rims and fluted verges. Many have a hard time telling to two apart, but after viewing a few pieces, the difference become very noticeable. There are two major differences:
1. Orleans has small flur-de-lis shapes around the rim. This results in little "bumps" in the outline. See red arrows below.

2. Orleans has fewer and wider flutes at the verge compared to Ravenna's very narrow flutes. See blue arrows for Ravenna's flutes on the verge.
While the flatware is similar, the hollowware is very distinct. Ravenna's has a rim - an uncommon feature on HLC dinnerware. Orleans's is much more conventional with oblong bodies.

Ravenna was the first to be modeled. On August 27, 1931, Rhead notes in his journal: Worked on Rose 7" plate, Ravenna. He continued to model this plate - which actually measured 9" since Rhead used trade sizes in his notes - along with a smaller plate until August 31. At the time, work in the art department was proceeding slowly with the Jade shape and for the month of September, sketches for both Jade and Ravenna were being made in reviewed. In October, there was little activity with Ravenna. The only piece Rhead even mentions was a 9" nappy since work was focused on Jade and the Apple Tree bowls. However, on November 2, 1931, J. M. Wells approved the Ravenna shape and ordered the following to be made: Platter, sauceboat, casserole - with and without a cover, 10" and 6" plates, and an 8" deep plate. For the rest of November, Ravenna pieces were modeled and decaled samples of flatware were being made to be shown to various buyers.

Ravenna wasn't even four months old when on November 30, J. M. Wells orders a "modeled plate for Woolworth's." By December 14, the new modeled plate was produced. Wells took samples of the new plate, called Orleans, along with sketches of teacups to New York. Two days later on the 16th, Rhead notes: JMW phoned from NY that Frantz [buyer for Woolworth's] was interested in modeled plate. Meanwhile, most of Ravenna had been modeled with the exception of the sauceboat which was finished on December 21. It may be surprising that Homer Laughlin would produce two very similar shapes. While Ravenna was made for the general trade, Orleans was originally intended as an exclusive.

On January 18, 1932, new items were ordered to be added to Orleans. Most of the new shapes were pieces of hollowware which were completely dissimilar to their Ravenna counterparts. The new items for Orleans were: teacups, 8" baker, 36s bowl, platter, fruit cup, nappies, oatmeal bowl, various sizes of plates, 8" deep plate, creamer, open sugar, and coupe soup.

In February 1932, most of the Orleans pieces were being modeled and Ravenna with decals was being made for buyers such as J.C. Penney. More pieces were to be added to Orleans in March and April as well as Ravenna, namely the 9" oval baker and a pickle dish. These would be the last pieces made for the line. There was a jug ordered for Ravenna in August of 1933, but it was never modeled. The actual date Ravenna was discontinued isn't clear, but most agree it was by the late 1930s.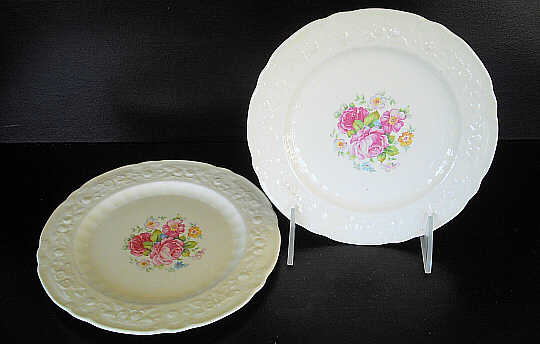 While Ravenna was short lived, Orleans continued to endure. Patterns were being made in late 1932 and in February 1933 (pattern O-79 is shown to the right). The assortment was expanded to include the 10" baker, 9" patter, fruit cup, 10" nappy, and the 36s jug. Orleans was made with decals for Woolworth's and continued with very little change until March 1936 when the sugar base was remodeled to accept a lid and the covered casserole (see photo at right) was finally added. On June 8, 1936, samples of Orleans were ordered in the art glazes commonly used on the Wells shape. This is the only date Rhead gives for Orleans in art glazes, and they must have been accepted since the shape has been found in at least three colors; rose, rust, and green. It was given the special name and backstamp: "Antique Orleans."
Besides decals and art glazes, Orleans was made with platinum bands and underglaze treatments. It was phased out by HLC in the 1940s. Some pieces have been found with backstamps dating as late as 1946. While it was produced for almost fifteen years, examples are not easily found today. Plates, platters, and small bowls may be common, but the hollowware - sugar, creamer, sauceboat, casserole and jug are rather difficult to find. This is also the case with Ravenna.
Expect to find Orleans with a general HLC backstamp except for those pieces in art glazes which will be marked with Antique Orleans or simply Antique. There were to marks used with Ravenna. The fist was the shape name all in capital letters and the other is the general HLC mark.