According to The Collector's Encyclopedia of Hall China by Margaret and Ken Whitmyer, "Silhouette" was made as premiums for the Cook Coffee Company by Hall China of East Liverpool, Ohio and the Taylor, Smith & Taylor Company of Chester, West Virginia. The decal was applied to a variety of Hall shapes complete with platinum trim. TS&T used it on at least three of their shapes in the 1930s; Empire, Laurel, and Vogue. Silhouette was also offered by the Geo. F. Hellick Coffee Compnay. A Hellick advertisement dated July 1947 featured several pieces of Hall's Sihlouette.

In more recent times, China Specialties used the decal on Hall shapes for the collector market.

Hall China coffee pot


Hall China bowl and leftover

Front of a Cook Coffee Co. salesman's flyer, dated 1942.
---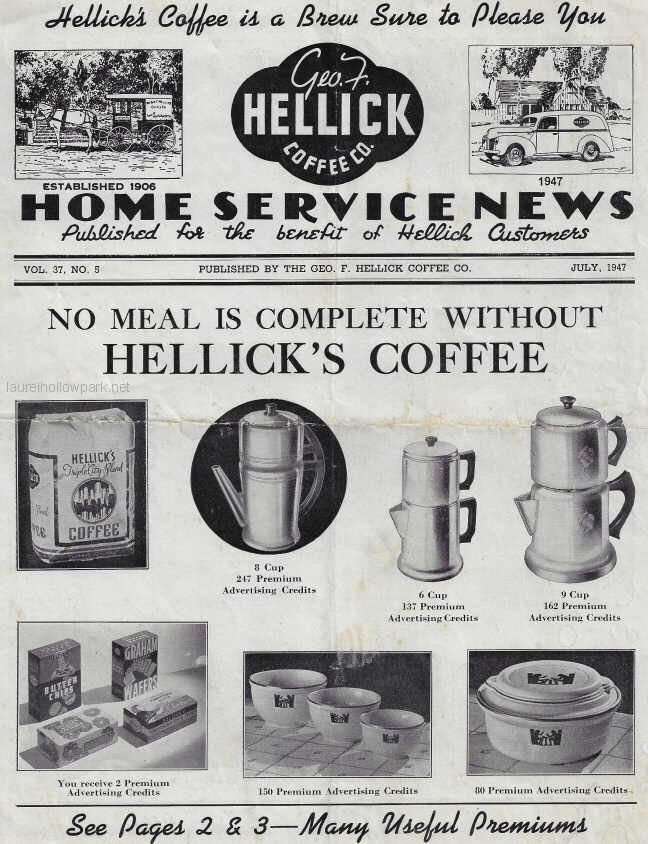 1947 Hellick Coffee premium catalog offering Hall's Silhouette mixing bowls and a casseole.
---
| | |
| --- | --- |
| TS&T's Empire shape cup and saucer | TS&T's Laurel shape covered butter |
---
At some point, the Homer Laughlin China Company must have been approached by the Cook Coffee to make Silhouette. The 10" mixing bowl below comes from HLC's Kitchen Kraft, a shape first produced by HLC in 1937. It has the same Silhouette decal as used by Hall and TS&T. This particular bowl is marked with the standard Kitchen Kraft backstamp as well as the treatment number, CCC-19 with the three C's standing for Cook Coffee Company. No other pieces of Silhouette by Homer Laughlin have surfaced thus far.
| | |
| --- | --- |
| HLC's Kitchen Kraft 10" mixing bowl | Bowl's marking with treatment number |