There's a lot of confusion generated by the Wells Art Glazes marking. It was subject to be used on any shape that received a solid colored glaze. This includes, but is not limited to , the plain round Wells shape, Old Roman, Orleans, OvenServe, Coronet, Empress, and a few specialty pieces. These unrelated shapes have one thing in common: select pieces were dipped in solid colors first available in the early 1930s.
Art glazes are matte in texture and are uneven in many cases. The following table lists shapes and various colors that have been confirmed on those shapes. Click on the appropriate links for more on each shape.
| | |
| --- | --- |
| Color | Shape |
| | |
| Leaf Green | Wells, OvenServe, Orleans, Tango shakers |
| French Rose | Wells, OvenServe, Orleans, Tango shakers |
| (Melon) Yellow | Wells, OvenServe, Coronet, Empress teapot |
| Burnt Sienna (a.k.a.Rust) | Wells, OvenServe, Orleans, Tango shakers |
| Sea Green | Coronet |
| Depression Green | Old Roman |
| Blue Vellum | Empress teapot |
| Red | Wells |
The first four colors listed are considered by many to be the standard Art Glazes. Wells is the dominate shape, but other shapes received the same glazes and often the same marking. Leaf green, rust, and rose, a.k.a. peach, have been found on OvenServe casseroles and under plates. Yellow was a standard OvenServe color so expect those pieces to have an OvenServe backstamp, not W.A.G. Orleans in rust, rose, and leaf green were sold as "Antique Orleans" and may be marked as such or simply "Antique."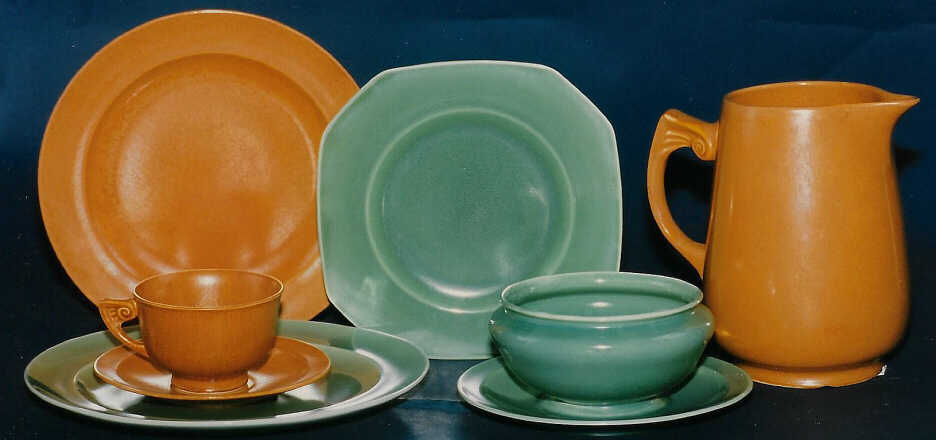 Wells shapes in Burnt Sienna (rust) and Leaf Green.
Photo from the research files of Joanne Jasper.
The sea green color is a little more consistent than the leaf green commonly used on the Wells shape. Depression Green is not as transparent as the earlier green used on Newell and Trellis in the very late 1920s to early 30s. In fact, Depression Green is rather close to Fiesta's light green , but slightly darker. Coronet and Old Roman in art glazes may carry their own marks or W.A.G.
Blue Vellum and yellow were used on Empress teapots. They were special order and not used with a dinnerware line. On December 15, 1932, Rhead notes making samples in blue: Wells Art Glazes in blue. Samples sent in Century - medium blue 1226, Wells - light blue 895, gray blue 987, medium blue enamel 661, blue enamel 650, strong blue enamel 638. The blue eventually used on Empress teapots was eventually called Blue Vellum on several occasions in Rhead's notes.

An HLC memo dated September 11, 1941 gives some indication as to when the art glazes were finally retired: As you know, we are discontinuing the art glazes in the four colors. It is suggested that you have the proper samples set aside for historical records.