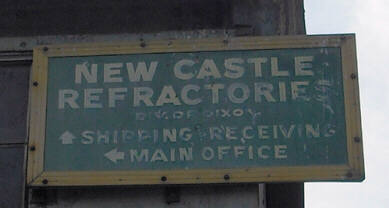 One of the first businesses in Newell was the Kenilworth Tile Company located at 2nd and Harrison Streets. It had burned down and was rebuilt in 1919. It was taken over by New Castle Refractories in 1934 and produced mainly saggers for potteries which had recently switched from bottle kilns to continuous tunnel kilns. As the demand for saggers for the new kilns grew so did New Castle's business. An advertisement from the mid-1970s described New Castle as, "serving the pottery, tile, glass and steel industries."

In Decemeber 2006, New Castle was purchased by Resco Products, Inc.

Photos below were taken June 2012.