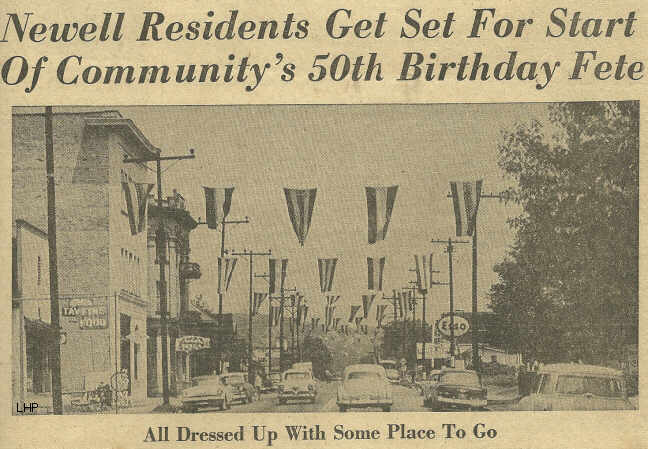 Newell is all decorated and ready to start its Golden Jubilee celebration Monday, observing the half-century of its existence with a variety of nightly events through next week.

There will be a children's parade, queen crowning, baby contest, beard judging, drill squad competition, juvenile talent show and contest, dance studio entertainment, a big fireman's parade and carnival entertainment among events to interest the thousands of visitors the community expects for its 50th anniversary program.

Months of planning by virtually every organization in Newell has gone into the celebration and there will be something doing every night through Saturday.

The children's parade is slated for Monday, beginning at 7:30. It will form at 2nd St. and will be led by the Junior band of Wells High School, marching on Washington St. Prizes will be awarded for the best decorated bicycle, car, wagon or other vehicle; largest pet, smallest pet, best groomed pet and for the funniest and most original costume. The parade is being sponsored by the Newell Band Parents.

The crowning of the jubilee queen will be held at the carnival grounds following the parade. The winner will receive a three-piece set of luggage donated by the American Legion Post 114. Arthur DeLong is Legion chairman. Seven of the community's prettiest girls are candidates for Golden Jubilee Queen, who will be revealed at the crowning ceremony.

[snip]

A round and square dance in the fire station will be held tonight from 9 to 12 as a pre-celebration event in Newell's Golden Jubilee. Cecil Smith and his string band will play for the event sponsored by the jubilee committee.

Crowning of the winners will follow the queen contest. Boy and girl winners will each receive a $25 Savings Bond and a loving cup. Mrs. Louise Staley and Mrs. Cora Wurzel are co-chairmen of this event.

The jubilee committee with then hold its beard judging. Prizes will be awarded for the best kept, longest, funniest, and most original beard and best Van Dyke. Theodore Ulbright is chairman of this phase of the celebration. Newell males have been attracting attention, especially outside the community, with their luxurious growths of chin whiskers and other facial foliage. The beard contest plans were launched three months ago.

Tuesday night at 7, drill squads of the tri-state area will compete for prizes at the Memorial Field. Herbert Eddy of Post 114 is chairman.

A juvenile talent contest is slated for Wednesday night at 7, sponsored by the Jefferson Parent-Teacher Association. Mrs. Sadye Nalley is chairman. Judges will be the Rev. and Mrs. Ray Bugler and Mrs. George Cawthorn. Pianist for the contest will be Miss Betty Gilmore. The participants, all from Newell, and their acts are:

Connie Spinger, 7, accordion solo; Becky Thornberry, 7, ballett dance; Linda Cordray, 10 and Penny Bailey, 10 vocal duet; Freddie Springer, 10, accordion solo; Larry Shepherd, 17, vocal solo; Nila Jo Bailey, 17, pantomime. Russell Fetty, 15, volcal solo; Ronald Moffett, 13, trumpet solo; Michelle Mosher, 5, pantomime; Billy Moffett, 12, accordion solo, and Shirley McCoy, 15, vocal solo.

After the talent contest, a talent show will be hold, sponsored by Rebekah Lodge 74 and Clark Odd Fellows Lodge 447. The show will consist of various dances by children who are students at a dance studio. The children range in age form 8 to 15. Mrs. Betty Thornberry is chairman of the show. Participants are Jerry and Trudy Allison, Becky Thornberry, Bobby Rogers, Judy Nesselrode, Ruth Ann Paisley, Francis Leon, Janice Castelli, Nancy Enochs, Larry and Vickie Myers and Fay Pickens.

The Agnes Budger Dance Studio will present a show Thursday evening at 7 at the carnival grounds. It is being sponsored by the Boosters Club with Theodore Ulbright as chairman.

The volunteer fire department will sponsor the parade Friday night at 7. Vernon Bettridge, chairman of the firemen's parade committee said 40 to 50 units from the tri-state area are expected to be in the line of march with equipment and uniformed groups. Several outstanding music grounds familiar to parade fans in this area will participate. They include the CDA Drum and Bugle Corps of Butler, a 64-girl organization; the Quaker Swing Band of the Salem American Legion Post, state Legion champs and Ohio's band representative in President Eisenhower's inaugural parade; the Meridian (Pa.) Woodpeckers - the largest all girl fife and drum corps in the nation - 50 girls, and the East Liverpool Shrine Club Marching Band. High School bands will include Wells High, Beaver Local, and New Cumberland.

A matinee for children will be held Saturday afternoon at the carnival grounds. It is being sponsors by the firemen and a prizes will be awarded to a boy and girl.

A street dance contest is slated for Saturday night from 9 until midnight and prizes will be awarded to the best dancers. It is being sponsored by the Women's club and the Lions club. Miss Mary Mangano and Miss Betty Buben are chairmen of the Women's club and William McGown for the Lions.

To climax each night's entertainment, the "Great Malikova" of Klieins Attractions will perform on the high wire. She will ride her on invention, the "ladder cycle," during the act.

The jubilee committee is headed by Arch Coen. Other members are Mrs. Cora LaNeve, , co-chairman and secretary; Miss Mangano, treasurer; Mrs. Mary Stoneburner, publicity, and Delong, McGown, Ulbright, Harry Thornberry, Mrs. Harriet Talbott, Mrs. Nalley, Mres. Thornberry, Mrs. Ruth Sprouse and Miss Buben.