Location: Canonsburg, Pennsylvania
Dates of operation: 1901 - 1978
Best known for decaled dinnerware
(Below are just a few examples.)
---
Canonsburg's Skyline "Wild Clover" courtesy: A. Tressler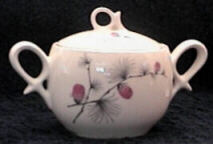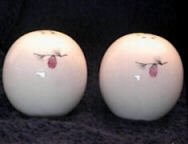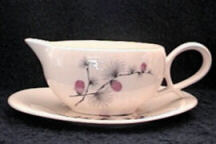 Covered Sugar
Shakers
Sauceboat and Stand
Canonsburg "Arizona" dish marked, SAMPLE.
The Westchester shape was first made by Canonsburg Pottery in the mid 1930s. The
flatware is a plain round rim shape and the hollowware is made up of conical bodies.
Handles are angular with "deco" tops and curled ends. The finials are done
in a similar fashion.

Late 1930s ad for "The Caroline" on the Westchester shape
Courtesy: Candy Fagerlin