Examples of the Mt. Clemens Pottery Company.
---
Alara
Made by the Mount Clemens Pottery Company of Mt. Clemens, Michigan
Round flatware, conical holloware; "wings" decoration along rims; angular handles
Blanks were sold to and decorated by the Stetson Chinia Company
Solid colors are hard to find and include the following shades:

Burgundy
Blue
Green
Yellow

Produced primairly in the late 1930s
Assortment consists of approx. 15 items
Solid colored Alara is unmarked
Left: Creamer in burgundy, 9" plate in green, 6" oatmeal bowl in yellow, cup and saucer in blue.
Right: Cup and saucer in green, 9" plate in burgundy, platter in yellow, 6" plate in blue.

Creamers in maroon and a hard to find Fiesta-like red glaze
---
Air Flow
Decorated by the Stetson China Company of Lincoln, Illinois
Air Flow is Stetson's name for Mt. Clemen's Alara shape
Stetson decorated Alara blanks (purchased from Mt. Clemens) with dozens of decal treatments
Bodies are either white or ivory
Produced in the late 30s to early 40s
Air Flow backstamps are commonly found on the larger pieces
| | |
| --- | --- |
| | |
| 10" plate, cup and saucer | cream soup cup and 6" plate |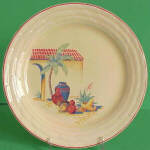 9" plate with
Mexican theme decal
---
Oxford
Made by Mt. Clemens Pottery Co. of Mt. Clemens, MI
(Stetson purchased and decorated many blanks)
Flatware: plain scalloped shape
Hollowware: pedestal feet; some items, like the sugar, have "detached" handles
Produced primarily during the 30s
Assortment consists of approx. 20 items
Pieces are generally unmarked
Oxford Dinner plate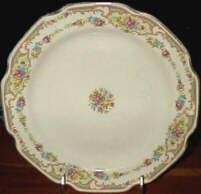 ---
Petal
Made by the Mount Clemens Pottery Company of Mt. Clemens, Michigan
Round shape with 6 "petals"; hollow pieces have pedestal feet
Often confused with Georgette/"Petalware" made by W.S. George
Shape name is "Toulon" and it comes in a dark ivory with various floral decal treatments.
Also it is used to make up several different child's sets
There are several solid colors with maroon and green being the easiest to find.
Blue, yellow, pink and several others exist but are less common.
Produced primairly in the late 1930s
Many pieces are marked with the MCPCo backstamp.
Cups and sauceboats will have a raised "in-the-mold" USA mark
| | |
| --- | --- |
| | |
| Casserole in green and maroon plate | Green creamer |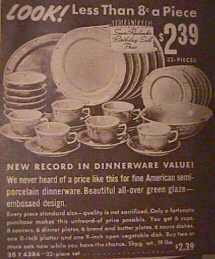 1938 Mt. Clemens Ad
Courtesy: Fran and Carl Stone
left: Decaled Petal Oval Platter
right: Vintage ad Courtesy: Candy Fagerlin,

---
Vogue
Made by Mt. Clemens Pottery Co. of Mt. Clemens, Michigan
An "antique" shape with floral/bird embossing
Hollowware has flat top handles and multiple feet
Comes mainly in white whith decals
Also found in solid colors
Probably produced in the 20s and 30s (based on decal treatments)
Flatware: Unmarked
Hollowware: "USA" marking
Stetson purchased Vogue blanks from Mt. Clemens and decorated them.
The Stetson name for this shape is. "Annette."
Decaled Creamer

Yellow cup and saucer
Courtesy: Fran and Carl Stone
| | |
| --- | --- |
| | |
| Vogue milk pitcher in green | USA marking |