Examples of dinnerware made by W. S. George Pottery Co., 1903 - 1960
---

Commonly confused lines - on the left is "Old Madrid" by Mt. Clemens Pottery, on the right is Georgette (Petalware) by W. S. George.
W. S. George Pottery
50th Anniversary Plate from 1954

Unusual W. S. George Vase
Courtesy: F. & C. Stone
---
The following is a portion of a W. S. George Pottery ad featured in a 1930 trade journal.
The patterns are identified by a series of numbers and letters.

W. S. George treatments from 1930
Top, left to right:
Middle, left to right:

26591 N
Yellotone, Y0598
26596 P

Bottom, left to right:

27593 1/8
25597 S
26594 E
---
1954 Plate with the "Half Century" backstamp.
Courtesy: P. Esnault
---

Late 1920s ad featuring pattern
97532 on the Astor shape.


Late 1920s ad featuring pattern
2155K on the Argosy shape.
---
• Basketweave
Round shape with basketweave embossing
Produced in several solid colors
(green is the most common)
Also made with decals
Made during the 1930s
Assortment consists of approx. 15 items
Pieces are marked with a general WS George backstamp
Green Teapot and Blue Plate

Green Egg Cup and Sauceboat

Both images courtesy: C. & F. Stone
Decal decorated sugar and creamer
Partial W.S. George Ad from 1930 featuring Basketweave in
Blue Bonnet, Maple Bisque and Gretna Green
Advert showing patterns on Basketweave.
---
• Bolero
Made by W.S. George Pottery Company
Round petal fluted rimless shape
Made with decals and solid colors
Prodcued in the 30s, 40s and 50s
Assortment consists of approx. 30 items
Pieces carry a W.S. George-Bolero backstamp
W. S. George Bolero Plate with the Sunporch decal. Sunporch was originally
used by Homer Laughlin, but was also used by W.S. George and Harker.
---
• Elmhurst
Round paneled shape with crimped border
Produced with decals and the following solid colors and sold as "Elmhurst Pastels":

Blue
Pink
Yellow
Apple Green
Maple Sugar
Turquoise

First made in the late 1930s
Assortment consists of approx. 25 items
Most pieces are marked with an Elmhurst backstamp
Platters and lug soups

Dinner plates and a teatpot

Generic shape shakers in
Elmhurst's pink glaze

Courtesy: F. & C. Stone
---
"Elmhurst Pastels" ad from a 1939 trade journal
W.S. George Pottery Co. - New Color Tones - Elmhurst Pastels

Elmhusrt Pastels are the result of long research and experimentation at the big potteries of the W.S. George Company. Plain bright colors were first obtained and used in the pottery field, but it remained for the W.S. George Pottery to perfect and stabilize the soft hues of pastel tints now available on the Elmhurst shape.

CHEMICALLY STABILIZED

Elmhurst Pastels are guaranteed against deterioration from citrus fruits, salad dressings or relishes. The tints in these glazes are "color fast", do not fade, or dull from use.
Additional pieces are obtainable too, with the satisfaction of knowing that corresponding tints do not vary.

TINTS THAT HARMONIZE

Furniture, smart table settings, require harmonizing table service for complete color schemes in the modern home; and it is significant that the overwhelming trend is to these beautiful light-toned Elmhusrt Pastels.
Covered Casserole
| | |
| --- | --- |
| | |
| Soup bowls | Baker and Creamer |
Elmhurst examples in pastel glazes:

Egg cups in green, yellow and blue

Sauceboat

Courtesy: F. & C. Stone
---
• Georgette (Petalware)
Round shape with petals forming a scalloped edge
Produced in several solid colors:

light green
medium blue
rose
burgundy
chartreuse
grey
dark green
yellow

The Georgette shape was also used with decals
Solid color Gerogette/"Petalware" is often confused with Mt. Clemen's Petal which has a similar shape.
The "petals" on Mt. Clemen's version do not go to the rim.
Produced primairly in the 1940s
Decaled Georgette sometimes has an inkstamp; solid colored pieces are generally unmarked
| | | |
| --- | --- | --- |
| | | |
| Platters in dark green and rose | Chartreuse sugar with yellow fruit cup | Rose cup and saucer |
| | |
| --- | --- |
| | |
| 36s bowl in green | Jumbo "Father" cup and saucer |
---
• Rainbow

Round shape with crimped edge and panels
Produced in several solid colors and with decal treatments
Made in the mid to late 1930s
Assortment consists of approx. 25 items
Markings: "W.S. George" or "Rainbow"
"Petit-Point Rainbow" is Rainbow with an all over embossed design
Covered Sugar and creamer
Courtesy: Steve Beals

Egg cup and sauceboat
Courtesy: F. & C. Stone,
Round 8" bowl in pink
Comparison of Rainbow(left) and
Petit-Point Rainbow(right) cups and saucers, Courtesy: F. & C. Stone
---
• Ranchero
Plain Round shape; elongated handles
Produced in late 30s into the 1950s
Found primarily with decal treatments
Solid colors are hard to find
Assortment consists of approx. 20 items
Left: Covered sugar with Mexican theme decal
Right: Covered butter in chartreuse
Ranchero plate with a
Christmas tree decal
This new W.S. George item is made fo a new material developed at this pottery - GEORGEX - extra hard and heat resisting guaranteed against crazing and with ordinary care will not chip or crack. Now pour boiling hot water over the tea right into this beautiful GEORGEX teapot. It will stand any amount of heat, except direct contact with flames. With the choice of four colors, GEORGEX teapots are selling like hot cakes wherever shown.

HARD to break! Remove lid and tap it sharply against the side of teapot - will not break, chip or crack.
---
Here is a Georgex teapot in turquoise.


Though the ad shows a Ranchero shape teapot,
the ones found in solid colors are styled a little
differently with a set of rings at the opening
and on the finial.
1940s Sears Ad featuring "Shortcake" on the Ranchero shape
Courtesy: Candy Fagerlin
Ranchero with pastel colored glazes - circa 1949.
Courtesy: Joseph Skompski

W. S. George
Backstamps
| | |
| --- | --- |
| | |
| Place setting and shakers | Shakers and covered sugar |
Ranchero with a green speckled glaze similar to TS&T's Pebbleford.

Generic shakers and a special pair of round
shape shakers with a W.S. George speckled glaze.

Hard to find eggcup

Courtesy: F. & C. Stone
---
• Shasta
Shape name: Shasta
Asymmetrical/Elliptical shape
Comes in white with decal treatments
Produced in the mid 1950s
Assortment consists of approx. 25 items
Flatware marked with W.S. George backstamp
Pinhurst on the Shasta shape
circa 1955
---
Camette
Marks: None
Comes in decals and solid colors and sold as "Cametee Deep Tones"

maroon
grey
chartreuse
dark green

Plain ound shape, hollowware has pedestal base
| | |
| --- | --- |
| | |
| Creamer, platter, cup and sacuer | Plates, fruit cup, sauceboat |
W.S. George's Camette shape, but this time with decals.
The marking shown is the general "Half Century" backstamp.

All images courtesy: M. Dean
| | | |
| --- | --- | --- |
| Flatware | Bowls | Decal Close up |

Sugar, Creamer,
Baker, Cup and Saucer


Sauceboat, Platter,
Shakers and Casserole
---
• Vesta
Vesta by W. S. George of East Palestine, Ohio was made in the mid-1930s and sold under the Cavitt-Shaw name. It was produced with decals, but an undecorated version was sold as "Vesta Alba." It is a light weight body with rings towards the verge and solid handles and finials.
Vesta must have been produced for only a short time since it is rather scarce today.
Though not show in the promotional material below, there is a Vesta shape teapot. Other items such as a casserole and gravy probably exist as well.
---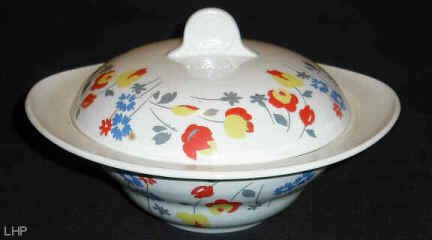 Vesta covered sugar marked Cavitt-Shaw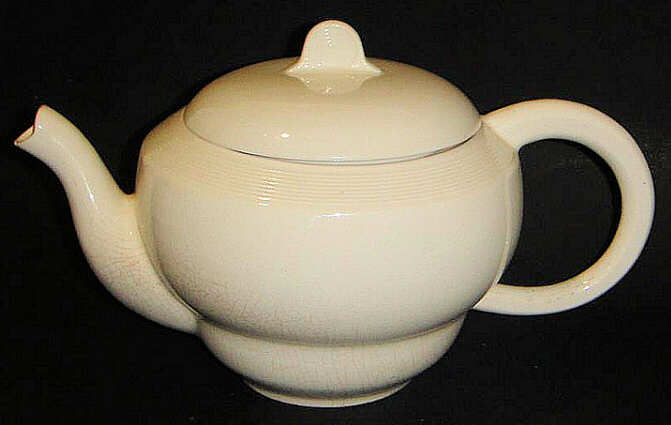 Vesta teapot, Courtesy Fran & Carl stone
---
Undated Vesta promos
---
Vesta Advertisement from 1936