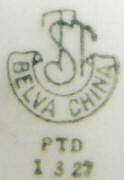 The Belva shape was introduced by Taylor, Smith & Taylor at the Pittsburgh Exhibit in January of 1926. As one advertisement put it, the line was shown with "twenty-five new distinctive decorative creations in highly colored patterns."

Belva was created by artist and ceramicist Kenneth P. Beattie (1865 - 1934). His designs were filed with the US patent office on September 10, 1925. Belva had an unusual design. Flatware was given an embossed verge. This embossing was repeated about mid-body on the top heavy hollowware.

The shape was not a huge success. By the end of the 1920s, Belva was discontinued. Even though Belva didn't produce good sales, TS&T hired Beattie again in the latter half of 1927 to create the Paramount shape. Paramount was a hit for TS&T and was made well into the 1930s when it was eventually phased out in favor of more popular shapes such as Laurel, Fairway, and Garland.

Prior to designing wares for TS&T, Beattie had worked for Knowles, Taylor & Knowles for a number of years. In fact, many pieces of Lotus Ware are attributed to him. Sadly, he and his wife were killed in an auto accident in 1934. The following article ran in East Liverpool, Ohio's The Evening Review on December 6, 1934:
Funeral services will be held at Hopkins, Mich., Friday afternoon for Kenneth P. Beattie, 69, former East Liverpool pottery modeler and his wife, Nellie, 66, who were killed when their automobile skidded and overturned near Otsege, Mich., 12 miles from their home, Tuesday night. Word of the tragedy was received by Mr. and Mrs. John Vodrey of East Fourth street.

Mr. and Mrs. Beattie, who moved to Hopkins, Mich., about 20 years ago, were returning home from a visit with the former's brother, Fred Beattie, in New Jersey, when they met death. They had spent Monday night with friends in Ravenna, Ohio.

The family occupied the old Homer Laughlin residence in lower Walnut street while in East Liverpool. Mr. Beattie operated a modeling shop at the rear of his home. He and his wife had made many visits to East Liverpool, and about six years ago Mr. Beattie spent several months here while working for the Taylor, Smith & Taylor pottery company of Chester.

Mr. Beattie is survived by a brother in New Jersey. Mrs. Beattie also leaves a brother, Robert Barrett of Ravenna. The bodies are expected to be taken to New Jersey or to Massachusetts, their former home, for burial.
The article stated they would be taken east for burial, however both he and his wife were buried in Allegan County in Michigan.

Because of its short run, Belva is rather hard to find today. Virtually every piece was marked with the shape name and date code. The marking in the upper right-hand corner comes from 1927.
---
A sampling of Kenneth Beattie's patent drawings from 1925.


Belva Teapot, Des. 68,889


Belva Cream, Des. 68,890


Belva Casserole, Des. 68,891


Belva Plate, Des. 68,893