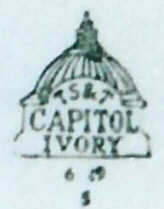 Capitol was first produced in the very late 1920s. The round flatware was made with wide rims and the hollowware was made in a top-heavy conical form. Teacups and creamers were given angular handles whereas other pieces such as the sugar bowl had small tab handles. The majority of decorations used on Capitol were ribbon or "border" decals limited to the rim.

The first Capitol backstamp promoted the ivory glaze and featured a dome capitol building with the words "Capitol Ivory" underneath TS&T's initials. It was common during the late 1920s for potteries to promote their ivory glazed wares which replaced the older clear glaze on white ware. In TS&T's case, it was done with the Capitol, Paramount, and Iona backstamps. Such markings became obsolete when they were replaced by the more generic "shield" backstamp.

In 1931, Rose Mist - pink bodied ware with clear glaze - was used on Capitol, Paramount, Regal, and Washington. Capitol was discontinued shortly after TS&T started using Rose Mist. The plain round Laurel shape replaced Capitol in 1932.

As a result of Capitol's short production run, it's somehwat hard to find today.