The following article comes from a March 24, 1958 edition of East Liverpool, Ohio's newspaper, The Evening Review and discusses the newly released Ever Yours shape and its intial treatments:
TST Unveils New Line of Dinnerware

"Ever Yours," a new family of heirloom-quality dinnerware, has been announced by W. L. Smith III, sales manager of the Taylor, Smith & Taylor Co.

The interlacing motifs of "Ever Yours" reflect the influence of John Gilkes, TST design director.

Made by an exclusive process, TST said which produced brilliantly clear, lasting colors and strong, ovenproof bodies. "Ever Yours" features a zirconhard glaze that resists the deleterious action of detergents and harsh cleaners.

"Ever Yours" is available in four distinctive patterns. "Summertime" is an airily spaced floral in muted blue and green tones; "Quince" features heavy blossomed sprigs in sunflower-yellow and leaf-green; "Arabesque." an authentic reproduction of an Arabian window mosaic in Arabic traditional geometric form, turns to harmonizing browns for color accents, and "Ivy Twine" is a floral symphony of charcoal and dusty rose. All the characteristic styling is set against a rich, ivory-white background.

A 16-piece starter set retails at $6.95, while a 54-piece service for eight retails at $18.95.
---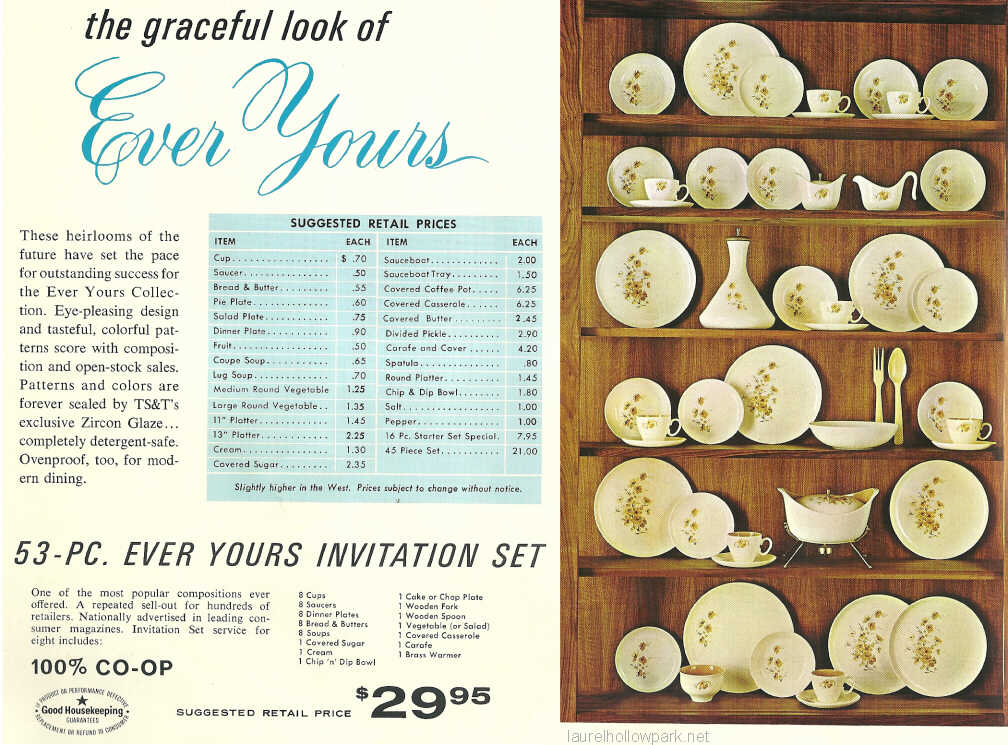 ---
All of the flatware used in Ever Yours (plates, platters, and bowls) came from the coupe shape, Versatile. As for hollowware, the shakers and butter dish came from Versatile as well. The teacup was picked up from Catalina. All other pieces were created specifically for Ever Yours and include:
Gravy
Gravy stand
Coffee pot with plastic handle
Creamer
Covered sugar
Covered casserole
Divided pickle
The covered pieces had ceramic lids fitted with brass finials. As time went on, the conical shape coffee pot originally created for Chateau Buffet was favored over the Ever Yours style. In most cases, hollowware used in Ever Yours lines was given interior colored glazes to correspond with the decal used on the flatware.

TS&T would change hollowware from one pattern to the next. For example, "Brocatelle" made use of the cylindrical Taylorstone shape. "Boutonniere" was arguably the most popular pattern on Ever Yours. It was made well into the 1960s. As a result, a wide variety of shapes can be found with the Boutonniere decal.

Most of the dinner plates can be found marked with the Ever Yours backstamp along with the pattern name. At the bottom right is a "Random Leaves" plate with its backstamp. Listed below are just some of the treatments used on Ever Yours. Interestingly, none of the Ever Yours treatments were given gold or platinum trim.
Autumn Harvest
Bridal Wreath
Blue Bonnet
Boutonniere
Break O' Day
Brocatelle
Cape Cod
Dawn Treasure
Fabrique
Fleur D'or
Golden Button
Homespun
Ivy Twine
Kilarney
Lemon Blossom
Pilgrim's Lace
Quince
Random Leaves
Shannon Rose
Spring Glory
Summer Showers
Summertime
Wild Quince
Windemere
Wood Rose
---