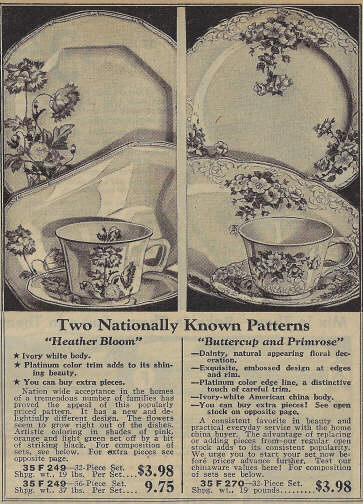 Fairway was designed with a scalloped edge and light embossing that extended from the rim into the verge. Each piece of hollowware was given a scalloped pedestal foot.

The shape was offered by Taylor, Smith & Taylor from the very early 1930s until the late 1940s. It was mainly used as a basis for decals and underglaze treatments, however examples have turned up in the Depression era green glaze and in Lu-Ray Pastel colors. (For more on underglaze treatments, see this page.)

The only variation to the line is with respect to the sugar. It was originally made as an open piece and didn't take a lid. Such pieces have smooth openings and lack a flange. The lidded version has a flange inside the base to accept the lid.

Vintage TS&T treatments usually include some sort of gold or platinum line on the edge. Interestingly, most of the patterns used on Fairway don't have any trim - gold, platinum, or otherwise.

When TS&T would create a new pattern using a decal and trim it was given specific treatment number. Often the same decal was used on different shapes, but without trim. In such cases, TS&T would add a ½ to the end rather than create a new treatment number. This is why so many Fairway pattern numbers usually end with a ½. For example, pattern 1399 originated on the Plymouth shape. It was made up of a strawberry decal and red trim. It was also used on the Laurel shape - same decal, same trim. On Laurel, the treatment number stayed the same; 1399. However, when it was used on Fairway, the decal was used without trim and the pattern number became 1399½.

Fairway can be found with two different backstamps - the TST shield marking from its original introduction in the early 1930s and the more common wreath mark. Both styles used a date code with a double digit representing the year.

The advertisement to the right comes from a Sears 1933 Fall catalog and features "Heather Bloom" on TS&T's Paramount and "Buttercup and Primrose" on Fairway.