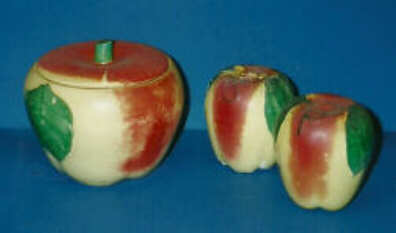 In the late 1940s, Taylor, Smith and Taylor began making a small line of apple shaped kitchenware. There were at least five items; a cookie jar with lid, covered grease jar, salt shaker, pepper shaker, and a covered jug. The grease jar and shakers were mostly sold as a "range sets." The covered jug is rather difficult to find, but the other items are common.

Several years ago, I spoke with two TS&T employees who remembered the apple pieces and described the process of decoration. First, each piece, including lids, were glazed in the same Persian Cream (yellow) glaze used in the Lu-Ray Pastels line. Then a red spray was applied and the leaves were hand-painted in green. The red and green were done over the yellow glaze and were not well protected. The red could easily come off if cleaned improperly. The insides of the cookie jar lids had applied labels which read: CAUTION Wash in cold water. Use no soap on outside. Use damp cloth only.

Unfortunately, none of the pieces were marked except for the occasional jobber/dipper number in green. The lack of a backstamp causes confusion among collectors and dealers who almost always misidentify them as Hull Art Pottery.