Months of preparation and anticipation finally came to an end as the Third Annual Lu-Ray Convention opened in Pittsburgh, PA, on the beautiful, warm and sunny weekend of June 11-13, 1999 with the Wyndham Garden Hotel playing host this time. The convention this year was combined with the Homer Laughlin China Club's Annual Convention, with both clubs meeting side by side and sharing so many of the weekend's wonderful events. We were approached by Matthew Whalen and Darrell Ertzberger of the HLCCA shortly after last year's convention in Springfield, Ohio, on the idea of joining th two events. With the location being just a thirty-five minute drive from East Liverpool, Ohio and Chester, West Virginia, were the old TST offices and factory once stood, it seemed like a match made in heaven! Over the past year, Matthew and Darrell worked extremely hard to bring about a first class event, and succeed they did! The food and accommodations at the hotel were excellent.

Friday was off to a great start with folks arriving into town and getting settled in at the hotel. Some had arrived as early as Wednesday. Shopping was plentiful in the area of Pittsburgh, East Liverpool, Chester, and surrounding areas. Malls, shops and flea markets were full of surprises of LuRay, Fiesta, and other HLC & TST china. Grey decaled LuRay, TST promotional pieces, and yes - it just wouldn't be a Lu-Ray convention without one - a fabulous chocolate pot were all added to collections on this weekend. Friday morning, a factory tour of the Homer Laughlin plant got the weekend started right. Later that afternoon, we gathered for the probably once-in-a-lifetime chance to tour the now closed Taylor, Smith & Taylor plant. Bill Mackell of Tudorand Antiques had made arrangements for us with the plant owner and also the town's mayor, to meet us at 2:30 PM and take us though the old plant. Dave Conley also joined us. He currently works at HLC and was a former employee of TST. All were so very knowledgeable and had a lot of insight into the plant's workings and operations. We were joined by many of the HLCCA members, since the weekend had many crossover collectors interested in both TST and Homer Laughlin.

The plant sits on 9.4 acres of land right on the Ohio River, near the bridge that connects Chester, West Virginia with East Liverpool, Ohio. One of the first things a visitor notices are the towering silos coming up from the kilns. The plant has been vacant for some time now and much of it is sadly in disrepair. It hardly seemed to dampen the crowd's interest! Were were shown throughout the entire plant, seeing the kilns, offices, packing areas, loading docks, etc. We saw for the first time years the circular kilns made especially for Lu-Ray Pastels, which were developed due to the very special cared needed in regulating the temperatures. The very long straight kilns used in the production of their other lines were not sufficient for Lu-Ray production. Even after Lu-Ray was discontinued, they were still known as the "Lu-Ray kilns."

For more pictures taken that day, see this page: TS&T Factory Tour.
With the permission of the plant owner, many of the folks touring helped themselves to quite a few treasure still around the plant. Anchor Hocking, which bought out TST, left behind a number of rubber backstamps were a huge hit with collectors. A number of pieces of unfired or unglazed pottery were found and carefully carried home as well. The saggers which were filled with the pottery to be fired in the kilns as well as the sagger pins that held the dishes in place were equally a huge it. There were huge piles of these still located in the plant. Folks were carefully packing them to store their china in or to use them as flower pots. The lids that fit on these were also taken with the idea of using them as stepping stones in their gardens. Lots of paper work still cluttered the floors of the office areas and must of this was collected as well. I picked up a number of temperature sheets used with the plant kilns.
| | |
| --- | --- |
| Kiln furniture from TS&T | Pyrometric cones and a box from TS&T |
After a couple of hours and many photos later, we bid a sentimental farewell to the plant. As we walked back to our cars, it was a bit sad to realize that this may be the last time we'd have a chance to visit here. The entrance road that we took into the plant was later explained to us as being a dumping ground for chipped pottery and debris. And in fact, one could walk along and pick up hundreds of pieces of colored pottery along the way. A good digging on this hill side would have no doubt yielded some interesting treasures! High above this area was where the TST plant had once proudly displayed on the building their "Home of Lu-Ray Pastels" sign. People were busy taking the last of their photos, and talking with the new fiends that many had made here. I for one had spoken with probably a dozen or more of these folks on the tour by phone or email, but this was the first time I'd gotten a chance to meet them in person! It was truly a special time!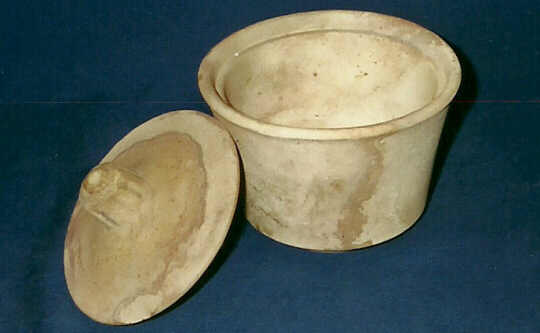 Unglazed sugar recovered from the TS&T plant.
It was back to the malls for last minute shopping and then onto the hotel to freshen up for the social that night at Leonard's Antique Mall after closing. At the hotel folks gathered and picked up their registration forms for the weekend. The HLCCA had special shirts with logos made for the event. (Our Lu-Ray group had shirts made for the first two conventions, but did not design a new one for third event.) Dealer setup began that night as well. The convention was basically set up with the largest of the rooms being set aside for dealers with special interest in Homer Laughlin and TST. This room doubled Saturday night and Sunday morning for our buffet dinner and breakfast and guest speaker Dave Conley. There were then two separate rooms for the HLCCA - one for displays by collectors, to be judged by a special panel and then awarded pieces of Fiesta made just for the occasion; their second room was set up for discussions, speakers, and club meetings. Our Lu-Ray group had yet another separate meeting room across the hall with wall to wall tables set up for display and trade.
As folks made their way back to the hotel from enjoying the social at Leonard's, dealer setup continued on past midnight on Friday. Tables began unfolding before our eyes that literally took your breath away! The colors of HLC combined with those for TST were unbelievable. Rarities to be had including a Fiesta medium green covered casserole. Gray items both decaled and plain in Lu-Ray were for sale, as were juice pitcher, demitasse items, water jugs, etc. Rare Vistosa such as salad bowls and gravies were to be found as well.
Saturday morning saw us up and at 'em early, bringing in our treasures to set up in the Lu-Ray room. Greg Benkert was first to begin setting up, along with myself, then Shirley Moore, Cindy Boynton, and Marcia Jo Brewer, Steve Sfakis, and Mark Gonzalez. As was the case with the last conventions, we thought we had room to spare, but quickly found the tables filling to capacity and we had to bring in more! Our very special guests were again the last president of Taylor, Smith & Taylor and the grandson of the founder, Mr. William (Bill) Smith III and his lovely wife, the former Miss Virginia Puriton. We learned that Mr. Smith had worked at the TST factory as a young boy during his summer vacations, and then went off to start college. WWII came and he enlisted. Upon returning, he finished his college degree in 1946 and then came back to work full time at the plant. To make the afternoon even more special, their son William (Wink) Smith IV, who had also worked summers at the family plant, and his wife were there and another son-in-law, all full of information and insight into our beloved china, the factory and the whole area. They each toured the room and went table by table, piece by piece, allowing each of us to ask questions and hear them reminisce of the old days.

Part of Greg and Teresa Benkert's Lu-Ray display.
The Dealer Show opened first at 9:00 AM for pre-registrants, and then 10:00 AM for the public. The HLCCA began their series of meetings and speakers, and the judging of their displays began. The Lu-Ray room opened around 10:00 AM. Each collector here had items that caught even the Smith's attention. Greg and Teresa of Cincinnati, Ohio were set up for the third time with a dazzling display of every piece made in the Lu-Ray production line that we know of, including chocolate sets both plain and decaled, bud and urn vases, the ultra rare 6 1/4" grapefruit bowl, as well as many go-alongs and other TST Lu-Ray colored patterns such as Coral-Craft. Mr. Smith especially enjoyed seeing the different designs the Benkert's had in the Coral-Craft. Also among their treasures was the earliest of TST china, a Taylor, LEE & Smith Co. piece dating around 1899 or so -- a beautiful elongated bowl with a raised pattern design. We learned that these pieces were only made for about a year under that company name before it was regrouped to become the Taylor, Smith & Taylor Co. Also displayed were numerous ads collected on Lu-Ray, original box cartons, and a blueprint of the layout of the TST plant grounds and buildings that was quite fascinating.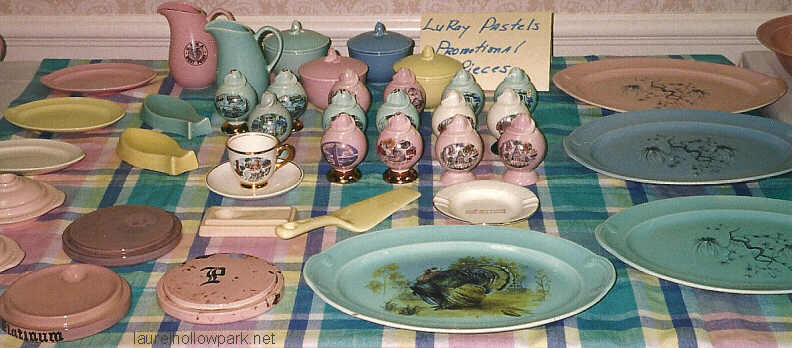 Part of Joe Zacharias' display.
Two relatively new and very excited collectors, Cindy Boynton and Marcia Jo Brewer, brought a lovely display and some rare Lu-Ray backstamped white cups. Also part of their display was a beautiful homemade cookie basket done in the Lu-Ray Pastel Colors. I must admit, it was all I could do to resist eating them! Such a wonderful idea and go-along. (I wonder if they noticed a slightly lighter basket going home?!)
Longtime collector and dealer Shirley Moore of Tulsa Card Company brought some extremely rare grey Lu-Ray including a teapot and other decaled pieces in grey. Also on display was her 7" blue mini platter! Shirley is also very much into Fiesta and so spent a great deal of time running back and forth trying to keep up with all the events going on at the same time in various meeting rooms. There was so much to see and take in - it was almost impossible to do it all!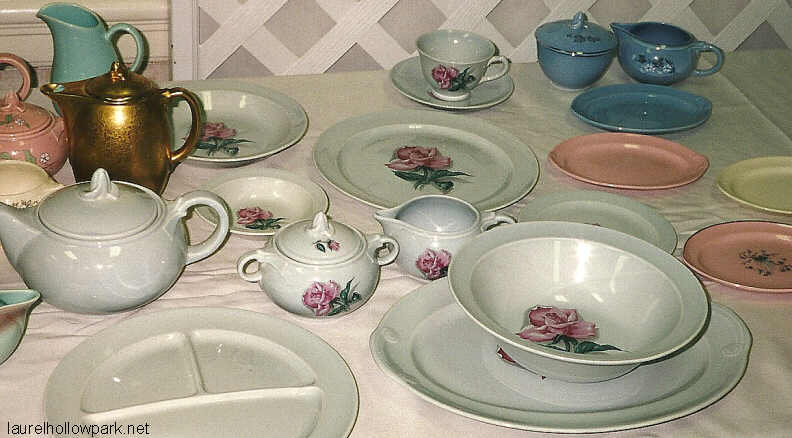 Grey Lu-Ray Pastels and rare 7" mini platters.
A new member to the convention was Steve Sfakis. He brought an incredible display of Pebbleford by TST including a set of Pebbleford mixing bowls! Unbelievable! These bowls are rarer than the Lu-Ray chocolate items! Made only one year, they were discontinued due to the expense in making them much as were the Lu-Ray mixing bowls. The company just could not make them cheap enough to compete with other potteries. These bowls, we learned, were made in all the colors in all sizes, like a rainbow set. Also part of his collection was some experimental color glazes in Pebbleford, some even Mr. Smith had not seen before!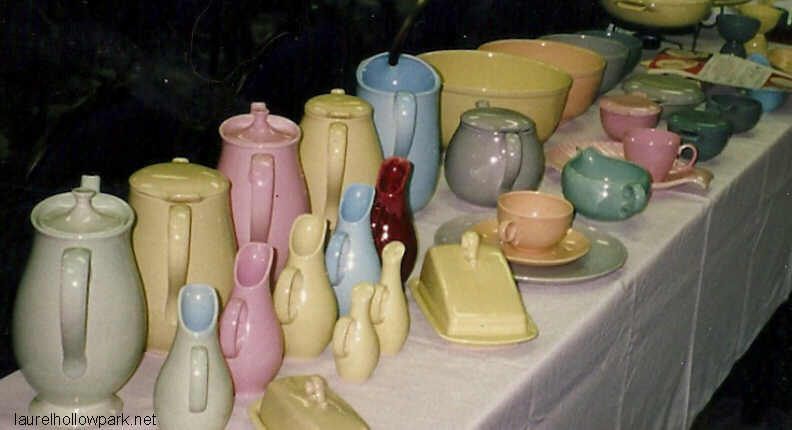 Steve's Pebbleford display.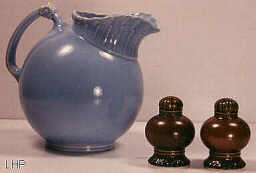 Another new collector to our convention was Mark Gonzalez - a soon-to-be published author of a new book on Fiesta, Lu-Ray and other colored china due out within a few months! Just as did the other folks with items on display, Mark had an eye-opening couple of items: an experimental Vistosa water jug in Lu-Ray's Windsor Blue! Also on display was a set of experimental colored Vistosa salt and pepper shakers. (Editors note: the shakers were actually red glazed shakers that got too hot in the kiln. The brown is the burned residue left over.) Mark also had other wonderful items such as a Lu-Ray colored pink Vogue teapot and cups and saucers. He brought along a huge box of various TST lids that had been unearthed nearby in a dig that produced dozens of treasures!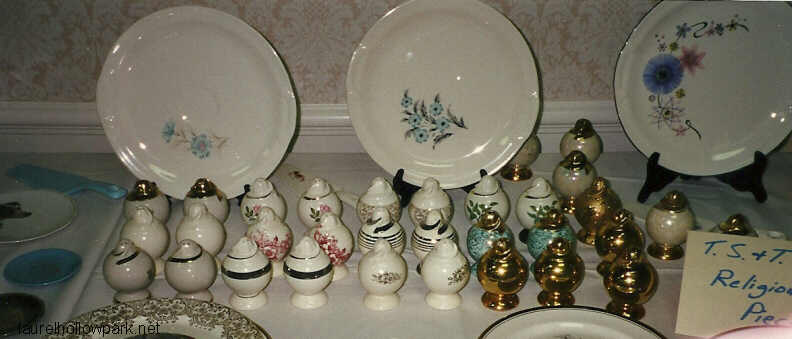 More of Joe's TS&T display.
I had less Lu-Ray than usual at the convention, bringing only some of the decaled items and oddball pieces, including the various grey decaled patterns of Coffee Tree, Sea Shells, Marsh Violet, and Rosemount, as well as another rose pattern on grey that is known by other potteries as Rhythm Rose. Mr. Smith explained that this last decal was a favorite of Woolworth's, an excellent customer of TST, who had ordered this grey pattern for their department stores. In addition to a display of some twenty-five various patterns on Lu-Ray cake plates, I wanted to introduce collectors to TST's role in children's china, including the early 1900s Palmers Cox's Brownies decal with the Griffin backstamp. Also shown were the TST Howdy Doody sets, as well as Raggedy Ann & Andy and Little Red Riding Hood Storybook Sets in original boxes. I had various items in the TST Chester Hotel China, and the TST Army Medical China which got the company though some of the lean years of WWII.
I brought a number of promotional pieces done on Lu-Ray blanks and other TST patterns and shapes, and items involving political, historical and religious themes. We learned that promotional items were done both by TST as well as other companies who bought blanks and decorated them. Knowing which is which is almost impossible due to the number made. One Mr. Smith did recognize as their own for sure was Queen Elizabeth II Coronation plate. Also on display were Christmas patterns by TST including a set of the Twelve Days of Christmas in their original box. As did Greg & Teresa, I had various packing boxes including a TST barrel. Mr. Smith and his son got into a discussion on the TST barrels, including talk of the packing of 36s bowls in them. The particular barrel of mine they remember, and remembered the company they purchased it from. TST also produced their own barrels, and these could be distinguished from mine by the wooden bands around the barrel versus the metal wire. Also displayed was an original 1901 stock certificate, as well as original company brochures on many TST patterns and magazine ads featuring Lu-Ray Pastels.
So very much was talked about and discussed: the 7" mini platter was indeed, as stated last year, a Lu-Ray production piece. Mr. Smith still insists that the 6 1/4" grapefruit bowl was made in all four colors, the flat soup, grapefruit, and berry bowl were referred to as 6", 5" and 4" bowls [trade sizes], the handleless sugar is certainly TST, but nobody is still quite sure where it fits into the production life (we did learn that it was easier to produce which is why it came about and was often used in other lines.) The new infamous Lu-Ray marked yellow ice bucket was discussed again with the shape looking very similar to the Pebbleford one found in Meehan's book on Lu-Ray Pastels.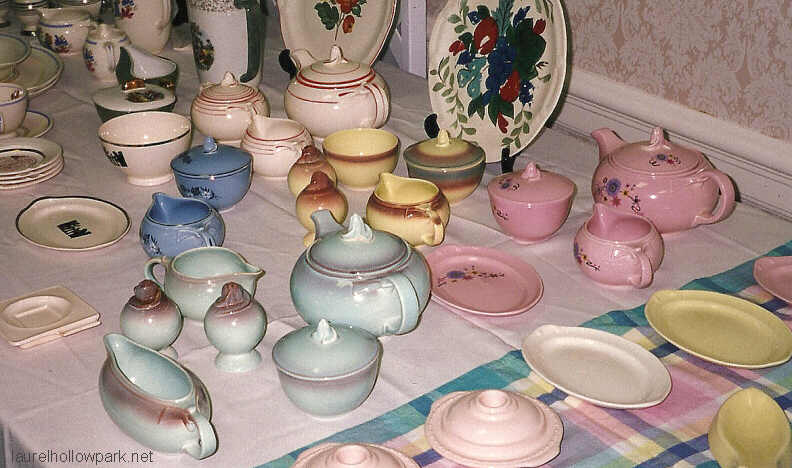 "Mint & Spice" and "Cinnamon & Honey" with other TS&T pieces.
Mr. Smith is getting back with us with information on various patterns: he told us last year the Lu-Ray Surf Green with the bronzing effect was called Sugar & Spice, and he thinks the Persian Creme with the bronzing effect was called Honey & Butter. [Editors note: the actual names are "Mint and Spice" and "Cinnamon and Honey". ] He is checking on the decal from Holland with the 18th Century courting couple, used on a number of promotional as well as patterned items.
We learned that besides Woolworth's, G.C. Murphy, JC Penney, and Montgomery Wards were huge regular customers of TST. The difficulty on identifying pattern names comes into play here. TST introduced each year a number of patterns at various trade shows, giving each a company name and usually produced a brochure to go along with these new patterns, and sometimes new shapes. We now know that these various departments stores mentioned carried not only these patterns, but also would order special sets, chosen by them, on shapes and decals of their liking. The stores then gave these their own names. In addition, to help in sales, the various stores would group different shapes and patterns together to create new looks for the various holiday in their annual season's catalogs and include go-alongs such as glassware, table clothes, napkins, and silverware - anything to help increase sales.
The solid gold items were a favorite of JC Penney, especially the salt and pepper sets. Hundreds were ordered and sold by them! Some decals were owned and used exclusively by one pottery, while others were shared. During really prosperous times, a company such as TST that had a huge order from a regular customer that they could net keep up with in production would approach another pottery such as Homer Laughlin and ask them to help pick up the slack which is why you may find two different backstamps on items in a set. Thus the continuing confusion on china pattern names and the quest to identify them all!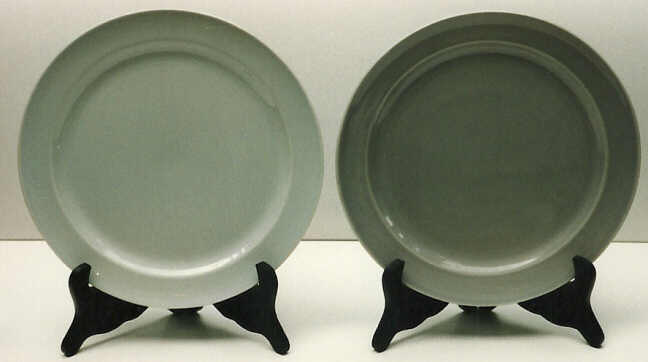 Left: standard grey, Right: experimental grey from 1944.
Also discussed was TST introducing other new Lu-Ray colors. I had an experimental piece in gray - dated 1944 - which was a much deeper and darker grey than the Chatham Gray introduce din the late 1940s. As a I mentioned before, other collectors had experimental colors in other patterns including Pebbleford and Vistosa. Other experimental colors discussed were forms of purple or violet. Of course, only the grey was actually acted on. We continued last year's discussion on color and glaze learning that the pink was the most difficult to "get right", it being very sensitive to heat. The circular kilns that we visited in the TST plant was a testament to that. Next came green, then blue, and finally yellow.
We learned that in addition of the decaled grey pieces, there are around five stripped gray patterns too. We know of the red, green, brown, and platinum, and Mr. Smith was pretty certain that there was a fifth color of blue. [Editors note: there were 18 such patterns known as the "Chatham Modern" series.] Three-tier tidbits were discussed again, and these plates with the various Lu-Ray and Versatile shapes - sometimes with odd backstamps - were made specially just for the tidbits. The epergne was made form two pieces of pottery later put together. TST did make the cake servers that went with the cake plates! Coasters, though an official part of the Lu-Ray line, were more often than not taken to trade shows and given out as souvenirs and salesman's samples. The Leaf Fantasy snack sets were special order for Montgomery Wards.
We learned that TST opened pottery outlets in six different states, where they sold seconds of their china that did not make it to the regular department stores. It was explained hat TST sold to two major markets; department stores and their catalog sales, and secondly to the mass market, of which K-Mart was one of the biggest buyers in later years.

"Chatham Modern" with dark green stripes.
Little was ever wasted: seconds and even thirds were sold at the plant our in outlets. When the body of a piece was less than perfect, it was often covered in decals to hide the imperfections. Calendar plates were often the result of this. Lu-Ray serving pieces are sometimes found, such as water pitchers, chop plates, demit pots, four-part relishes, etc. with decals to hide flaws. However, if you find a decaled Lu-Ray backstamped piece in a regular place setting, you a probably looking at a decaled set that was specially produced and in 1st quality. I brought a couple examples of a blue Lu-Ray with decals as well a few grey ones, as did Greg and Teresa with decaled grey and even decaled Vistosa. Shirley had a lovely decaled pink set of Lu-Ray. When the color was not right, the pieces were dipped into a vat of water and the glaze was washed off leaving behind the backstamp that was indelible.
The afternoon finally came to a close and we said our farewells to the Smith family. So much had been learned! They were, as always, so gracious and generous with their knowledge and enthusiasm! We began to pack up our goodies, doing a bit of trading and present giving as we always do! A quick shower and change and we were back down for the delicious Italian Buffet dinner. We were then treated to a very special talk by Dave Conley, again a present employee of homer Laughlin China Co., and a former employee of TST. Dave began his work with TST on July 1, 1964 and continued through the buyout by Anchor Hocking. He later went on to Homer Laughlin. His talk combined lots of history and background of the two companies, as well as certain tie-ins with facts and family. He walked us through the early years of the plant's history and the eventual settling of what we new know as TST, which officially came in 1906 when there was no longer any involvement by the Taylors, who had been bought out by the Smith family. He talked a great deal about HLC as well, and of course, the Fiesta line of dinnerware, its new pieces and colors, and plans for the future.
Later, the awards were given out for the HLCCA collector's displays as well as awards for articles written for the club's newsletter. The awards were new pieces of Fiesta created just for this occasion! After a number of acknowledgements, the evening came to a close. Back up bright and early the following day, we all met once again for a delicious breakfast buffet in the main meeting room. The HLCCA had a brief meeting and elected their new club officers for the year.
We all headed out to check out of the hotel and make our way back to East Liverpool for a tour of the Museum of Ceramics and then later that afternoon for the East Liverpool High School Alumni Association Auction - held each year it raises monies for scholarships. There were many items donated by the local potteries to help raise funds, as well as pieces brought in by collectors and dealers. Incredible items in Fiesta were bringing thousands of dollars, all for a very worthy cause! A set of Vistosa with original stickers was the talk of the auction and created quite a buzz! You had the option of donating your pieces entirely or allowing the association to keep 15% of the selling price for the scholarships. The auction went on until around 7:00 PM on Sunday when at last the weekend sadly came to a close.
There are so many people to thank for making the weekend such a huge success and quite a learning experience. I would like to personally thank all the folks once again who took time out to bring their special treasures to show and share with us on Saturday; Greg, Teresa, Shirley, Cindy, Marcia, Mark, and Steve (was well as a special thanks to Steve's dad, Terry!) You were all so generous with your time and collections and knowledge and we are all better for it! Bill Mackall again deserves a huge round of applause for putting the tour of the TST plant together for us, as well playing a huge part in Sunday's Alumni Auction. Many, many thanks again to Dave Conley for taking time out to tour the plant with us and his commentary, as well as sharing his knowledge and experience Saturday night with his wonderful talk on the history of the two potteries! A million thanks for all the dealers who came and set up on Saturday at the show! A very, very special thanks and heaps of gratitude to the entire Smith family, especially Mr. and Mrs. Bill Smith who again were so lovely and kind and a true joy to have as our guests - your knowledge and insights into our collecting has opened many new doors for all of us. Thank you many times over! And last, but not least, Matthew Whallen and Darrell Ertzberger who put in so many hours this past year and sweated out the tiniest of details to make the whole weekend so enjoyable and run seemingly effortlessly. We appreciate you making us a part of your event this year! All the very best to each of you!
---
About the Author.
Joe Zacharias (1954-2003) was an avid Lu-Ray and TS&T collector. As you can tell by his writing, he was not only enthusiastic over pottery, but also excited to meet collectors who shared in his hobby. He loved learning new things about TS&T and enjoyed sharing his knowledge and insights with others. He had an extensive Lu-Ray Pastels collection as well as other products made by TS&T, namely the Sterling pattern on the Empire and Versatile shapes (a.k.a. pattern 601), juvenile ware, and early vitreous and hotel wares. Joe was gracious enough to allow me to come to his home and photograph his collection on two separate occasions, once in 1999 and again in 2002. Virtually all the Lu-Ray, children's dishes, and Boutonniere pieces shown in the book, Taylor, Smith & Taylor Dinnerware come from his collection.
| | |
| --- | --- |
| Just some of Joe's Lu-Ray Pastels. | Joe's "Sterling" or Pattern-601. |