Beverly & Regent by Knowles
LaurelHollowPark.net, an informative website created and
maintained by Mark Gonzalez. Copyright © 2009-.
---
Berverly, a.k.a. Regent, was made in the early 1940s through the 1950s. The hollowware was given a much more formal style in comparison to other Knowles' shapes of the same time period. Flatware, shakers, and double egg cup come from the Deanna shape. Though more often found with decals, Beverly was also made in solid colors.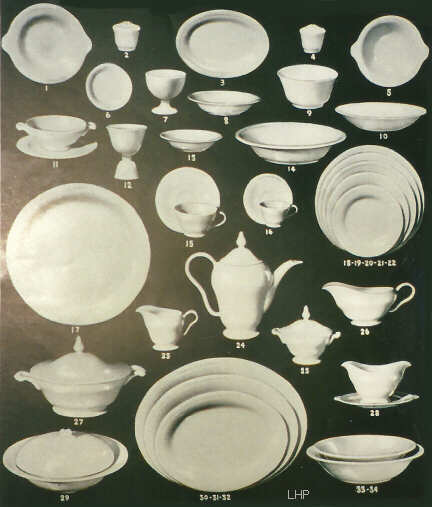 Open Butter
Salt Shaker
Pickle/Relish
Pepper Shaker
Lug Soup
Coaster
Egg Cup/Sherbet
Cereal Bowl
36s Bowl
Coupe Soup
Cream Soup and Liner
Double Egg Cup
Fruit Cup
Baker
Tea Cup and Saucer
Demitasse Cup and Saucer
Chop Plate
6" Plate
7" Plate
8" Plate
9" Plate
10" Plate
Creamer
Teapot, 6-cups
Covered Sugar
Sauceboat, 1-pt
Casserole
Fast Stand
Covered Nappy
11" Platter
13" Platter
15" Platter
8" Nappy
9" Nappy
---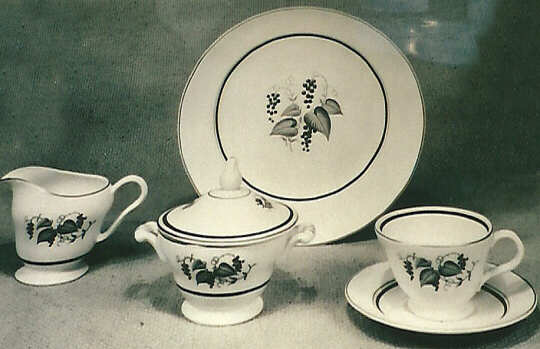 EMK promotional photo: Pattern 4049: "Ingrid"
---
Vintage ad: "Fernwood" on Beverly

"Designed by Virginia Hamill. Feathery ferns make a brilliant pattern against the smooth white background...the two spirited shades of green offering endless table setting variety. Use your imagination in place mats and flowers combined with Fernwood. Thin gold-color stems curl gracefully across the plate. Wide 22K Gold lines accent rims."