Accent by Knowles
LaurelHollowPark.net, an informative website created and
maintained by Mark Gonzalez. Copyright © 2009-.
---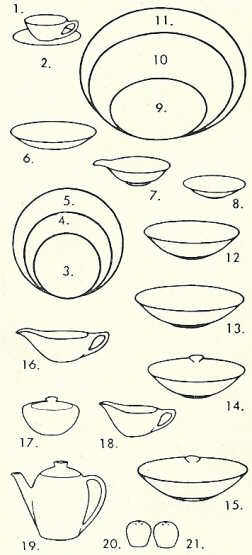 Accent was a plain round shape from the very late 1940s and produced into the early 1960s. It picked up the teapot and shakers from Potomac. It was sold with decals and solid colors in two forms. One set was made for Montgomery Wards and came in brown, chartreuse, dark green, and grey. It was also sold as "Citation." A plain White version was also sold though Wards. The other rainbow line came in pastel glaze and sold as "Sunset Glazes." The main difference in Sunset Glazes is all the hollowware came from the Potomac shape.

Assortment consists of: 10", 8" and 6" plates, Teapot (sometimes listed as a coffeepot), 10" and 8" nappies, lids for the nappies which converted them into casseroles, creamer, sugar, fruit cup, oatmeal, lug soup, coupe soup, teacup and saucer, pickle, 13" platter, 15" platter, and the shakers.
Cup
Saucer
6 1/4" Bread and Butter Plate
8" Salad Plate
10" Dinner Plate
Coupe Soup
Lug Soup
Fruit Cup
Pickle
12 1/2" Platter
14 1/2" Platter
8 3/4" Round Vegetable, open
10" Round Vegetable, open
8 3/4" Round Vegetable, covered
10" Round Vegetable, covered
Sauceboat
Covered Sugar
Creamer
Teapot or Coffeepot
Salt
Pepper
---
Cup and saucer in grey, 6" plate in brown,
dark green fruit cup, chartreuse creamer.

Nappy in brown, 10" plate in grey,
dark green shakers, lug soup bowl
Vintage ads showing Accent in gray, dark green, chartreuse and brown with go along glassware.
White was offered separately as a "contrasting color."

1953

1954

1955
---
WHEAT... There is unusual beauty, enduring elegance in the slender spears
of wheat agleam with 22K gold -- silhouetted against the striking gold-edged "Accent"
shape. An exquistie design with the rare combination of traditional formality and
modern simplicity.

FANTASY... No ordinary pattern this... guests and family alike will love this
truly delightful dinnerware. Unusual simplicity of design and delicacy of color on
lustorus white rimless shapes emphasized by the gleam of platinum on edges.



GRAPEVINE... Glorius silver-green leaves on twining stem of rich brown, curl
gracefully 'round the rim of the classic "Accent" shape... gives startling vibrant
effect against the frosty white ground. Equally at home with period or modern decor.

WILD OATS... A pattern of dramatic interest. Softly colored shades of red, yellow,
green and brown bring gaiety and warmth of a summer day to your table. Functional
"Accent" shapes in white lend themselves to easy service and
care -- lovely and graceful to handle.

Decaled ads courtesy: Fran & Carl Stone
---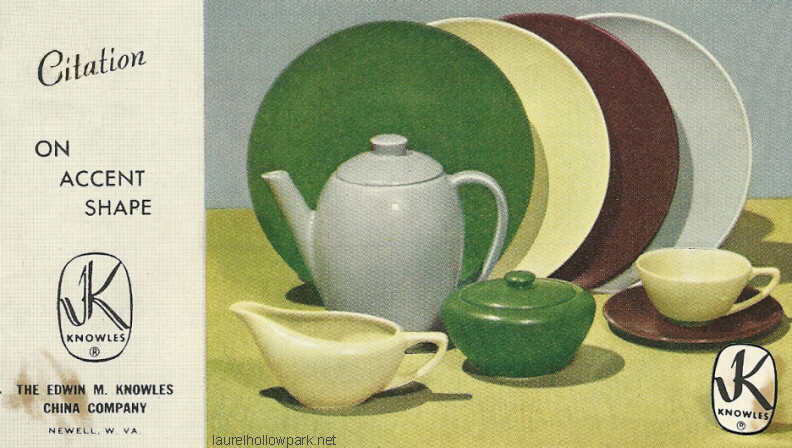 From the reverse of the ad:

"Color for Drama - Mix the four most harmonious colors. Hunter green, chartreuse, grey and brown and get a lovely decorator setting for modern, provincial or traditional tables. These smart underglaze colors will give you lasting wear and assure you a gay and correct informal setting for every meal."