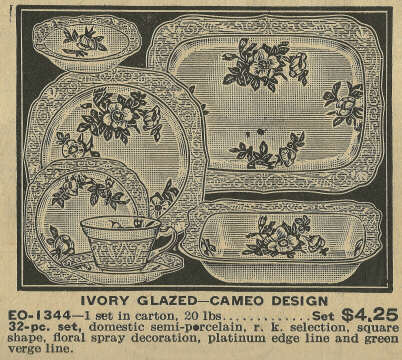 Knowles China produced the Cameo shape in the early 1930s. This square shape was given a heavily embossed rim. Hollowware had pedestal feet with upswept handles.

It was offered in the various glazes and decorations available at the time such as the Depression era glazes: green, pink, and yellow. These are the same glazes that were used on other shapes of the early 1930s including Marion, Maryland, and Melody. It was also made in ivory with colorful floral decals.

Most pieces are marked with a Knowles backstamp with the shape name Cameo and a date code as seen below. Pieces made after 1932 will have the more generic EMK ship marking.

The advertisement to the right comes from a 1930 wholesale catalog and features an unnamed pattern on the Cameo shape.