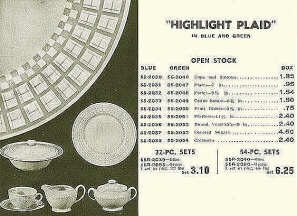 Most Plaid pieces are marked with a general Knowles backstamp and date code of 1937. The line has an embossed rim with a plaid design, hence the shape name.

It was made in ivory with decals as well as solid colors and sold as "Highlight Plaid." The known colors are: yellow, blue, green, tan, and Chinese red. Highlight Plaid was advertised as: "This new distinctive embossed design is the result of the contrast between the deeper tone taken by the glaze in the depressed areas and the highlights on the raised portions of the pattern."

Assortment: Cup and saucer, 10", 9", 7", and 6" plates, 11" platter, coupe soup, fruit cup, covered vegetable, covered sugar, creamer, and shakers.