Alice Ann by Knowles
LaurelHollowPark.net, an informative website created and
maintained by Mark Gonzalez. Copyright © 2009-.
---
Alice Ann was made by Knowles in the early 1930s. It is identified by its octagonal shape, embossed border, and sharp angular handles. Most often it is found with decals in either and ivory body or pink body with clear glazes. The Alice Ann shape in a pink body can be found marked one of several ways; the general EMK backstamp, a special "Alice Annglow marking", or "Alice Ann Mayglow" backstmap.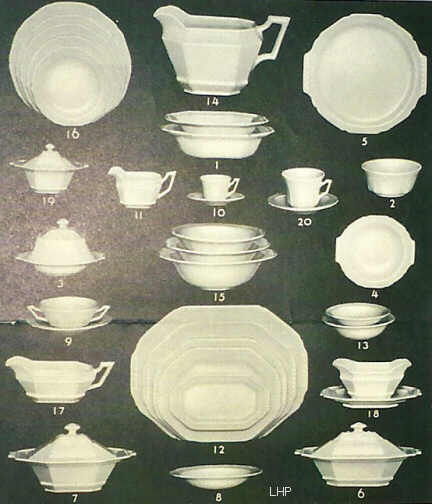 8" and 9" Bakers
36 Bowl
Covered Butter
Open Butter
Cake Plate
Covered Casserole
Covered Dish
Coupe Soup
Cream Soup and Liner
Demitasse Cup and Saucer
Creamer
15", 13", 11", 9", 7" Platters
6" and 5" Fruit Cups
24s Jug
10", 9", 8" Nappies
10", 9", 8", 7", 6" Plates
Regular Sauceboat
Gravy Fast Stand
Covered Sugar
Teacup and Sacuer
---
A pair of ads from 1930 featuring the Alice Ann shape in ivory with decals.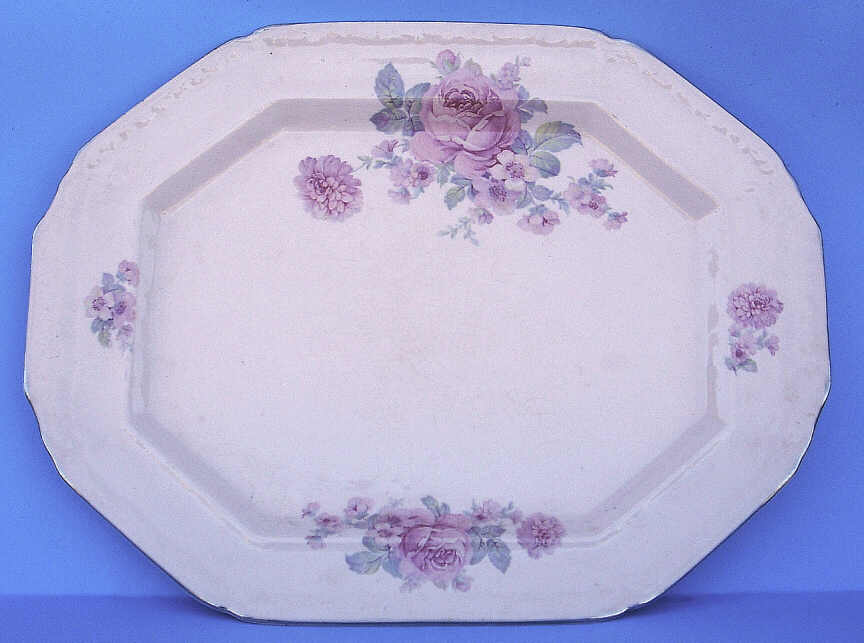 Alice Ann pink body with rose decals.