The Edwin M. Knowles China Co.
LaurelHollowPark.net, an informative website created and
maintained by Mark Gonzalez. Copyright © 2009-.
---
Many of the web pages on this site mention the Homer Laughlin China Co, but for a number of years, there was a second pottery in Newell; The Edwin M. Knowles China Company.

Edwin M. Knowles, shown at right, started his pottery company in Chester, West Virginia in 1900. He later expanded into Newell in 1913. Both locations made Knowles dinnerware until the early 1930s when Harker took over production at the Chester plant. The Newell plant continued to make dinnerware until 1963.

Below are images of both the Chester and Newell plants as well as a postcard showing Knowles' residence which is still standing on Washington Street in Newell. After being remodeled for apartments (Knowles Estates) and then the Brooke Hancock Group Home, it was transformed into Nixon Funeral Home.

The Newell plant has been razed, but the main office building still stands. The Chester plant was destroyed by fire in 1975.
---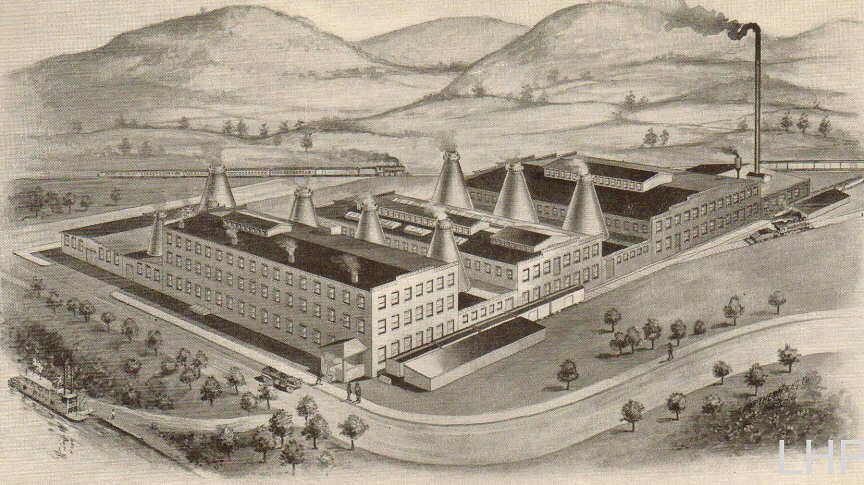 Knowles China Co. in Chester, WV. This plant was taken over by Harker in the 1930s.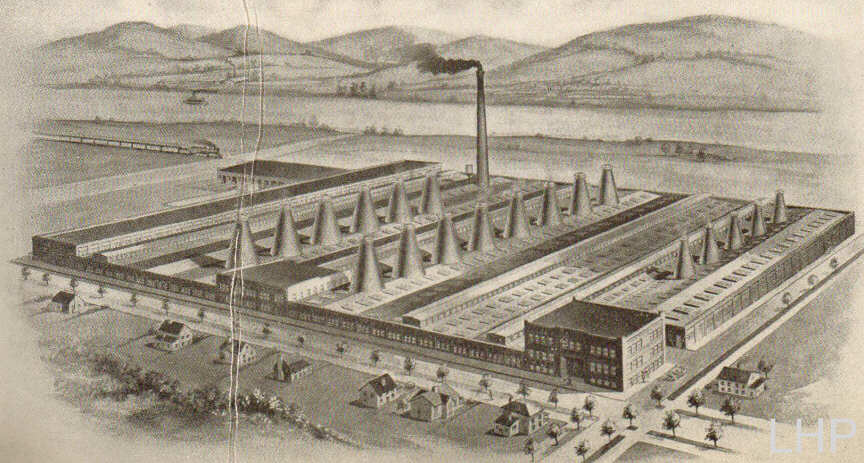 Knowles China Co. in Newell, WV. In operation from 1913 until 1963.
---
| | |
| --- | --- |
| Knowles China Co. in Newell, WV | Knowles China Co. in Chester, WV |
| | |
| --- | --- |
| The Main offices in Newell today. | Original EMK keystone above the door. |
| | |
| --- | --- |
| Knowles' residence, then. | Nixon Funeral Home, now. |
---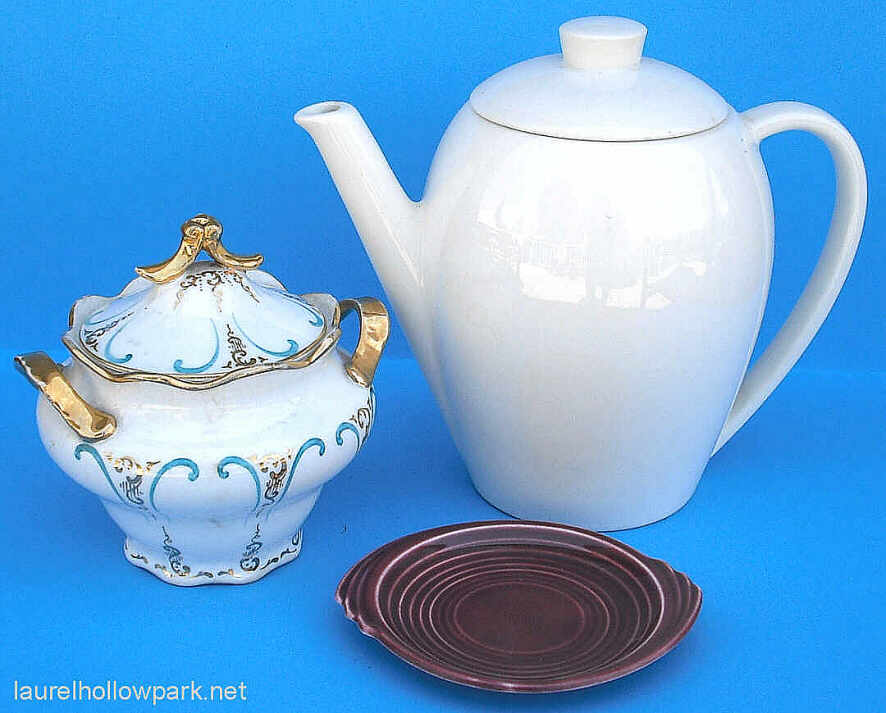 Left: Arlington shape covered sugar, circa 1910.
Foreground: Yorktown shape coaster in burgundy, circa 1936. Right: Potomac shape teapot, 1951.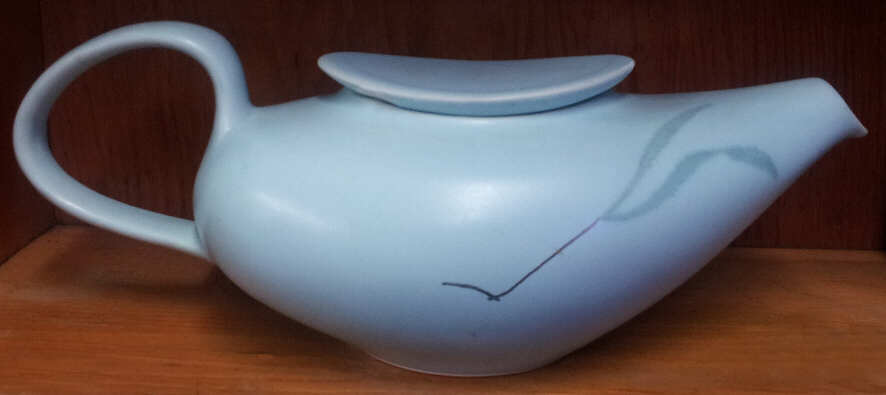 Esquire shape teapot with "Grass" pattern. Designed by Russel Wright. Circa late 1950s.

Solid Color Deanna shape


Decaled Puritan shape


Decaled Hostess Shape

Vintage Knowles Ads courtesy: Candy Fagerlin
---
A listing of many of the shapes made at Knowles China.
All are dinnerware shapes unless otherwise noted.
Accent
Aladdin
Alice Ann
Alice Annglow
Americana
Anniversary
Arcadia
Arlington
Beverly
Cable Shapes
Cameo
Colfax
Classic Satin
Classique
Creme Flute
Cremelace

Criterion
Cumberland
Deanna
Diana
Esquire
Essex
Fashion
Forecast
Four Seasons
Franklin, Toilet Shape
Gloria
Goldina
Hampton
Hostess
Lotus
Lyric

Nile (green glaze)
Kalla Craft, Buffet Ware
Knowlton Casual
Marion
Melody
Maryland
Mayflower
Mayglow
Monterey
Monticello, Dinnerware
Monticello, Toilet Shape
Mount Venon
Old Rose (pink glaze)
Plaid
Potomac

Puritan
Regent (Williamsburg)
Roma (yellow glaze)
Roselace
Roslyn
Sonora
Sylvan
Tempo, Buffet Ware
Utility Ware, Kitchenware
Victoria (Aladdin)
Williamsburg
Welt Edge (Hotel Ware)
Westover
York
Yorktown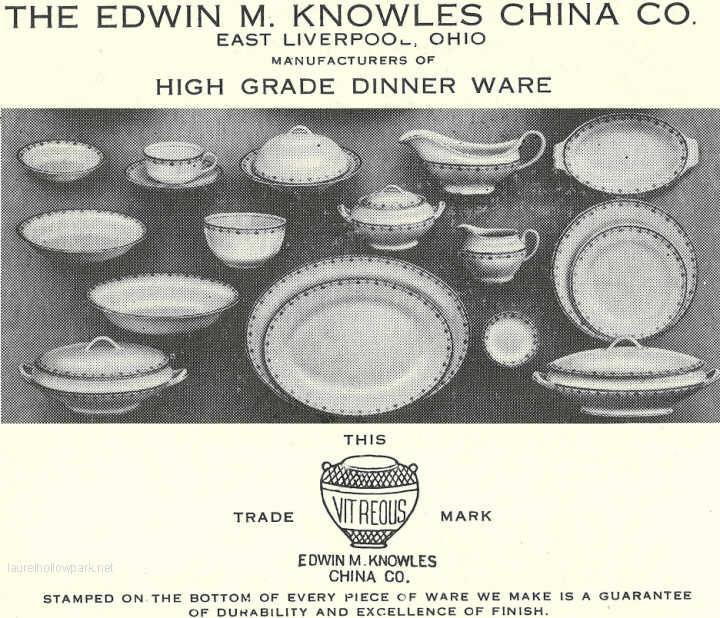 Knowles advertisement from the mid-1920s featuring the Cumberland shape.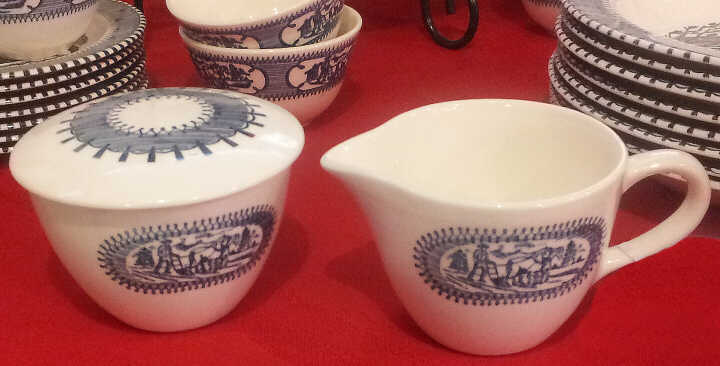 "Country Life" by Currier & Ives underglaze decoration on a
Knowles sugar and creamer. This line was also made in green.