The Hall China Collection
---
In the spring of 2021, Jim Waddle and his staff at the former Hall China Company in East Liverpool, Ohio took on the task of recovering pottery throughout the plant. They gathered, cleaned, and sorted hundreds of pieces of ware kept in the mold shop, decal room, and other storage areas. Most of the pieces were eventually stored in what used to be the retail outlet, The Hall Closet.

The collection represents over one hundred years of production and consists of teapots, coffee pots, ashtrays, mugs, kitchenware, decanters, barware, dinnerware, lamp bases, and a host of specialty pieces. Some are standard production pieces while others are experimental shapes with trial glazes and decorations, many of which have never been documented before.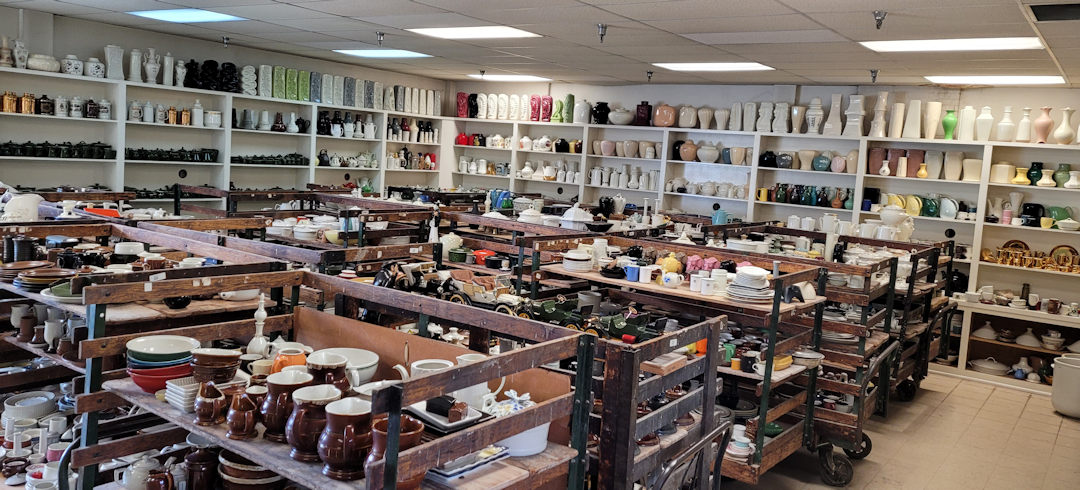 The Hall Closet converted to a holding area for 100+ years worth of Hall China. Photo taken first week of May 2021.
On four occasions, I was given the opportunity to help sort, photograph, and document many of these pieces. In March 2021, I assisted in selecting and displaying many rare and unusual pieces at the museum in the retail outlet at The Fiesta® Tableware Company (formerly HLCCo) in Newell, West Virginia. The museum can be viewed during factory tours. Some of the museum pieces as well as many other pieces from the collection can be viewed in the galleries below. Special thanks to Shirley Manning who was helpful in figuring out some of the more unusual pieces.
The bulk of the collection will be auctioned off by Strawser Auction Group over a period of time. The first auction will be held on November 7, 2021. Bids can be placed in person at Strawser's auction house and online though liveauctioneers.com. Collectors will have a chance to own a piece of this historical collection from the last of the East Liverpool, Ohio potteries.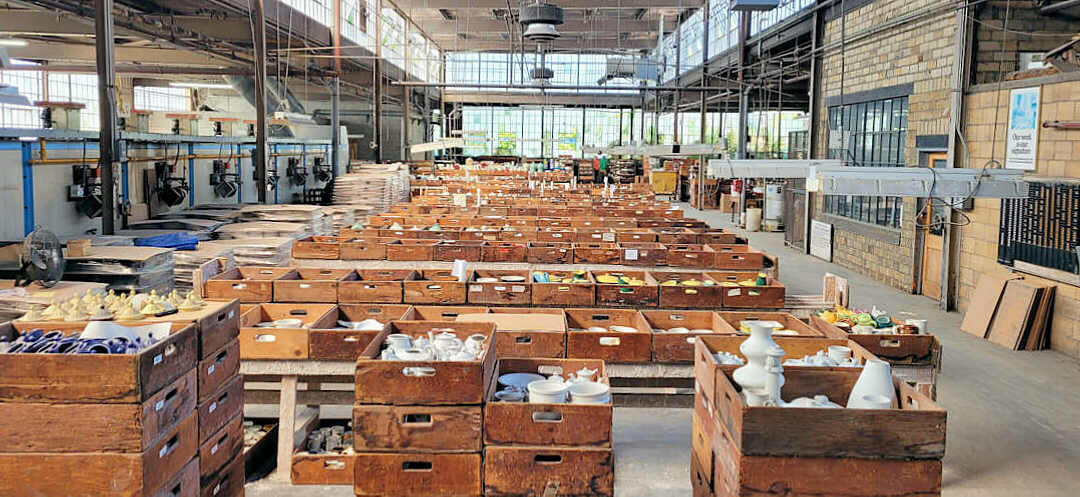 Ware boxes filled and ready to go to Strawsers Auctions, June 16, 2021.

References:
Barneby, Gary and Paula. Hall China Tea and Coffee Pots: The First 100 Years, Atglen, PA: Schiffer Publishing, Ltd., 2005
Cunningham, Jo. The Collector's Encyclopedia of American Dinnerware, Paducah, KY: Collector Books, 1982
Duke, Harvey. Superior Quality: Hall China, A Guide for Collectors, Otisville, MI: ELO Books. 1977
Duke, Harvey. Hall 2, Otisville, MI: ELO Books. 1985
Whitmyer, Margaret and Ken. The Collector's Encyclopedia of Hall China, 2nd Edition, Paduchah, KY: Collector Books, 1997