Brittany by Homer Laughlin
The following originally appeared on pages 20-25 of An Overview of Homer Laughlin Dinnerware ©2002,
and is being posted on www.laurelhollowpark.net with permission along with corrections and updates.

---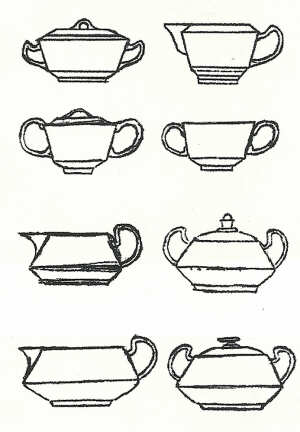 The first pieces of Brittany were created in November of 1935: a nappy, fruit cup, saucer, teacup, 6", 9", 10", 13" plates, sugar and creamer. Most of these pieces underwent revisions in January of 1936 and the 7", 8" plates and a deep plate were added. Two sizes platters; 11" and 13" as well as another nappy were added shortly thereafter.

Several more shapes were added in February 1939; the demitasse cup and saucer, sauceboat, and the sauceboat stand. In April of that year, the oatmeal was modeled and in May both 8" and 9" nappies were offered simultaneously.

The biggest change to Brittany occurred in June of 1939 when several different models of sugar and creamers were considered to replace the original versions. Shown are eight sketches of Brittany shapes that appear in the modeling log. The piece on the top row and to the left a covered gravy dish. There is no indication these were ever put into production, but if they had, they would look like a larger version of the original sugar. To the right is a Brittany creamer with a ringed foot. The second row shows sugars which have identical bodies, but different applied handles. The third row is a 15.25-oz creamer and a 17.25-oz. sugar. Finally, the forth row shows a 13.8-oz creamer and a 15.25-oz sugar. These last two sets of sugars and creamers are the basic shapes used for the final product. In July 1939, the standard Brittany sugar and creamer that is often found replaced the original, smaller versions. It was also during this time the covers for the nappies were restyled with finials that matched the new sugar cover.

Expect to find Brittany with a general HLC backstamp and date code. The demitasse cups, saucers and rim soups were dipped in solid colors to go with Rhythm, but these are rare.
---
| | |
| --- | --- |
| Original style sugar and creamer | Restyled creamer with wider base from 1939 |
---
Most of the treatments on Brittany are of bold silk screen patterns on the rim, some of which are in conjunction with floral decal treatments. Any given pattern had to be drawn out for each and every item in the assorment. Below are just a few of the many original drawings necessary to create the underlgaze treatments. Courtesy: The Homer Laughlin China Co.
| | | |
| --- | --- | --- |
| November 1941 | January 1937 | January 1941 |
| June 1936 | April 1936 | May 1936 |
| June 1937 | July 1936 | April 1939: Constellation |
| May 1941 | August 1940: Blue Willow | Multiple patterns, undated |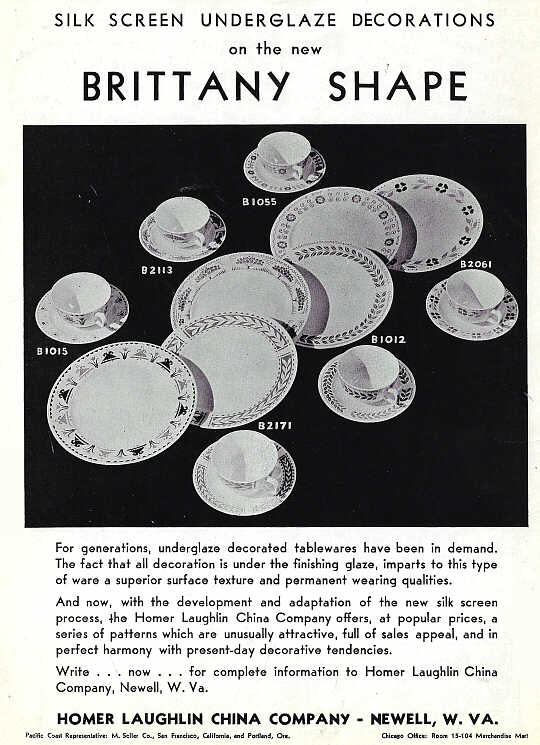 Trade ad from April 1936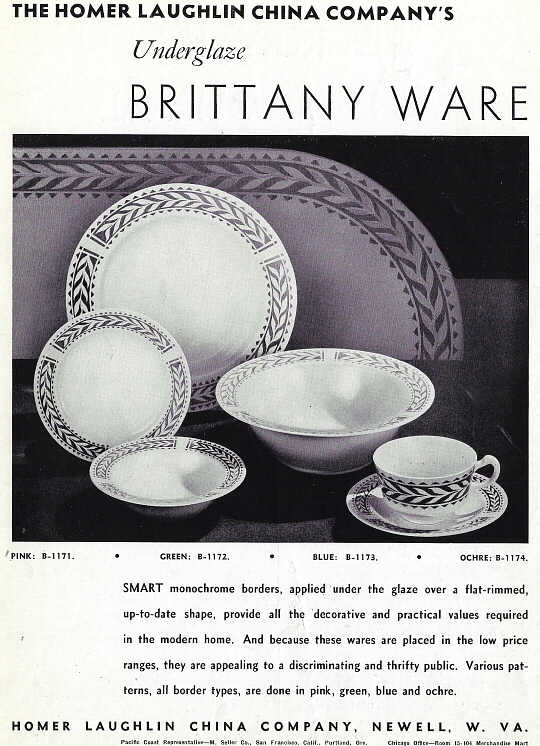 Trade ad from June 1936
---
| | |
| --- | --- |
| Round sauceboat and stand | Blue Willow example |
| | |
| --- | --- |
| Original casserole with open finial. Pattern B-1323 | Restyled casserole with solid finial |
| | |
| --- | --- |
| "Colonial Blue" Platter | "Hemlock" Platter with decal |






The teapot was added to the line in late 1952. All three pieces shown here are underglaze, silk screen decorations.
| | | |
| --- | --- | --- |
| Brittany fruit cup | Underglaze coblat decoration with gold stamps | "Royal Splendor" B-1346 |
| | |
| --- | --- |
| Brittany nappy, B-1315 fruit cup, and creamer. | small plate and demitasse cup |
| | |
| --- | --- |
| Brittany nappies | Brittany cremaer. Sauceboat from the 1960s has a restyled handle. |
---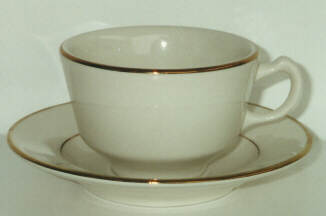 Brittany is still in production today in a restaurant ware body and is called Diplomat. The teacup, creamer and sugar all come from Brittany, but the wider rim flatware looks more derivative of Cavalier. Since neither Brittany nor Cavalier had shakers, Diplomat versions had to be picked up from Jubilee.

To the right is pattern 1409, gold trim on a Diplomat teacup and saucer.
Bottom: three patterns from the 1980s on Diplomat: Solitude, Sterling, and Millbrook.

Millbrook plate with
a Christmas decal.
---
Assortment of Items:

13" chop plate
10" plate
9" plate
8" plate
7" plate
6" plate
Teacup
Saucer
AD cup
AD saucer
pickle
11 1/2" platter
13" platter
15" platter
Cable eggcup
Teapot

Covered Sugar, first version
Covered Sugar, second version
Creamer, first version
Creamer, second version
8" nappy
9" nappy
Nappy lid, first version
Nappy lid, second version
Round sauceboat
Round sauceboat liner
Oval sauceboat
Fruit cup
36s bowl
Oatmeal
Rim soup
Cream soup cup
Cream soup liner