Debutante by Homer Laughlin
LaurelHollowPark.net, an informative website created and
maintained by Mark Gonzalez. Copyright © 2009-.
---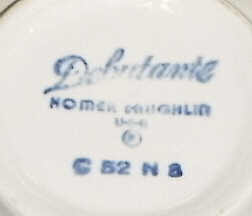 Debutante was a decal shape first offered by Homer Laughlin in January of 1950. They had used shapes from the already existing Jubilee line which had been introduced in 1948. It wasn't uncommon for HLC and other potteries to use a shape for both solid colors and decals. HLC had done it before with Wells, Century, Nautilus, OvenServe, Orleans, and Kitchen Kraft.

Trade advertisements from 1950 say this about the new line:
Homer Laughlin presents its newest, smartly styled line of exciting dinnerware, created to meet the demand of modern America. The subtle beauty of graceful shape and a new "Snow White" glaze combine with fresh, new, colorful, decorative treatments to bring charm to the table of the most discriminating hostess. Available in many patterns. Moderately priced.
Debutante wasn't widely used. Rhythm, Cavalier, and the Dura-Print lines would become more successful. As a result, Debutante was only offered for a few years and the number of patterns available ranged somewhere between 25-30.
Debutante was usually marked with the shape name. In most cases, there is a date code.
For more, see the sections on Jubilee and Skytone & Suntone.
---
Copies of trade adverts from China, Glass, and Decorative Accessories featuring Debutante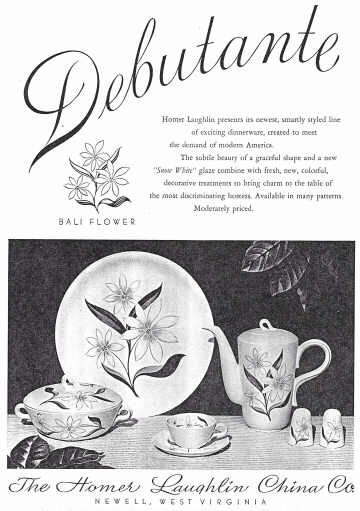 January 1950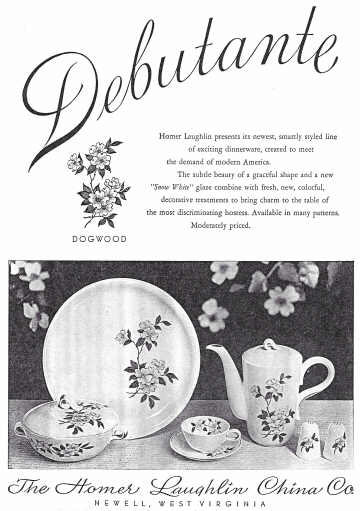 June 1950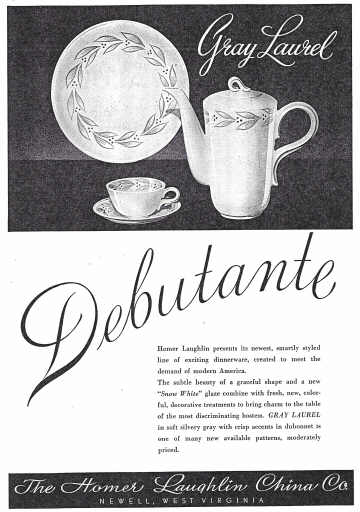 July 1950
---
Original brochures with Bali Flower (D-1), Dogwood (D-3), Wild Grapes (D-5), and Flame Flower (D-8).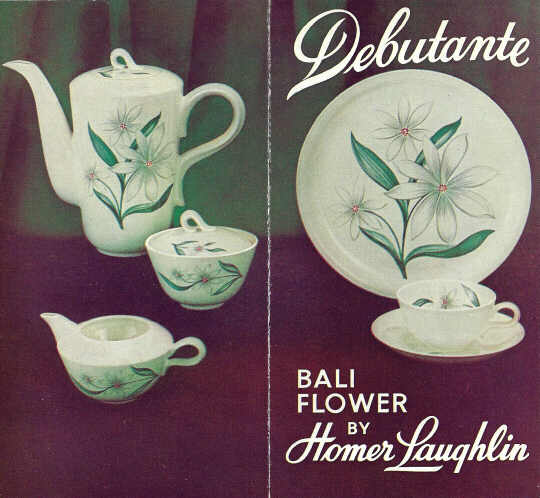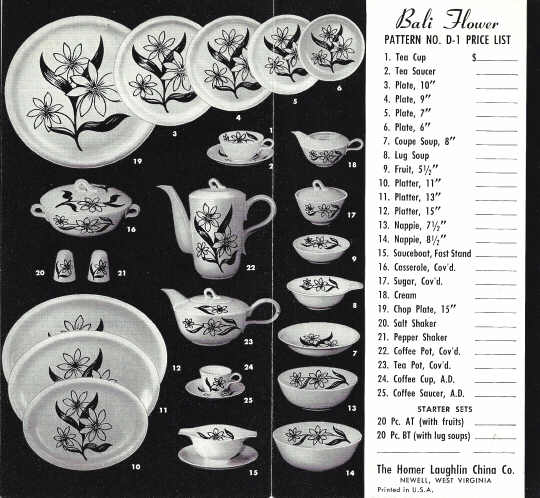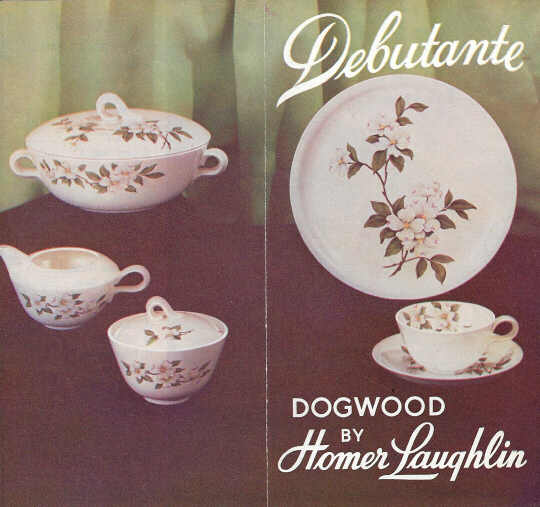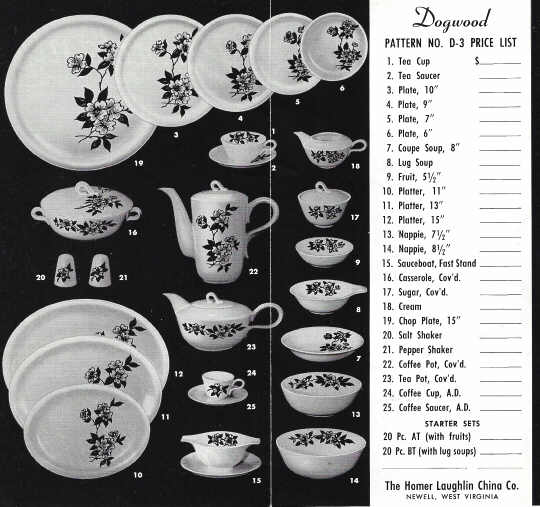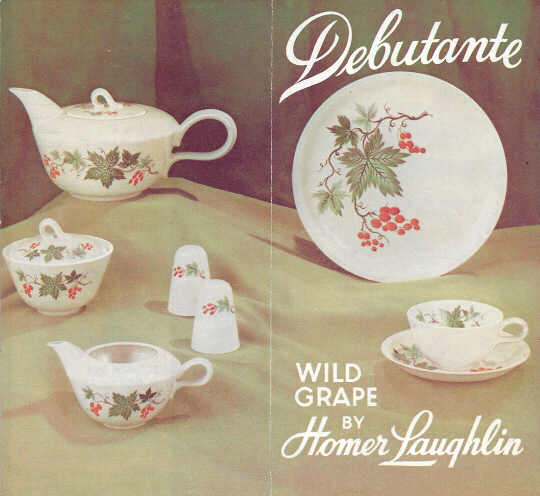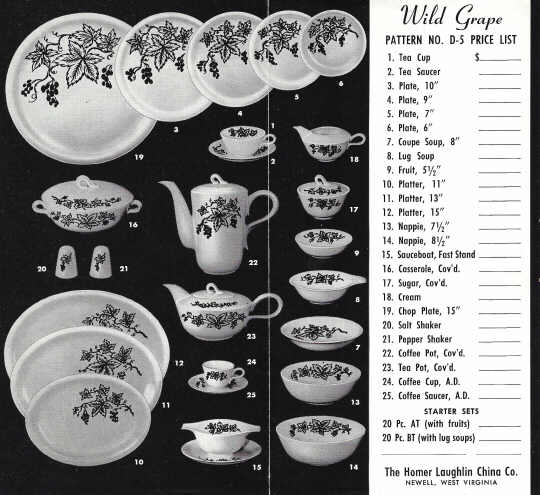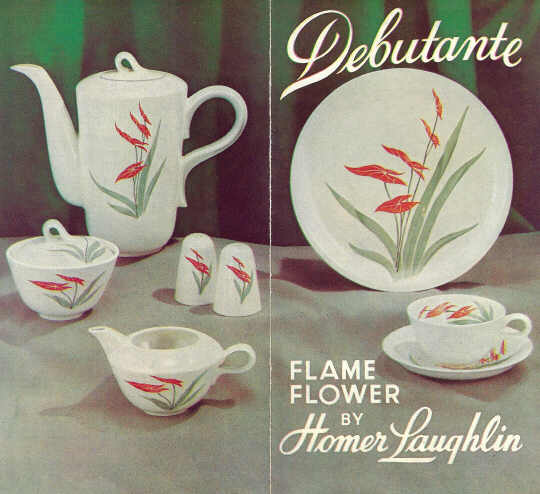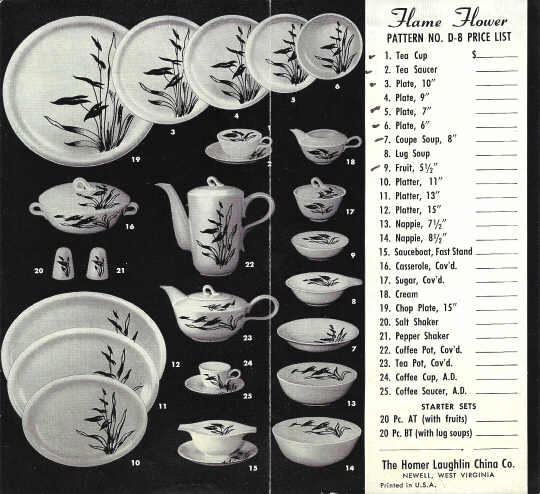 ---
| | |
| --- | --- |
| Gravy Fast Stand -- "Silver Rose" with platinum trim (D-12) | Debutante sugar with yellow ox-eye and creamer with Silver Rose. |
---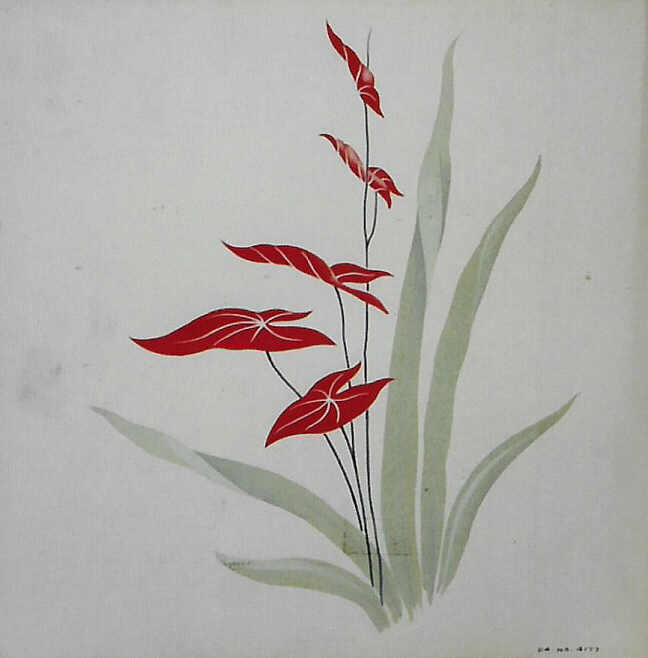 Drawing number 4177, original artwork for Debutante's "Flame Flower"
Courtesy The Homer Laughlin China Company
---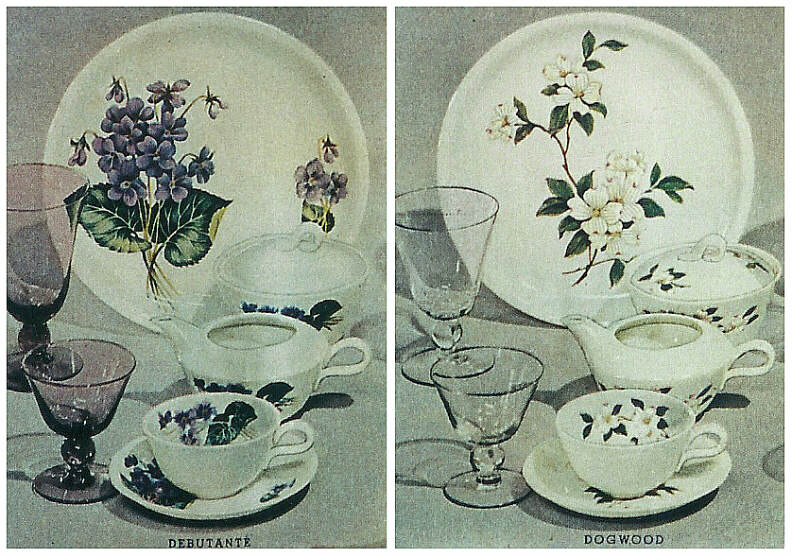 Ads for Debutante from Montgomery Wards in the early 1950s.
Dogwood's treatment number is D-3. Debutante or "Violets" is MW-181.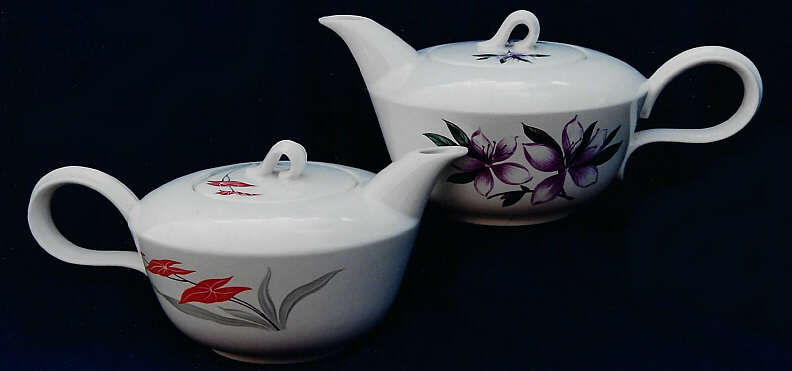 Debutante teapots: "Flame Flower" (D-8) in front, "Hawaii" (D-17) in back.
Photo courtesy Richard G. Racheter.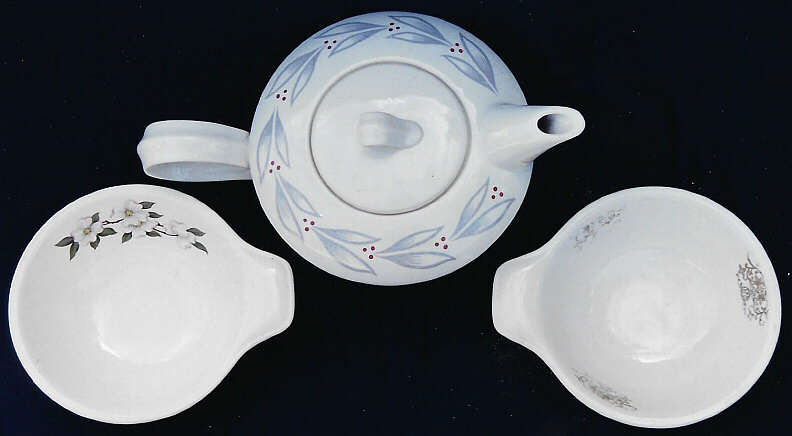 Debutante teapot with "Gray Laurel" (D-4) and a pair of lug soups.
Photo courtesy Richard G. Racheter.
---
Debutante shop samples from the collection of The Fiesta® Tableware Company
---
Over the glaze, hand-painted concept art for potential decals on Debutante.
According to company records, the drawing numbers date to September 19, 1950.

Chartreuse Rose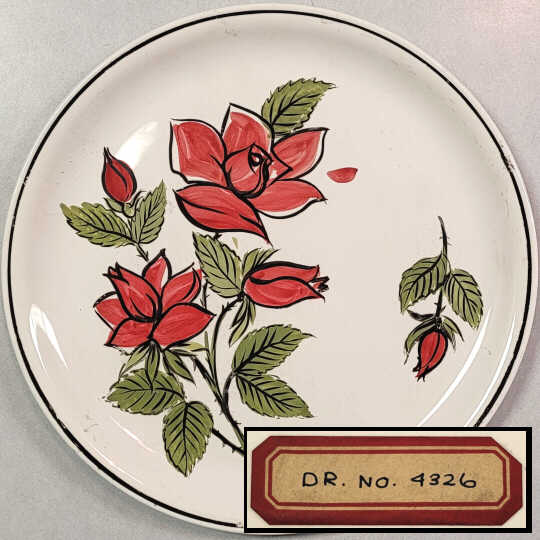 Red Rose
Assortment of Items:

Chop Plate
10" Plate
9" Plate
7" Plate
6" Plate
Teacup
Saucer
Coupe Soup
Cereal Soup
5 1/2" Fruit
Lug Soup
15" Platter

13" Platter
11" Platter
7 1/2" Nappy
Shakers
Double Egg Cup
Gravy Fast Stand
Covered Casserole
Covered Sugar
Creamer
Coffeepot
A.D. Cup
A.D.Saucer