Nautilus by Homer Laughlin
LaurelHollowPark.net, an informative website created and
maintained by Mark Gonzalez. Copyright © 2009-.
---

The Nautilus flatware is characterized as a plain round shape with a single sunken ring around the edge. On the other hand, the hollowware is ornate with shell finials and handles and little scroll feet.

Modeling of the line began in July 1935 with a 9" plate with a ,"deep ball, sunken bead, and a plain edge." Several other version were created, but the original design was accepted. From August to October, several casseroles were modeled: "Plain Sunken Bead", "Sunken Bead on Edge, Ring Handled" and "Sunken Bead, Plain Cover, Oval Handles." Ring handled sugars and creamers were then made to match the casserole.

On October 1935, the familiar Nautilus casserole was modeled and listed as, "Casserole Shell Handles Four Footed." With the basic shapes for the flatware and hollowware approved, the rest of Nautilus was made. The flatware was created with ease, however the same cannot be said for the hollowware. The casserole required several revisions so the shell handles would come out right in the finished product. The feet for the hollowware underwent several changes. On March 20, 1936, an entry in Frederick Rhead's journals discusses one of the problems with the hollowware" "...Nautilus cream. Casting holes in foot too prominent. This piece and the sauceboat to be taken care of..." On the same day an entry is made regarding the teapot which confirms what many collectors have suspected: "Pittenger phoned about Nautilus teapot. Told him that J. M. Wells had not included it in the line. He suggested the Wells teapot. Suggested that we decorate one..." While Rhead doesn't mention the Wells teapot again, it must have been picked up since sets of Nautilus can be found with a Wells shape teapot.

Nautilus was offered in early 1936 and would continue to be produced into the mid to late 1950s. Almost every piece (except teacups and demitasse cups) will be marked with a special Nautilus backstamp which Rhead notes making on December 26, 1935.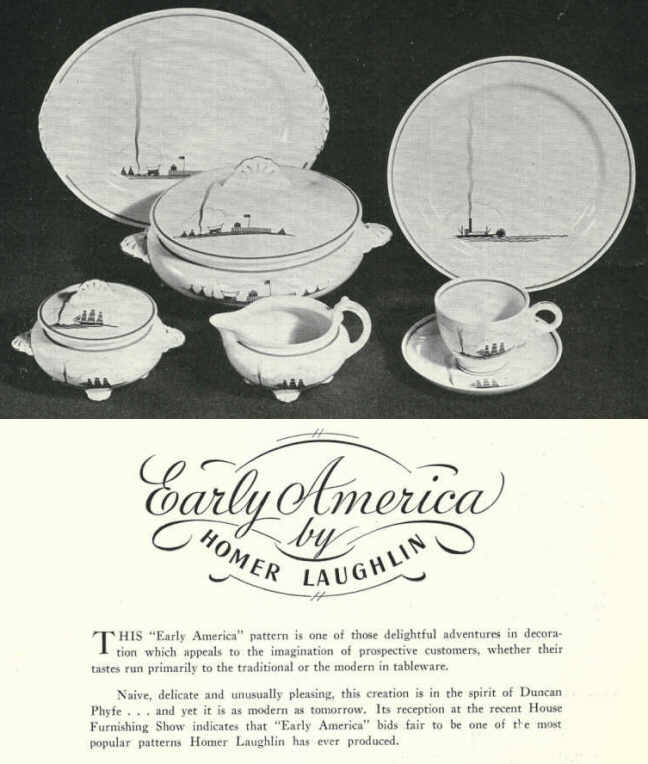 Advertisement for "Early America" on the Nautilus shape
Besides the Wells teapot, some patterns had other pick up pieces included such as the Baltimore mug, Cable egg cup, and the Jade butter dish. They carry a general HLC backstamp with date code.
Pastel Nautilus
Soon after the pastel line Serenade began production in 1939, HLC considered making one of its already existing shapes in the pastel glazes for F. W. Woolworth's. In September, the following shapes in the Serenade colors were ordered for testing purposes: Wells, Harlequin, Nautilus, Coronet, Republic, Virginia Rose, and Swing. Several more trials and samples were made unit it was finally decided that the pastel glazes would be used on Nautilus.
Nautilus 9" plates in the four Serenade glazes


pink


blue


green


yellow
There were only two changes to Nautilus to make this special line. One involved modifying the teacup by making it larger. The other was the addition of a double egg cup. The Kraft Blue shape egg cup was selected and the rope embossing was removed.
Pastel Nautilus was sold through Woolworth's in early 1940 in the standard Serenade glazes: pink, green, yellow, and blue. Almost every piece if found with a Homer Laughlin/Nautilus backstamp.
See also section on Eggshell Nautilus.
---
| | |
| --- | --- |
| Pattern N-234 | Pattern N-388 |
| Hacienda sauceboat, front | Hacienda sauceboat, back |
| Red Apple creamer, pattern JJ-50 for J. J. Newberry's | Red Apple sauceboat |
| Platter and 9" plate with pattern N-332 | Demitasse cup and saucer with pattern N-296 |
| Pattern N-259 sauceobat and baker | Pastel Nautilus sauceboat |
| Pastel Nautilus platter | Pastel Nautilus casserole |
| Pattern N-200 sauceboat | Pastel Nautilus double egg cups |
| "Goodrest" pattern, number N-200 on a Nautilus casserole. | Baker with N-212. Covered sugar with red trim, N-231 |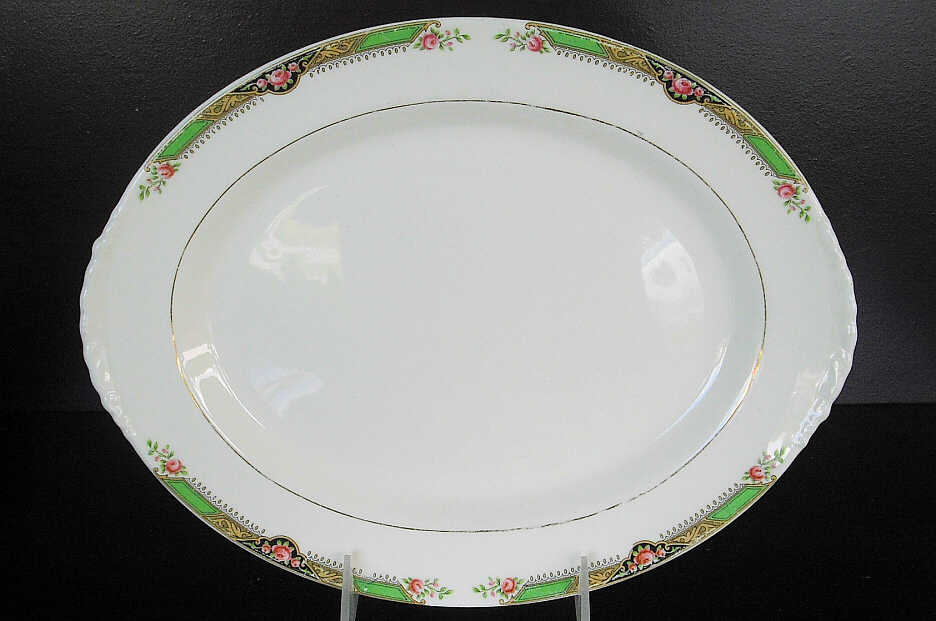 "Neville" pattern on a Nautilus platter. (Neville on HLC's Kwaker shape was sold by Sears.)
| | |
| --- | --- |
| Pattern N-261 | Tulips with green band and gold line. |

Pattern W-138, "Antique Shop"

A note in Rhead's journals from March 1938 describes the Antique Shop decal:

DESCRIPTION OF GLASS AND OTHER CERAMIC EXAMPLES IN THE WOOLWORTH "ANTIQUE SHOP" PATTERN.

Window shelf, left to right: Drinking vessel, American, 18th century. Stiegel swirl bottle, 1750-1770. Wistarberg amber flask, 1759-1780. Wine bottle, American, early 18th century. Early American fiddle bottle.

Table, left to right: Underlaze, painted plaque, Minton art studio, London, England, about 1880. Chinese vase, red enamel, K'ang-hsi, 1662-1722. Stoneware jug, 18th century. Willow Plate, Staffordshire. Toby Jug, Ralph Wood, Staffordshire, about 1770. Modern Stoneware bottle, Finland. Georgian silver candlestick.

German salt glaze stoneware, jug, early 17th century. Chinese beaker, 21 inches high, (K'ang-hsi, 1622-1722) Back ground, painted enamels.

This vase, or one like it, was in the collection of the elder Pierpont Morgan who is reported to have paid $125,000. (One hundred and twenty five thousand dollars) for the example.


"Antique Shop" detail
| | |
| --- | --- |
| | |
---
Nautilus shop samples from the collection of The Fiesta® Tableware Company
---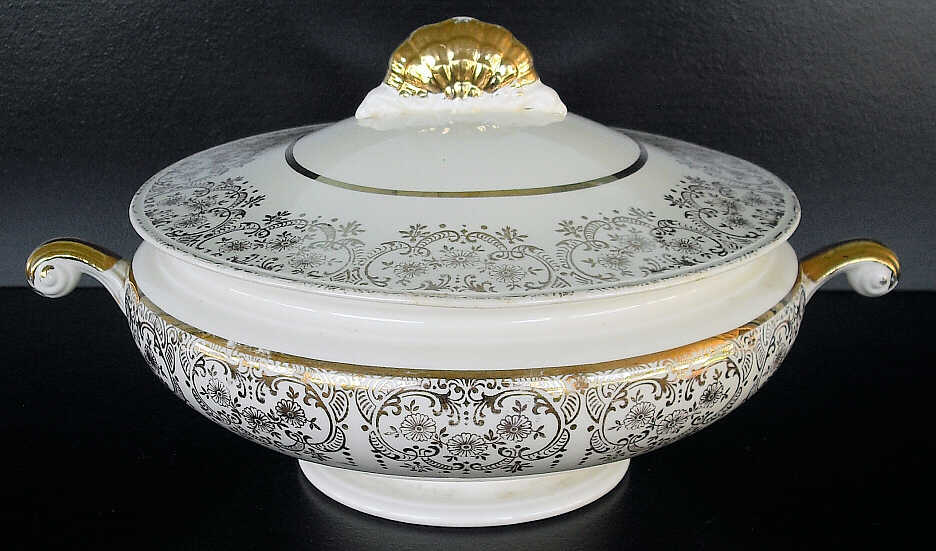 A marriage of an Eggshell Nautilus body and a regular Nautilus lid, probably brought together and decorated by an outside firm.