Named after the town in West Virginia where five of the Homer Laughlin plants are located, Newell was the first line of dinnerware Frederick Rhead designed. It was offered to the public in 1928 and would last into the mid-1930s. Shapes with the edges decorated with ornamental reeding were becoming popular with other potteries in the late 1920s and Newell was HLC's first such line. Two more would soon follow based on Newell: Trellis and Old Roman. Both lines used many of the flat pieces from Newell with the addition of embossed patterns along the rim. Newell is much easier to find than these spin-off lines. It should be mentioned that the Newell and Liberty shapes have very little in common. Liberty was another "rope border" shape first offered by HLC in 1942. Each has distinct shapes and the treatments used come from different eras. Still, some tend to confuse the two lines.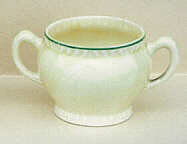 Newell isn't that difficult to find so it must have been a very good seller in its day. Flatware such as plates and platters are especially easy to collect. The cake plate and pickle may be a little more difficult to locate. Sugars, creamers, and sauceboats are much easier to find than larger hollowware such as the casserole, jugs, and teapot. Cream soups with liners, egg cups, demitasse creamer and demitasse sugar (shown at the right) can be challenging as well.
Newell is almost always found in either white or a light yellow glaze with decals or colorful trim, but once in a while both white and yellow undecorated blanks show up. The majority of decals used on Newell are highly stylized, vibrant floral treatments. Most pieces are marked with a general HLC backstamp.