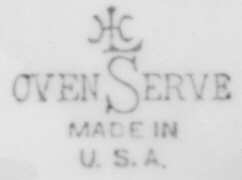 In the early 1930s, most pottery companies stared to produced kitchenware. A brief list of potteries with their special lines include: Paden City - Bak Serve, Harker - Bakerite, Cronin - Bake Oven, and Crooksville - Pantry Ware. In 1933, Homer Laughlin introduced an extensive assortment of embossed kitchenware called, "OvenServe." This line included various sizes of bowls, bakers, platters, as well as some dinnerware pieces; plates, teacups, and saucers.

On January 23, 1933, Frederick Rhead wrote in his journals about a "cooking and kitchenware program." After collecting samples of kitchenware from other companies, Rhead began making sketches of various items. By February 6th, he wrote that the drawings were "made into a folio and turned over to J.M. Wells." However. for the rest of the month the Art Department worked on the Chelsea shape for Quaker Oats and adding new items to the recently released and very successful Virginia Rose.

Rhead notes making a couple "thermo" custard cups in brown, pink, and white glazes on the last week of March. These first oven ware pieces were probably plain shapes. The first time Rhead notes any type of embossed work was on March 30, 1933. The next day representatives from Woolworth's visited HLC to veiw the various samples. After reviewing the custards, a line of kitchenware with the following items was suggested:
small custards
individual casserole
bakers
pie plates
large casserole
bowls for sauce
jug
salt and pepper
mixing or measuring bowl
8", 7", 6" and 4" plates

teacup
St. Dennis cup and saucer
bowl for soup
4" and 5" soup
36s oatmeal
nappy
sugar/creamer
restaurant individual creamer
baked apple
ashtray
The twenty items listed above are as Rhead wrote them. Remember he used trade sizes so the 8", 7", 6", and 4" plates would have actual measurements close to: 10:, 9", 8", and 6".

Several trials of clays with various decorations were made to see which could withstand oven temperatures. On April 4, 1933, Rhead noted the new oven ware glaze samples were not good. More patterns specifications, and trials were conducted for the next two weeks and on the 17th, J.M. Wells approved the first nine items for the March 31st listing. It was during this time that Kaufman's became interested in the new oven ware.

More buyers expressed interest in the oven-to-table line, but only a few pieces had been modeled at the time and nothing had been released into production. It became apparent to many at HLC that their new oven ware was going ot be a success even though it wasn't anywhere near completion. On April 25, 1933, J. M. Wells advised Rhead that the Art Department was to "concentrate on oven ware." From May to August 1933, the new oven proof line was developed.

The first items created were made in two styles; plain and with the familiar floral embossing. Some of the items form the March 31st list were dropped and new pieces such as the French casseroles and shirred egg dishes were added. On June 9, 1933, Rhead noted producing several trial glazes for the cooking ware:
Pink - 1383
Light Blue - 841
Fawn - 1432
Golden Green - 1427
Orange - 1428

Turquoise Green - 1425
Deep Ivory - 1434
Melon Yellow - 1436
Vellum Yelow - 1432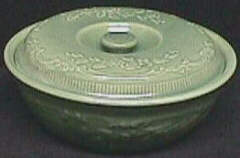 Eventually, OvenServe was made primarily in Orange (a.k.a. pumpkin), Melon Yellow, and Ivory. The ivory glaze developed for this shape would go on to be used with Kitchen Kraft, Virginia Rose, Marigold, and others. At some point, it was decided that the Art Glazes would be used. Casseroles and under plates have been found in leaf green (right), rose, and rust with the Wells Art Glazes backstamp. Small OvenServe pieces in other solid colors were made by both HLC and Taylor, Smith & Taylor (TS&T) for Quaker Oats.

On June 9, 1933, names were being considered for the oven ware. One option was, "OvenDrive," but "OvenServe" with its one-word spelling was selected. Two days later backstamps and labels were made with the new OvenServe logo. By the end of the month, dozens of decorations were tested on OvenServe. On July 7th, Polychrome, the hand-painted treatment consisting of yellow, blue, green, and pink, was being used and variations would be considered in weeks ahead.

With the majority of OvenServe modeled and in production, the Art Department started to develop other wares, namely Craftsman/Georgian. More pieces would be revised and added to OvenServe in the next year including pie plates, casseroles, and jugs. In August 1934, three new items were modeled the (long) spoon, pie server (listed as a "cake knife" in the modeling log) and a 40-oz. teapot. In April 1935, an open sugar and creamer were made. The sugar lid was modeled in January 1936 and released in February. It was also during this time that two more teapots were modeled. Both had capacities of 16-oz, but they were listed as "low" and "tall" teapots.

Unamrked OvenServe Teapot with
an unusual green glaze


Teapot with recessed lid
Courtesy Terri Puleo
The last piece of OvenServe modeled was the salad fork in June 1937. This was done during the development of the plain kitchenware line, Kitchen Kraft. The spoon was redesigned and made shorter. The new spoon, fork and pie lifter were used with both OvenServe and Kitchen Kraft.

The treatments on OvenServe vary just as they do on dinnerware lines. Solid colors, decals, edge trim, platinum stamps, and hand-painted work have all been found on OvenServe pieces. The more exotic items such as batter jugs, measuring cups, long spoon, sugar, and creamer are generally found with very simple treatments such as hand-painted embossing. Several retailers carried OvenServe with green hand-painted embossing including Woolworth's. This is one of the most common OvenServe treatments. Decals and platinum stamps are generally found on more common pieces such as pie plates and casseroles.

Almost every piece of OvenServe is marked with a backstamp. The only exceptions are the four utensils which will have no markings. Collectible versions of the small spoon, fork, and pie lifter were recently produced by China Specialties in various solid colors. Such pieces will have an embossed "C.S." on the reverse of the handles.

OvenServe was mass produced from 1933 until the late 1930s when it was overshadowed by the plain shapes of Kitchen Kraft. By this time, many of the OvenServe items had been discontinued and are very hard to find today. These key pieces are the measuring cup, long handled spoon, batter jug, sugar, and the creamer. The most common pieces are five items produced for Quaker Oats. The small baker, custard, ramekin, and small French casserole were produced by HLC and TS&T in various solid colors until the mid-1950s