Republic by Homer Laughlin
LaurelHollowPark.net, an informative website created and
maintained by Mark Gonzalez. Copyright © 2009-.
---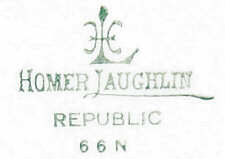 The Republic shape was introduced in 1915. In one advertisement it was offered as a shape that, "... has been produced in obedience to popular demand. Excepting the hollowware, we do not claim it for any degree of originality." As many as a dozen American pottery companies produced shapes similar to Republic. Prior to the late 1920s, it was common for potteries to purchase molds from suppliers instead of creating their own designs. Harvey Duke wrote in his book, The Official Price Guide to Pottery and Porcelain, 8th Edition, that all of these shapes similar to Republic were based on Havilland's Ranson shape. The flat pieces are the same, but the hollowware will have subtle differences. For example, the finials on HLC's are rope-like, but with W.S. George's they are shaped like bows.

It was typical of dinnerware made in the early 1900s to have very extensive assortments. Republic was made up of sixty-four items. As the years went on, most of these pieces were discontinued. HLC's other shapes of the time such as Hudson, Kwaker, Empress, and Genesse also had large assortments with multiple sizes of plates, platters, and serving bowls.

Sometimes the rim embossing is confused with other HLC shapes, namely Marigold and Virginia Rose. (See the web page on the embossing comparisons here.) At least one floral treatment was offered on Republic in the late 1960s so its production run extends for almost fifty-five years. Early Republic was marked with the shape name and date code, however most pieces are found with a generic HLC backstamp.

One of the earliest treatments on Republic is a simple 18 karat gold decoration on the embossing and rim. However, most pieces are found with floral decals. The demitasse cups and saucers were picked up by Tango and were offered in Fiesta red, Harlequin's yellow, blue, and spruce green. If other unmarked Republic shapes are found in solid colors, then they were more than likely made by W. S. George. Their version, named Raddison, was produced in solid colored glazes in the 1930s and was usually unmarked. All other potteries which made similar shapes will have appropriate backsatmps with the company's name.
---
Republic shop samples with treatment numbers. The last three in this table are experimentals.
From the collection of the Fiesta ® Tableware Company (formerly HLCCo.)
---

Republic medium size jugs, left to right; undecorated blank, gold stamp pattern R-2700, "Ohio" decal with green wash trim


Covered casserole with pattern R-4901


Covered casserole, pink and blue floral decals


Gravy fast stand with gold trim


Sauceboat with gold stamps


R-3234, "Susan" on a sugar and creamer


Sugar and creamer with gold stamps


Republic 13"platter with roses and gold stamp border, dated 1926.


Pattern R-3543 on a covered sugar


Pattern CP-100, "Wayside"


Left: pattern CP-82, "Avon", right: Spring Wreath


Hand-painted by LeNoir jug (left) and creamer with medallion decal


"Jean" on a Republic creamer


Creamer with pattern R-2134


Republic cups and saucers: R-9524, Maple Leaf (left) and R-9724 (right)


R-9524, Maple Leaf nappy, coupe soups, 7" plates, and fruit cups.
---
| | | |
| --- | --- | --- |
| Republic plate, pattern R-8724 | Republic plate with gold stamp border | Plate with Lee College decal |
| Coupe soup with R-2434 | Coupe soup with small Cosmos decals | Republic rim soup |
---
The following six pictures are courtesy Richard G. Racheter.


Covered casserole with pastel rose decals


Covered dish with gold accents


Small jug (left) and a creamer (right)


Sauceboat


Covered sugar


Teapot decorated with "Priscilla"
---
Teapot
Sugar
Creamer
Ind. Sugar
Ind. Creamer
Sauceboat
Fast stand
30s bowl
Coffee cup and saucer
Teacup and saucer
A.D. Cup and sauer
9" Nappie
9" Baker
30s Oatmeal
Fruit Cup
Ind. Butter
Bone Dish
Pickle
Platter
Cake Plate
Covered Butter
Deep Plate
Dinner Plate
Coupe Soup
Oyster Tureen
Covered Dish
Cassserole
Sauce Tureen and liner
24s Jug
---
Assortment of Items:

Baker, 5 1/2"
Baker, 7 1/4"
Baker, 8"
Baker, 9"
Baker, 9 3/4"
Baker, 10 1/4"
30s Bowl (1 3/8 Pints)
36s Bowl (1 Pint)
Covered Butter
Individual Butter
7" Casserole
8 1/2" Covered Dish
Coffee Cup
Coffee Saucer
AD Cup
AD Saucer

Creamer (5/8 pint)
Ind. Creamer (1/2 pint)
Platter, 7 1/4"
Platter, 9 1/2"
Platter, 10 1/8"
Platter, 11 1/8"
Platter, 12"
Platter, 13"
Platter, 14"
Platter, 15"
Platter, 17"
4 7/8" Fruit Cup
5 5/8" Fruit Cup
6s Jug (5 3/4 pints)
12s Jug (4 3/8 pints)
24s Jug (3 3/8 pints)

30s Jug (2 1/2 pints)
36s Jug (1 3/4 pints)
42s Jug (1 pint)
48s Jug (5/8 pint)
Nappy, 6 3/4"
Nappy, 7"
Nappy, 8"
Nappy, 9"
Nappy, 10"
30s Oatmeal
36s Oatmeal
Oyster Tureen
Pickle
Plate, 6 1/8"
Plate, 7"
Plate, 8"

Plate, 9"
Plate, 10"
9" Deep Plate
7 1/4" Coupe Soup
7 7/8" Coupe Soup
Sauceboat
Fast Stand
Sauce Tureen
Sauce Tureen Stand
Sauce Tureen Ladle
Sugar
Individual Sugar
Teacups
Teacup Saucer
Teapot
Bone Dish