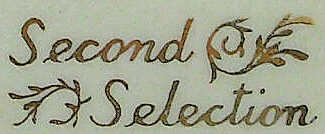 The "Second Selection" marking was used on Homer Laughlin wares in the early to mid 1930s. It was an overstamp mark in either gold or platinum that was applied to pieces after they were glazed and fired, but before they received decals, gold trim, platinum trim, or other decorative elements. If a piece did not fit the schematic required for first quality, then it was sometimes given this special mark. Such pieces would have imperfections involving the glaze such as runs, drips, discolorations, misses, bumps, bubbles, and/or kiln dirt.

Second Selection pieces were given leftover or 'scrap' decals with gold trim or stampings, and were sold at a discounted rate. Second Selection marks were usually put on pieces glazed in vellum. More often than not, a piece of HLC ware with the Second Selection stamp will also have the regular HLC marking and date code.

Other East Liverpool, Ohio area potteries used the exact same Second Selection mark, most notably Hall China.