From the end of July to the middle of September 1942, artist Charles Williams of the Homer Laughlin China Company worked on underglaze transfer patterns for Singing Hills. The subjects were interior and exterior scenes of the estate of Henry and Gladys Lindquist.

The patterns were custom made to fit the Theme Eggshell shape. A special underglaze backstamp was created for the line which does not include the Homer Laughlin name.

Williams was supplied black and white photographs which he used to create tracings. He then coated the backs of the tracings with graphite pencil to create carbon copies on heavier stock and then added details. Most of the black and white "working drawings" he created are shown below along with a red version with the appropriate shading.
Two of the black and white photographs used to create the Singing Hills underglaze prints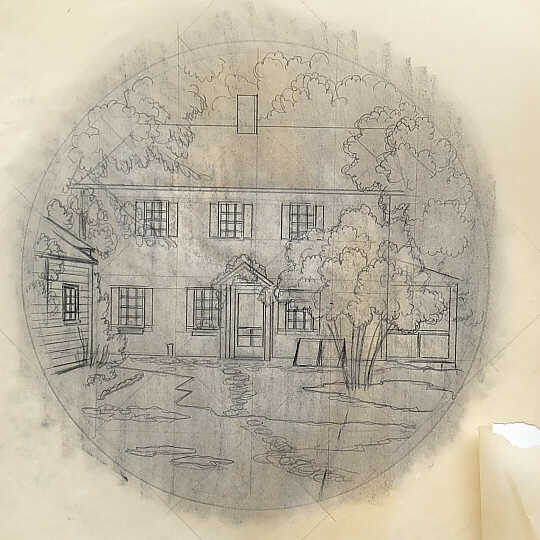 Tracing of the Singing Hills home
Some of the drawings were made for more than one piece. For example, the scene for the 15" platter was scaled down and used on the 9" baker. Every piece of Theme Eggshell was intended for Singing Hills.
According to the state of Maine marriage records, Henry H. Lindquist of Somerville, Massachusetts married Gladys M. McNelley of Caribou, Maine on Wednesday, November 24, 1926. Very little else is know about the background of this special line of dinnerware, but it must have been a special order. There is no evidence Singing Hills went into production, even though it was fully developed.