Swing and Andover by Homer Laughlin
The following originally appeared on pages 162-164 of An Overview of Homer Laughlin Dinnerware ©2002,
and is being posted on www.laurelhollowpark.net with permission along with corrections and updates.

---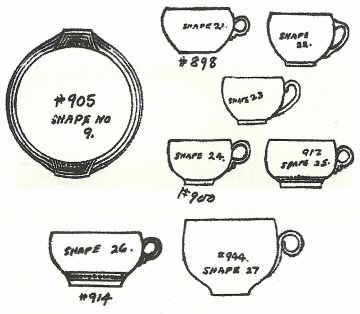 The first piece crated for the Swing shape was described as: Plain Plate, 7" No Modeling, Rolled Ball. This was noted on March 1937. The second piece was another plain plate and the sketches for both of these are very similar to the Swing that would eventually be used. A third plate was modeled, but then development was put on hold for several months as attention shifted primarily to Kitchen Kraft.

Work resumed on Swing in late September 1937 and the next plate modeled was described as : Plate, Plain But With Raised Band on Rim. The next fifteen plates created had variations of rings, beads, and lugs - both rounded and square. Next was the teacup. Eight different styles as diverse as the plates were considered.

Plate model 905 shown to the right is just one of the many trail pieces for the Swing shape. Also shown are seven styles of teacups modeled during the early development of the line.

The covered casserole was the next item. In all, six very similar casseroles were modeled by October 1937 as was the saucer, oatmeal, and nappy.

Before development continued, it was finally decided that the fist plate modeled would be the style for all the flatware. The plain teacup was also chosen. What stared out as a very plain round shape which evolved into one with beaded, ringed, and embossed rims eventually became what it started out as: a plain round shape. The name given to this new shape was "Convex."

By early November 1937, the name Convex was changed to "Swing" and more items followed; bakers, demitasse cup and saucer, cream soup cup, lug soup, and a creamer. It was also during November that the line was officially put into production. In December, more items were modeled such as the gravy boat, soups, celery tray, two shapes of shakers, and a 26-oz demitasse coffeepot. In early 1938, more items were added to Swing; the 16-oz. individual coffeepot, individual creamer, and teapot. The last major items added to Swing were the individual sugar and muffin cover in June 1938.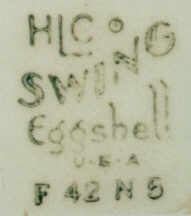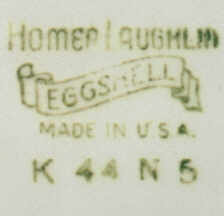 Markings found on Swing

Official treatment number for Swing start off with and "S" but sometimes end in either a "P", "C", or "G". The suffixes were used to denote the colors of the handles and finials for some lines. The "P" was for pink bodied handles and finials and the "C" were for blue, and the "G" for green. If a treatment number is found in the form: S-105C, then the hollowware for that treatment is going to have blue handles and finials. The pink, blue, and green colors are in the body of the clay and not applied colors.
---
| | | |
| --- | --- | --- |
| Baker with treatment number, S-149P | S-149P sold as "Swedish Modern." | "Conchita" 6-inch plate |

Treatment VM-107, "Belle Fleurs"
Produced for Vogue Merchantile


S-179, "Colonial Kitchen" cup and saucer with
a rose decaled demitasse cup and saucer


Pattern S-181 demitasse sugar, creamer, and double eggcup


Pattern S-181 covered muffin


Swing casserole, pastel tulip


Swing covered sauce dish, pattern S-131C


Swing creamer


Lily of the Valley cup and saucer, S-327


Swing platter


Swing platter with fruit and green fade away trim


English Garden with red trim on Swing


Swing demitasse cup and saucer


"For purple mountains majesty..."


"For amber waves of grain..."


Swing cake set


Swing cake set

"Mexicana" on HLC's Swing shape
Courtesy: J. Ogle


Swing Demitasse
cup and saucer


Plain Swing creamer and "Calirose" covered sauce dish with pink handles and finials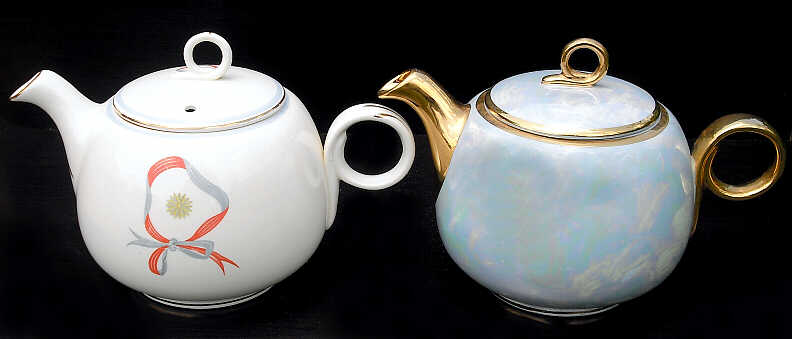 Swing teapots, Ribbon and Star (left), blue pearlized glaze and gold trim (right).
| | |
| --- | --- |
| 1939 ad featuring S-131C on Swing | Mexican theme decal on a 9-inch plate |

1939 ad featuring Royal Platinum, pattern S-212, on HLC's Swing shape
All Swing ads on this page courtesy: Candy Fagerlin


Swing Demitasse pot
with green handle and finial
---
Assortment of Items for Swing Eggshell:

10" plate
9" plate
8" plate
7" plate
6" plate
Fruit cup
Oatmeal bowl
15" platter
13" platter
11" platter
Demitasse pot
Demitasse creamer
Demitasse sugar
(cup body w/o handle)

Covered sugar
Creamer
Teacup
Saucer
Demitasse cup
Demitasse saucer
Casserole
Cream soup
Cream soup liner
Covered gravy
Teapot
Shakers
Muffin cover
Utility tray
---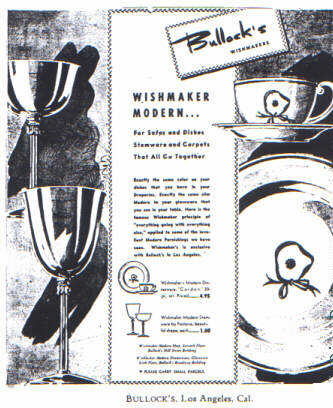 Andover Eggshell was made for Carson Pirie Scott & Co. of Chicago, Illinois. The first time Frederick Rhead mentions the line in his journals was on March 1, 1941: "Letter from Chicago office on Carson's Wishmaker. Make new hollowware for Swing flatware. Submitted sketches." Two days later, Rhead noted the treatment for this new line as a "feather and ribbon." This decal would undergo many changes over the next few months.

On March 28, 1941, Rhead noted making a Star and Ribbon treatment with gray band and gold edge painted by Decal Products. Soon after, on April 7th, he wrote: It's now a Feather plate with ribbon.

On April 8, 1941, the sketches for the teacup, sugar, creamer, casserole, fast stand, and cream soup were approved. They were modeled from mid-May through the beginning of June 1941. Rhead also noted that a "dish and baker" he had sketched for this line were not to be made.

Andover was unlike other HLC products in that each piece was given a cylindrical pedestal foot with rings. The modeling log notes the line was released into production on June 26, 1941. Two more items were modeled at the end of June; the nappy and a "shallow" bowl.

In the middle of modeling the hollowware, another changed occurred with regard to the treatment:
May 21, 1941: Joe Flenchlenger [of the Chicago office] and J.M. Wells on Caron Wishmaker. Southern Potteries have copied Czech feather pattern. Consequently, Carson's are switching over to the Ribbon & Star. Phoned Decal Products to find status of feather patterns. Just being proofed. Told them that we are changing to Ribbon pattern. Will delay delivery two weeks.
On June 27, the day after it was released into production, Rhead drew a new backstamp sporting the name, "Arcadia Eggshell" along with a note that a new generic "Eggshell" mark would be made for Swing so that the flatware and certain pieces of hollowware could be used wtih the new line. On June 30th, the name of the new line was switched from Arcadia Eggshell to Andover Eggshell. On July 8, 1941, Rhead make a sketch of the generic "Eggshell" backstamp which would go on to be used with both Swing and Andover.
All the flatware came from Swing. However, some sets can be found with hollowware from Swing as well, namely the teapot and shakers.
The advertisement in the upper right hand corner comes from the early 1940s and features the Ribbon and Star treatment on Andover which was sold as "Wishmaker Modern."
| | |
| --- | --- |
| Utility tray with "Ribbon & Star" | Andover fast stand with pattern N-1730 |
| | |
| --- | --- |
| Andover serving bowl, outside | Andover serving bowl, inside |
| | |
| --- | --- |
| 10" plate, 6" plate, and oatmeal bowl | Swing Teapot and Anover creamer |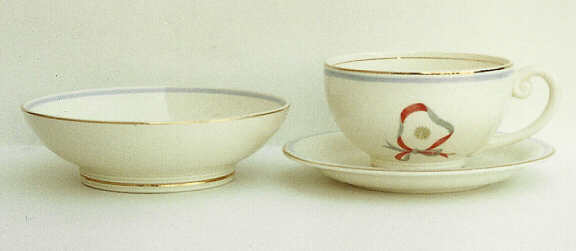 "shallow" bowl with a cup and saucer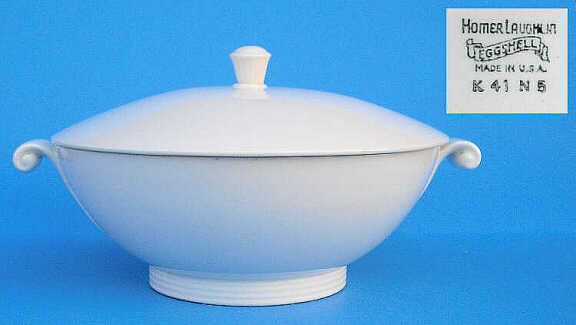 Andover Eggshell covered casserole and backstamp
---

"Cherry Blossom" on an Andover cup and saucer

Assortment of Items for Andover:

Sugar
Creamer
Teacup
Casserole
Cream Soup
Gravy Fast Stand
Shallow Bowl
Nappy
Teapot, Swing
Shakers, Swing
Flatware, Swing