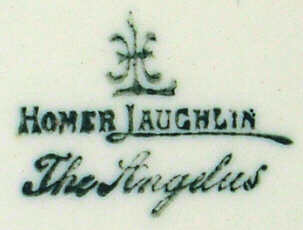 The Angelus was made by the Homer Laughlin China Company from roughly 1905 through 1916. A listing of treatments for The Angelus first appeared in the 1905 pound sterling price guides. Other shapes listed in the 1905 price guide include American Beauty, Colonial, King Charles, and Seneca. (A handful of treatments were still offered on the Golden Gate shape, though the shape was not widely used at this time.)

Over the next few years the number of treatments on The Angelus increased and peaked in 1909 as shown below. After 1910, available treatments began to decline for The Angelus. Shortly after 1916, the shape was discontinued after being overshadowed by more popular shapes such as Genesee, Hudson, and Empress.

The scalloped and embossed edge shape was usually marked with a Homer Laughlin backstamp and shape name as shown to the right. Handles and finials were formed into serpentine shapes which makes identification of the hollowware easy.