Wells by Homer Laughlin
The following originally appeared on pages 192-195 of An Overview of Homer Laughlin Dinnerware ©2002,
and is being posted on www.laurelhollowpark.net with permission along with corrections and updates.

---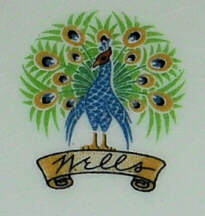 Homer Laughlin introduced the Wells shape in 1930. Hollowware was given applied finials and handles with little scroll decorations and the flatware consisted of plain round rim shapes. These flat piece differed from HLC's other lines such as Empress and Kwaker in that Wells' rim was much more concave and thinner. There is at least one creamer marked Made In Japan that is almost identical to the Wells version. Whether Frederick Rhead created the Wells hollowware based on this import or it if was the other way around isn't certain.

Wells stared out in an ivory body with decals and various sold colors. In early 1931, Rhead made notes in his journals about the Vellum glaze that was under development. In fact, numerous trails of Vellum were made in the then new Century shape as well as Wells. On April 27, 1931 he wrote: "... development in direction of Wells Vellum rather than Century Vellum." However, the vellum glaze would go on to be used more on Century than Wells.

Production of the Wells shape reached a height during the early 1930s. It continued to be made into the mid-1940s, but on a much smaller scale. Originally the assortment was extensive with a demitasse set, cream soups and liners, and muffin covers, but by the end of its run, Wells had been reduced to a much simpler line with only standard flatware and serving pieces.

Several Wells items were picked up by other lines. The teapot was used with some Nautilus patterns and the egg cup was used with Swing Eggshell. Lids with restyled finials were made for the teapot and casseroles so they could fit with the Willow shapes and were used with the Fantasy patterns. The teapot was also used with the underglaze Blue Willow line.

Decaled Wells will be marked in one of several ways; a Vellum backstamp, a general HLC marking, or a Wells Peacock mark. Three different peacock marks exist - a multicolored decal, a gold stamp, and a platinum stamp. This is also a case with the Georgian (Craftsman) backstamps and it has been learned that the multicolored mark was used for more expensive patterns and the gold stamp for cheaper ones. The peacock mark can also be found on Century and, to a lesser degree, Jade. Some argue that the peacock mark was used on anything with the Vellum glaze, but this isn't always the case as ivory (a white glaze not to be confused with vellum or Fiesta's old ivory) pieces of Wells can be found with the Wells backstamp. Instead of being a Vellum mark, it seems more likely the marking was used for more "top shelf" treatments - regardless the glaze and shape. The special marking was no longer in used by the mid-1930s.

See also section on Wells Art Glazes.
---

Sketches for propsed Wells markings.
Courtesy the Homer Laughlin China Company.


W-9823, "Pastel Tulip" batter jug, syrup jug, and covered sugar.
Inset picture shows a special marking made for Pearl China.

"Black Tulip" demitasse sugar and creamer.
Wells Ivory (left) and Wells Vellum (right)


Wells teapot in rose with its backstamp.
For more on the Wells Art Glazes, see this page.


Wells Vellum with stripes and a green art glaze egg cup


Wells casserole with pattern W-9823, Pastel Tulip


Wells batter jug in rose and decaled syrup


Wells markings on the batter jug and syrup


Wells teapot (same as pattern C-61 on Century)


Wells syrup with "Flight of the Swallows" and a Wells creamer


Wells gravy with border decal (same as K-6175)


Wells egg cup and Tudor Rose creamer


"Flight of the Swallows" gravy and liner


"Tulip" cream soup and liner


"Gold Circle" pickle/gravy liner


"Gold Circle" gravy


"Gold Circle" sugar and creamer


"Tulip" sugar and creamer
---


Wells sugar bowl handle variations - closed, single open, double open


Top view of the Wells sugar bowl handles
---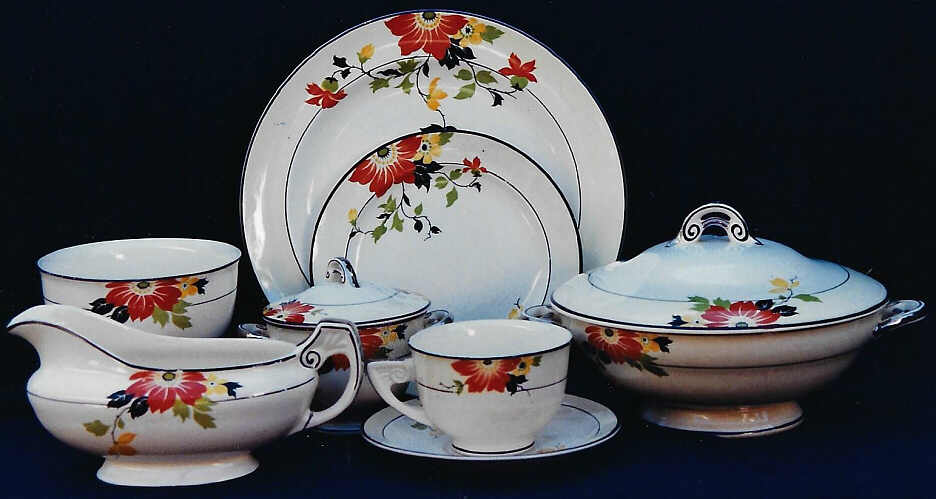 W-8523 - Clematis a.k.a. "Red Beauty" on the Wells shape.
Photo courtesy Richard G. Racheter.
---
| | |
| --- | --- |
| Wells platter in the art glaze Leaf Green and a "Tulip" sauceboat | Unusual black decal marking |
---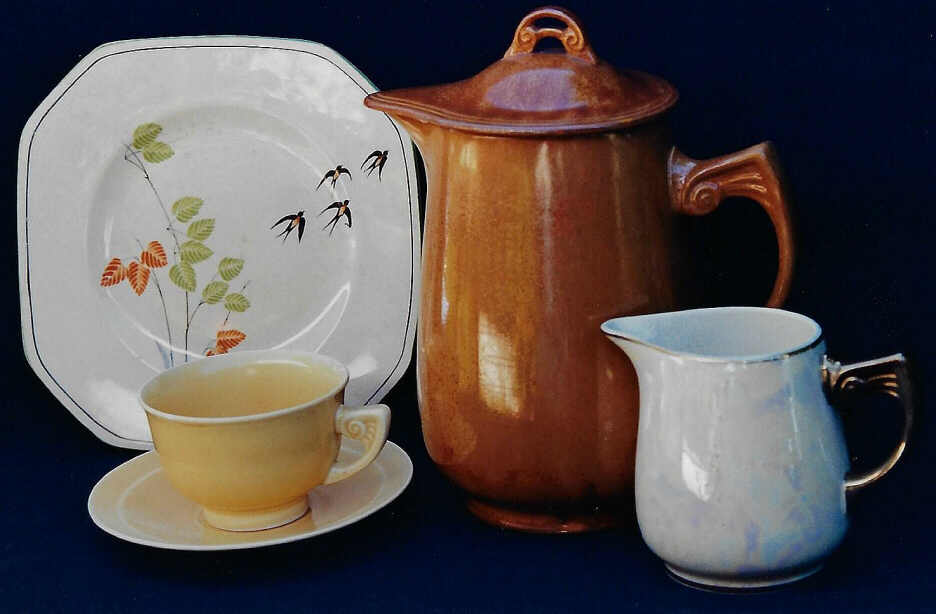 "Flight of the Swallows" square plate, cup and saucer in yellow, batter jug in rust, and syrup.
Photo courtesy Richard G. Racheter.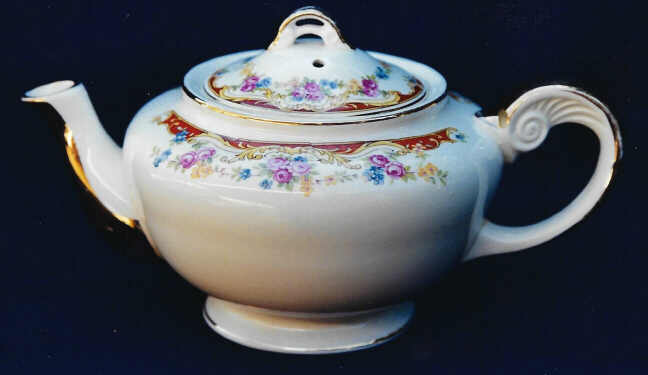 Since Nautilus lacked a teapot, this Wells piece was picked up. The treatment is N-200.
Photo courtesy Richard G. Racheter.
---
Pattern W-4623 on the Wells shape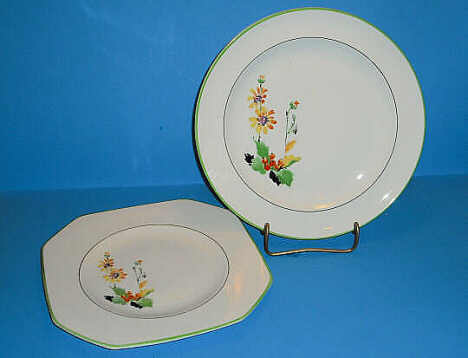 Nine-inch and Square plates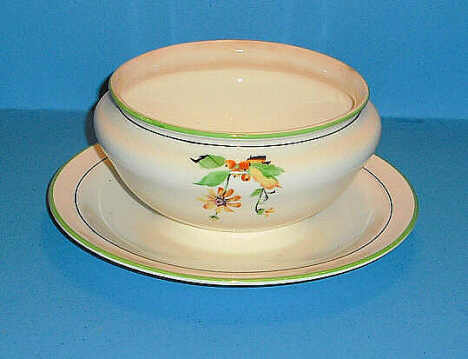 Gravy faststand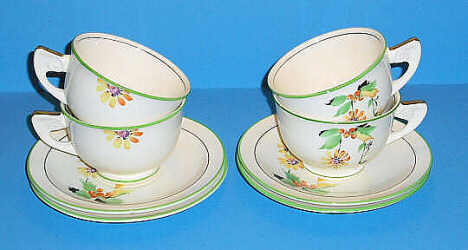 Cups and Saucers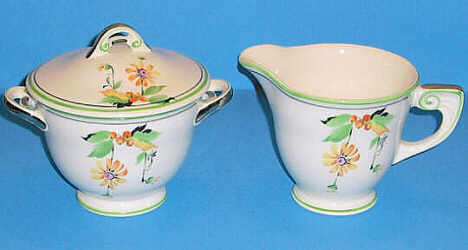 Sugar and Creamer
---
Wells dinner service with red band and gold decoration.
Photo courtesy Richard G. Racheter.
---
| | | |
| --- | --- | --- |
| "Pastel Tulip" W-9823 plate | Handled Cake Plate | "Pastel Tulip" W-9823 square plate |
| | | |
| --- | --- | --- |
| Pattern W-102 | Decaled square plate with light yellow glaze | Cup and Saucer |
| | |
| --- | --- |
| Sauceboat | 36s Bowl |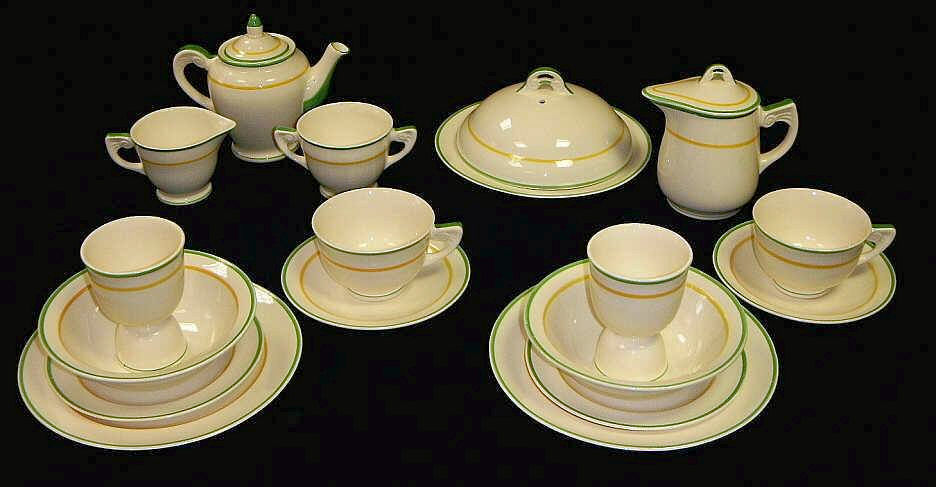 Wells demitasse creamer, sugar, coffee pot, covered muffin, syrup, egg cups, and place settings with treatment number W-4943.
---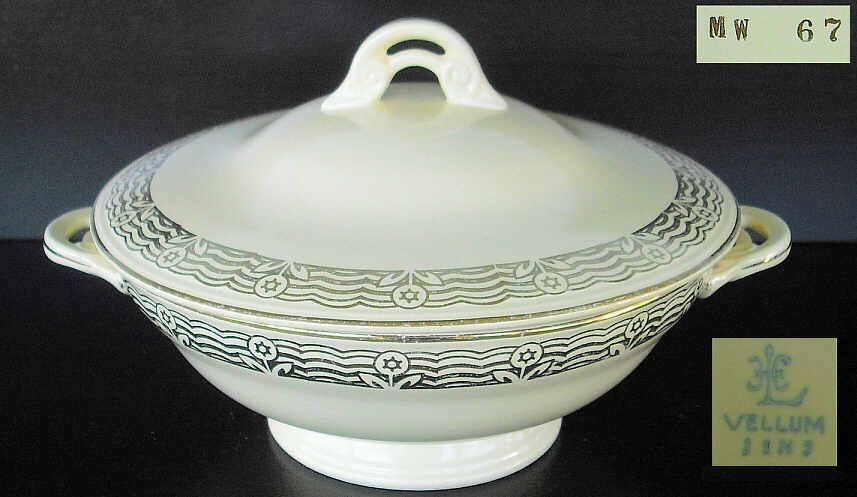 Wells casserole with gold stamp decoration, made for Montgomery Wards in the early 1930s.
This example has a Vellum backstamp from 1931 along with the treatment number MW-67.
---
The following five photos of Wells are from the research files of Jo Cunningham.


Wells shop samples with patterns W-4970, W-5033, and W-5270


"Flight of the Swallows" Wells teapot


Shop samples - W-1133 and W-5433


Wells shop samples with patterns W-104, W-106, and W-1133.


Wells shop samples with patterns W-2133, W5333, W-7923, W-8033, W-8523, and W-9423 .
---
Wells and a Japan look-alike creamer -- Which came first??
Courtesy: Fran and Carl Stone

The small creamer with the Chintz-like decoration was made in Japan. It is very similar to
HLC's Wells creamer except it is smaller and has a flat opening. The Wells creamer has a pronounced lip.

The second picture is a close up of the handles. The last is the marking on the Japan creamer.
---
Assortment of Items:

Cream soup
Cream soup liner
Bullion
Bullion saucer
Fruit cup
Oatmeal
Rim soup
36s Bowl
30s Bowl
10" Baker
9" Baker
8" Baker
Demitasse coffeepot
Covered casserole
Creamer
Demitasse creamer
Covered sugar
Demitasse sugar (open)
Sauceboat
Sauceboat liner/pickle
Gravy faststand

Double egg cup
Nappy
15" Platter
13" Platter
11" Platter
10" Plate
9" Plate
8" Plate
7" Plate
6" Plate
Square plate
Teapot
Cake plate
Batter jug
Syrup jug
Muffin cover
Teacup
Saucer
Demitasse cup
Demitasse saucer
Handled tumbler